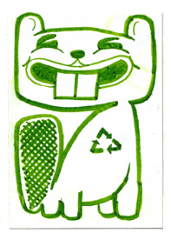 Assuming (as I urged yesterday) that we successfully invest in the logistics of building power, just what exactly should we do with this power once we begin to have it?
While there is no magic bullet for getting us out of the environmental mess we humans have made for ourselves, the area of campaigning that will best drive the needed change centres on how corporations make money.
Former Sierra Legal Defence Fund Executive Director David Boyd recently released the book Unnatural Law, a comprehensive examination of Canada's environmental laws. Not surprisingly, he found that our laws are failing to do the job we need them to do, in large part because they are so discretionary and don't compel decision makers to act.
But, one surprise is that the Boyd - a lawyer - recommends that to get systemic change, we need a greater focus, not just on better laws, but rather on the financial incentives and disincentives that drive corporate behaviour.
Like it or not, in Western society, the chief actor as far as environmental issues are concerned is not government, it's the corporation. While government presence exists in some places, with policy changing erratically over time, corporations are everywhere all the time, consistently looking to do one thing - make money.
The corporation
This is not necessarily a judgment. We all need food, energy, toothpaste and widgets of various kinds. Nearly all of these needs are met by corporations, big and small, local and global.
But most environmental problems arise from corporations fouling our nest or exhausting our resources and our first instinct is to argue for laws to protect us against such abuses. Occasionally we do get laws up to the task, but mostly not. We also get a steady pattern of lobbying by affected corporations to weaken or do away with the laws, leaving us back at square one.
This is the treadmill we are currently on.
The true shift to sustainability happens when we turn this situation on its head and embrace the fact that corporations exist to make money, and rather than tinkering around the margins with regulations, instead work to fundamentally change the conditions under which money making happens.
This is controversial. Ethically, you can make the case that this lets corporate "criminals" off the hook for their abuses.
Or, you can argue that it undermines the faith in government in general, playing into the hands of those who want to dismantle anything that speaks to the common good over individual goods.
The bottom line, however, is that only the bottom line will drive the change we need. The shift argued for here is likely not one that many on the Right would readily embrace, at least not the market ideologues among them. We absolutely don't need to 'let the market decide,' as if there were some value-neutral thing out there called the "market," but rather, we need to design better markets that get us where we need to go.
Sisyphus' hill
Markets are collections of human decisions and we design the rules within which decisions get made. We can design markets to steadily destroy the earth, as we have currently done, or we can design them to deliver goods and services while preserving and restoring natural capital.
This is different from our current practice of working with progressive companies, or going after regressive ones. When we ask corporations to do something for the environment that they wouldn't ordinarily do without our efforts, we are asking them to take a 'hit' - to do something not hard-wired into their nature.
And despite the presence of many decent people within Canadian corporations, they will only be able to justify this once or twice to shareholders, probably arguing the value of improved reputational capital as a means to generate better or more stable long-term profit.
So, partnering with or targeting corporations may be successful in short-term campaigns, but the problem is that the underlying logic doesn't change, and we have to do the same thing all over again with the next corporation on the next issue, or even with the same corporation a short time later.
We, like Sisyphus, are caught forever pushing the damn rock up the hill and that really sucks.
When we finally decide to get out of this losing situation, we will work on changing the economic logic so that corporations pursue a different kind of profit while better respecting natural capital.
We must mount relentless campaigns to target subsidies, incentives, taxes and royalties on pollution and natural resources on the federal, provincial and municipal levels across Canada. If this seems like a daunting task, then let's break it down: pick just one particularly egregious subsidy that gives you common cause with other sectors and pick it off. Rinse and repeat until we build the needed momentum.
Green profit
We already have some good Canadian initiatives in this regard such as the Green Budget Coalition. What is needed, however, is to add to this work a whole new level of political power, making this the core of what we do as a community the main part of the agenda that we move with decision makers over the next decade.
Once we begin to make a dent, we will find that corporations can pursue green profit. They can be true to their core logic of making money by being paid to reduce pollution, by profiting from alternative energy, by making money from conserving biodiversity, by making more from recycling metals than by digging them up and so on.
And once we have helped create a stable of companies that are pursuing green profit, they will cease to lobby against the results we want and instead become allies lobbying alongside us. Now we're getting somewhere.
How does this recommendation to green profit reconcile with the need to build power more on issues that are directly relevant to most people like clean air and clean water? Partly, it is two sides of the same coin - the solution to clean alter the profit making equation and externalities around these issues. And partly, it speaks to the fact tone issue and leveraged for another.
Tomorrow (last of the series): Seizing opportunity in the Harper era.
This series is from a paper authored by Matt Price titled 'Greening the Beaver: Power, Profit and the Canadian Dream' which can be downloaded as a PDF here.
Matt Price is the Coordinator of the Conservation Voters of BC.