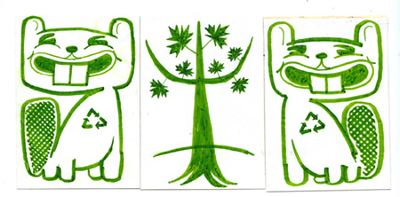 We need Stephen Harper. Really.
If adversity is the mother of invention, a Harper government can mean a renaissance for the Canadian environmental movement. Let's face it; given the size of the challenges we face and our lack of significant progress on them, we need one.
But progress will not happen if we stay stuck in our comfort zone; being served a steady diet of nice words without real change by the people we send to Ottawa. That is the legacy of the past decade.
Our US colleagues are slightly ahead of us in self-reflection. Frustration with the anti-environmental agenda of the Bush Administration led to a lot of noise - some good and some bad - after the publication of the "Death of Environmentalism," a deliberately provocative paper released late in 2004.
Here in Canada, we've not really taken the lid off the environmental community in a way that's needed. Maybe a Harper government will give us the incentive.
The eagle hasn't landed
While we sympathize with the plight of our US colleagues, it's important to ask whether our respective circumstances give rise to similar diagnoses of how we can be more effective at making environmental progress.
The controversial Death of Environmentalism (DoE) argument says that the "environment" as a concept is making zero political progress in the US, and, indeed, under successful attack by Republicans who are convincing average voters that dour environmentalists are getting in the way of the economic aspirations that make up the American Dream.
The ju-jitsu envisioned by DoE is to embed healthy air, water and land into a new narrative of the American Dream. And to do so, these issues must be reframed in aspirational rather than in limiting terms and around issues that average people care most about - good jobs, security, health and family.
Taken to its hyperbolic conclusion, the argument runs that the underlying concept of "environment" has out-lived its political relevance and must be discarded if progress is to be made. Presumably, Sierra Club, NRDC and WWF are to shut their doors, freeing up the energy within to worth on ecological health through other avenues.
What about us, eh?
Thankfully, things are different here. Michael Adams' book Fire and Ice should be required reading for anyone concerned with social change in North America. It neatly lays out the cultural drift taking place, particularly in the US, along with evidence that Canada is on a different path.
Our US colleagues face a daunting task as dozens of indicators point to American society being pulled in the direction Adams called "exclusion and intensity," while Canadian society heads towards "idealism and autonomy" (even as we vote in Harper, but we did that more so because he was the other guy).
Green trends
Specifically, environmental indicators also tell the tale of two divergent trends. The DoE authors cite research from Environics showing that the number of Americans who agree with the statement "to preserve people's jobs in this country, we must accept higher levels of pollution in the future," increased from 17 percent in 1996 to 2000. Moreover, the number of Americans who agreed that "most of the people actively involved in environmental groups are extremists, not reasonable people," grew from 32 percent in 1996 to 41 percent in 2000.
Canadian numbers show a different trend. According to the Environmental Monitor, managed by McAllister Opinion Research, the percentage of Canadians who are "very concerned" about a range of environmental issues has increased consistently between 1996 and 2005 - on water quality (growing and now 75%), on air quality (growing and now 70%), on climate change (growing and now 50%) and on the use of fossil fuels (growing and now 46%).
So, because it is not clear that the concept of the environment has outlived its usefulness in Canada, this is not yet the time to get out the hammer and wooden stake. But, even if we reject the bolder conclusion of DoE that we environmentalists need to close up shop and work elsewhere, there are still lessons for us in Canada.
Just because something is not working, it doesn't mean that something else may not work better. Or put less confusingly, while opinion research shows that we can continue to mount campaigns that resonate with the public in our roles cast as environmentalists, we may be able to mount even better campaigns that achieve similar goals with us advocates cast in different roles.
This isn't necessarily a radical insight. We already know that we only win big battles when other constituencies join us in getting solutions implemented. Doctors become key to shutting down coal plants in Ontario, nurses to stopping an aluminum smelter in Port Alberni and energy workers to getting Kyoto ratified.
Building alliances matters and we still don't do enough of it.
Allies outside the camp
But, there's more. Many of us have had that "getting old" feeling over the past decade as we've watched popular political energy percolate not around traditional green issues as happened in the 70's and 80's, but rather around issues like globalization.
Yet, when we sit down over beer with these activists, we find much overlap on substance, even if Sierra Club hikes on Sunday afternoon aren't exactly their bag. It's more that existing environmental organizations may not be as appealing channels for activism as they once were since we're framing the issues in a way that doesn't appeal to everyone.
On another front, we've come to see that "our" issues are not only driven by NGOs that aren't "environmental" per se, but that green businesses are also driving parts of our agenda.
So, it's not all about us. In fact, redefining "us" needs to be part of winning our issues, whether that means getting better at alliances or forming new types of advocacy vehicles to carry new messages to new audiences.
These are lessons from DoE that we, too, in Canada must take to heart, even if we don't accept the more radical premise of the paper.
Yet, even with those lessons for Canada, we still miss three critical things:
1. Whatever kind of organizations or alliances we form, without power we will not win on our issues.
2. In terms of policy change, there is nothing more important for the environment that redefining the nature of profit making.
3. We are entering into a new phase of defining what it means to be Canadian and must ensure that true sustainability is at the core of this project.
Tomorrow: Activists' love-hate relationship to political power.
This series is from a paper authored by Matt Price titled 'Greening the Beaver: Power, Profit and the Canadian Dream' which can be downloaded as a PDF here.
Matt Price is the Coordinator of the Conservation Voters of BC.