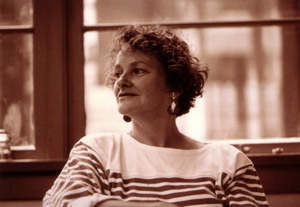 Waiting for Joe
Sandra Birdsell
Random House Canada (2010)
The cartoon by Greg Perry in the Vancouver Sun featured a trick-or-treater terrifying the candy purveyors with his costume of -- get this -- a credit card statement. Canadian personal debt is at an all-time high; the post-recession glimmer has dulled. A recent guest editorial in the Calgary Herald noted: "The current debt-to-income ration of 146 per cent, expected to hit 151 per cent, is nearing the 160 per cent that was the ratio in the U.S. at the peak of the borrowing binge for American consumers." A new Canadian mantra: borrow until you drop, eh? Saving is so not sexy.
I have begun reading Mini-Shopaholic, the sixth installment in British writer Sophie Kinsella's engaging series, and excerpted in this month's Chatelaine, the magazine for Canadian women. Minnie, daughter of shopper extraordinaire Becky Bloomwood Brandon, is at age two as materialistic and consuming as her mother is. The sins of the parents are visited upon the children. It's set in the recent past, in recessionary Britain.
All at once, I'm sickened by Becky's rationalisations to spend more money to get more things. Becky has taken over several rooms of her parents' house (she and her own family are currently homeless) with her purchases, things she will never or rarely use, that duplicate what she already owns. In fact, she explains to her husband that the button (red: any irony here?) on her new sweater makes it different from her current model.
She wants a second child because 1) she thinks the two kids would look so cute in matching pom-pom caps and 2) she has a soon-to-expire coupon for a baby boutique. Suffer the little children. Avarice as something to laugh at, to feel morally superior over, feels not so funny. It's too much when the unenlightened consumer is a child.
Birdsell's knickknack universe
Last month, I had the pleasure of hearing Canadian Sandra Birdsell (and others) read at the Vancouver International Writers' and Readers' Festival. In the opening chapter of Waiting for Joe, her latest novel, like Mini-Shopaholic, also set in the recent recession, we meet Joe and Laurie on the lam from creditors in a stolen RV parked in a Wal-Mart parking lot in a different Canadian city than the one they call (called) home. Though they have lost their house, cars, his business, she still spends. This, despite the indignities of having recently sold many items at a yard sale, people haggling over bargain basement prices on luxury items. This, after Joe has smashed his flat-screen TV rather than sell it for pennies.
After a major new clothing purchase, Laurie does choose to next shop at a high-end consignment boutique, but still spends a great deal, money she does not have, on clothing she does not need. When the boutique will not refund her money, she scrambles among the garbage to find the tags for her previous new purchases, never worn, to sell to the boutique. A literal and figurative low. Pretending to consider a job at Value Village (cunningly described as a massive, endless sort of modern-day level of Purgatory), she has an epiphany, but still purchases a knickknack, one she thinks she can dress up as a gift for her father-in-law, on her way out.
An extended metaphor for a way of life that the entitled many would like to think of as Canadian as hockey? Perhaps. Certainly an indictment against a way of life that is unsustainable. By the end of the book, it seems as if Laurie has achieved some degree of financial stability, bailed out by the largesse of her father-in-law. He has saved. He has heeded.
Not yet shelved
For years, my uncle has been intoning, "This will be my last new car/my last truck." To remove the pathos from the refrain, I've been applying it to every purchase: "This will be your last new fridge, your last new bottle of shampoo."
My aunt has nine pairs of Tender Tootsie sandals, three in different shades of beige. At ninety, with a walker, and no car, it's increasingly difficult for her to shop, but shop she does. I refrain from asking how many new fall jackets in her favourite blue she needs.
She buys a new bedspread for her gigantic bed that will not fit in the circumscribed bedroom of the care home she is not yet ready to move into. She mentions in the same breath that the old bedspread is in excellent condition, is a better colour, but is out-of-date. (Bedspreads expire?) Does shopping root her to her current life? When she ceases shopping, will she have given up? Unlike my uncle, she is not yet talking about her last purchases, and maybe that's a good thing.
My husband and I have birthdays coming up. My aunt asks what he would like. He mentions new socks, but I don't think this is the type of purchase she has in mind. In recent years, she's sent a generous cheque. She probes. If there's something we want to buy, she will send more than the usual amount. I'm troubled by the discrepancy, though I know it grows from her generosity, from her desire to please, to give us something we will love. Still, the message I get is this: consume, and have/get more. Save, and receive less. Join her in her shopperly abandon: allow her to live vicariously by our shopping?
I don't think so. Birdsell's book is a more depressive read than Kinsella's but more useful. Perhaps in an effort at financial education of its female Canadian audience, as well as promotion of Canadian authors, Chatelaine should excerpt it next time. Past time to stop giggling at overconsumption. Time to see it as a sickening practice. And then maybe we'll begin to climb (without sparkly new shoes) out of the hole of debt. Less debt, less retail therapy, less of the new is better than old.