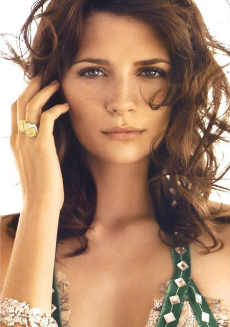 What's it like to be a real bona fide, celebrity stylist?
"It's like you'd be wandering around a big fitting room, somewhere in New York, pulling things out. And celebrities are standing there, and you're like, 'Ok, you're wearing this, you're wearing that!" Then you all go out and photographers take pictures of them on the red carpet, then you all go to the party together."
So says a 15 year-old from Kelowna. She's not shy about her desire to be a stylist. She wants to work with Kate Hudson and Mischa Barton, in particular. Along with her entire grade ten fashion merchandising class, she spent five hours on a bus to get to the Kwantlen graduation fashion show. There, the auditorium was packed with hundreds of girls from rural and urban BC who, glassy-eyed, shared similar career aspirations.
Many of those young women are now taking their first college fashion courses, and they're attending shows at this week's Vancouver Fashion Week. Testimonials from teen girls and the success of shows like America's Next Top Model may show that modeling is still one of the top career choices for many young women. But while even five years ago, many young women talked about wanting to be fashion designers, now, few do. Over the past many months I've asked dozens of 15 to 25 year olds about their aspirations. I heard over and over again that "no one" wants to be a designer anymore. Most want to be stylists - celebrity stylists.
Ticket to fame
Enrollment at BC fashion colleges reflects this. New programs are springing up (at the Art Institute of Vancouver, for example), and at existing colleges such as Blanche MacDonald, fashion merchandising classes outnumber fashion design classes by over three to one. Most of these are at private colleges where the tuition can be up to $10,000 a year, and "dreams" are as high.
So what's life like for a recent grad, determined to make it? "I have to wake up at 5:00 a.m. and set everything before anyone else shows up on set. Sometimes, I'm there 24 hours straight. I get the blame if anything goes wrong. I've got a radio attached to me and people will yell at me to bring socks, bring coffee for the director, sweep something up, anything."
"I didn't get paid anything for the first couple of years, now sometimes I make fifty dollars a day, sometimes two hundred on a really good one," says Stephanie Hartwick, a Vancouver-based fashion merchandising grad. "In Vancouver, you have to be really motivated and constantly networking and partying with the right people. If you're starting out, it's labour intensive, and people aren't nice to you, but if you're really determined, you can do it," According to her classmates, she stands a far better chance than most (several classmates raved about how talented and amazing she is). But Hartwick is one of the only people from her grad class who is getting any work. Hartwick says she'd like to stick with it, but will likely be moving into a more full time career in retail, keeping up her styling on the side.
Marketing dreams
A cynical or savvy adult might have seen that coming, but most young women don't. And marketing materials for "stylist" programs don't help the critical thinking process. One program gushes, "Envision putting makeup on Jennifer Lopez and Al Pacino in their latest movies, styling Britney Spears' sleek and shiny hair, and having the photos of your creations published in Elle, Glamour and Self. You hang out with the world's most stylish people; some are celebrities, some are members of royal families and some are 'ordinary people' with discriminating tastes. These people admire you for your Midas touch that turns everything into sparkling diamonds. Most importantly, they love you and your works because you make them feel beautiful inside and out."
But marketing materials like these point to why the dream of being a "celebrity stylist" is becoming more widespread. There's the promise of an easy path to celebrity, and a day filled with shopping. Oh yeah, and a future filled with adoration, popularity, and friendship.
There are a few practical explanations for the rise of the stylist: reality TV has exposed roles in the fashion industry that were previously "behind the scenes." And even though many young women aspire to be "supermodels," few have the height or weight (read: eating disorder) requirements to make it big.
The body project
But really, most want to be in fashion because of "the body project," an idea coined by Joan Jacobs Brumberg who is the Stephen H. Weiss Presidential Fellow, Professor of History, Human Development, and Gender Studies at Cornell and the author of several books. She thinks that society leaves young women vulnerable to the forces of popular culture and marketing, and they're getting bombarded. She says girls have always had a "project" but while in the Middle Ages it was religious piety, and in the nineteenth century it was decorum and "good works," now it's their bodies. Girls' create their identities through their clothes, makeup, hair, accessories, and thinness. They spend more time thinking about these things than schoolwork, boys, parents, or even friends.
And it's heating up. When I was a teenager 12 years ago, I had to worry about thinness and clothes. But as Brumberg points out, "now, the newest thing is that they even have to have perfect pubic hair designs." It's all consuming.
So consuming
Consuming is the key word. Girls create their images through shopping. One 16-year-old girl told me, "I love shopping. I mean it's so, so creative. It's so fun." Clothes define how girls see themselves and each other, how they choose their role models (many young women still list Sarah Jessica Parker as one of their main role models even though Sex and the City is long gone), and how they see their futures (for example, they talk about how they'll be wearing Manolo Blahniks -- $500 shoes - rather than trendy sneakers).
In Female Chauvinist Pigs, Ariel Levy argues that shopping and consumption were what made Sex and the City the compelling hit that it was. "The truly defining pursuit of their world wasn't sex so much as it was consumption. Sex and the City romanticized the weather in Manhattan, the offices of Vogue magazine, the disposable income of the average journalist, but what it romanticized most was accumulation.
"There was as much focus on Manolo Blahniks and Birkin bags as there was on blow jobs. Buying things became a richly evocative experience as seen through the lens of Sex and the City…a feathery pair of mules became of the linchpin of a glamourous, romantic evening in Central Park. It was as though without the shoes, everything else - the moonlight, the trees, the man - would dissolve into the night, leaving nothing but the bleak mundanity of regular life in its place."
For young women, shopping isn't just a way to obtain the clothes and makeup they need to create their identities, it's the main backdrop for their relationships. Brumberg points out that, "So many girls shop with their friends and mothers, so there's a fantasy about friendship. They think, 'Because I select these beautiful things for the celebrity, she'll want me to go to the party.' Girls bond over shoes and clothes. So in wanting to be a celebrity stylist, they're looking for friendship more than wages. It's important that the celebrity they'd like to dress is the same sex - it's not about being a stylist for a man. It's about their development needs as a young woman."
Buying love
Many girls hope that through these relationships, and through the shopping, they'll become the fabulous celebrities themselves. Magdelene Ow, who just graduated from the Kwantlen fashion design program admits, "Most young women go into fashion for the fame. And when you're a teen all you do is shop, so you think 'I'd love to shop for celebs then I'd see them wear my ideas then I'd be famous too." She says those girls don't know about the 14-hour days she and everyone else puts in.
The celebrity industry succeeds by making fame. As one 18-year old woman from Vancouver says, "Maybe it's reality TV, but it's just so easy to be famous." Reality TV (like America's Next Top Model and Project Runway) makes it seem as if you simply need to beat 20 other contestants to gain instant fame. Even those cast off the show often go on to "make it."
Compared to that, fashion design, the career choice young women talked about even five years ago, seems less appealing. Many young women say they can't sew and don't want to learn. Many say, "sewing seems so hard" - unlike shopping. Others say sewing seems like being a tailor, as opposed to something glamourous and high status. Yes, some young women are interested in fashion as art or fashion as cultural expression and they're slugging it out over their sewing machines. They love textiles, color theory, and form. But that's not what stylist aspirations are about.
Instead, most are interested in shopping their way to fame. They won't make it. They don't know that. And it's hard to blame them.
Vanessa Richmond is the culture editor at The Tyee.