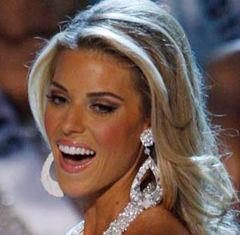 It turns out, plastic isn't just an eco-problem.
Yesterday, MSNBC and other networks cut away from regular programming to air the announcement that Miss California Carrie Prejean can keep her crown.
If you didn't know about this important news, I'm sure you're really grateful to me for bringing it to your attention.
Yes, it's true. Despite the dual controversies of having broken pageant regulations by concealing that she'd posed topless for photos (gasp), and saying she opposed same sex marriage (and is only in favour of "opposite marriage," whatever that means) in the question-and-answer part of Miss USA, she can continue to reign as Miss Cali. And the decision proved that plastic's greatest threat to humanity might be in other forms.
Like all good reality shows, the "you can stay" moment was revealed with drama and suspense. After many deliberations in the court of public opinion, and lobbying by the big powers at the Miss California USA organization, Donald Trump, who owns the Miss USA Pageant, delivered the verdict in front of millions after several delays and much fanfare.
I wanted to believe...
But that's not why my heart was racing when I watched the news.
I'd naively like to believe that if the Donald had fired her, he'd have trumped the fembots, sent a signal that imperfect beauty wins the day, and delivered a blow to homophobia and hypocrisy.
I know that even if that happened, all it really would have done is secure a lifetime of martyr status and fame for her. But can I just have a naïve rant for a moment? I wanted to believe that stripping Prejean of her crown would expose the total nonsense of the boob-jobs-bring-confidence statements made by the Miss California USA organization (the organization that funded Prejean's silicone implants right before the Miss USA pageant). And, yes, they actually said they paid for them to boost her confidence.
I wanted to believe people were tired of nonsense like Miss California USA organizers ducking any blame and pointing at "the media" for the ideas about beauty that exist in pageants and for the "way that we perceive real women." Even though I'm far from the only "media" to point at least one real finger at pageants.
And though the reasonable part of me knows that plastic surgery is a far more complex issue, with many social forces and implications, one that can't be blamed on any individual or organization, another part of me just wants to stop the buck-passing that keeps the operating rooms busy stuffing plastic into people.
I wanted to believe that Prejean's hypocrisy was enough to turn even her most staunch supporter against her. "One has to wonder," wrote Brian Normoyle in the Huffington Post, "how the beauty queen has the credibility and moral standing to speak out against 'unnatural' and 'un-Biblical' marriage with the same breath that is weighted down by 'unnatural' and 'un-Biblical' implants filtered through $10,000 worth of 'unnatural' capped teeth." But it wasn't enough. She's got gazillions of fans.
Progress looks like this
And while we're on the topic of gay marriage, I wanted to believe that only a few older people are homophobic these days. That some people grew up with homophobia are slow to change, but that it's only a matter of time before gay marriage is legalized because no one of my generation or younger could be intolerant.
Dan Savage says this pageant actually shows that things are improving. He writes in the NYT that the fact that many were upset about Prejean's comments in the pageant shows that anti-gay attitudes are weakening. "No contestant would stand on that stage and argue for a ban on interracial marriage or come to the defense of a country clubs that banned Jewish members or condemn single mothers. All those positions were once considered thoroughly respectable, and people could argue for them on TV -- pundits, candidates, beauty pageant contestants -- without fear or repercussion. Not true today. It's not that there are racial thought police, or anti-Semitic thought police, or single-mom thought police. It's just that times and attitudes change." And that's happening with this issue too, slowly. But I wanted to believe they'd changed more than this.
I wanted to believe I wasn't alone in not even noticing that the Miss America pageant was on a few weeks ago. That I was with the many commenters who initially said things like "You know it's a pretty Goddamned slow news day when this is the most exciting thing going on in the world." But yesterday was a big news day, and it was still the biggest news on many networks, online newspapers and blogs as well as tabloids.
'Plastic beauty serves no one'
Part of me wanted to believe that Susan Boyle's 15 minutes of fame might last a few minutes longer. That most men (secretly sometimes) liked flawed, imperfect, real women better (maybe not Boyle, but maybe so). That they agreed with Stephen Marche when he wrote in Esquire this week that plastic beauty serves no one.
"Here in America... women now have to struggle against the tide of money fixation and status obsession that threatens to turn them into mannequins distinct from the plastic variety only insofar as they can pose themselves. And for men, it's a struggle against the despair we face when looking over the pickings of the bar, thinking, 'They're all the same' because they are." But many comments in comment sections essentially said of Prejean, "She's hot," which bursts my bubble.
The only saving grace in all of this is that Carrie Prejean might not now become the martyr of the right, with a book deal, and an endless amount of hype. That this portion of this beauty contest might, in fact, end now.
Related Tyee stories: