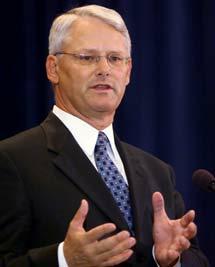 Clip this column. Or, at least, remember this key point: Gordon Campbell's BC Liberal government is going to foist a "Fudge-It Budget" on British Columbians next February, just before it faces voters in a May provincial general election.
Simply, B.C.'s 2009-10 fiscal plan is going to have a deficit because the government's expenditures will exceed revenues. The Campbell government, however, will say otherwise, claiming instead that their budget is "balanced." That means they are going to have to "fudge" the books to show that revenues exceed expenditures, rather than the other way around.
Preparing to sail the red ink sea
B.C. will not be alone in this sea of red ink. A fiscal contagion is now engulfing governments across North America, hot on the heels of widespread economic dislocation following the global credit crunch.
In the United States, where sizeable deficits have wracked the federal government for most of the past decade, experts believe that a newly-elected president Barack Obama will inherit an annual shortfall of $1 trillion.
State governments also are suffering. Consider California, where governor Arnold Schwarzenegger has recalled the state legislature for an emergency session next month to combat a possible $17 billion deficit.
In Canada, TD Economics last week issued a special report under the headline, "Canada's federal government facing significant deficits." While our country is expected to stay in the black for the remainder of the current fiscal year (2008-09*), it's a much different story over the next two fiscal periods. According to the TD economists, expenditures could exceed revenues by $10.4 billion in 2009-10, and then $9.9 billion in 2010-11.
And just hours before Campbell's televised address to British Columbians, the Ontario finance minister admitted that despite cutting some expenditures and delaying others, his government anticipates the current year will end with a $500 million deficit -- this just months after the legislature passed a balanced budget. He refused to make any forecast for next year.
Premier changes his tune
Let's go back to last night when Campbell made his televised address to the province and admitted that British Columbia is not immune to the financial and economic turmoil now gripping the industrialized world. "World stock markets are reeling, commodity prices are plunging and the world's financial system is under attack," he began, a little breathlessly.
Readers who tend toward the churlish might suggest that this observation shows the premier has made a 180-degree about-face, now accepting that global forces have had, and are having, a significant impact on B.C.'s economic health.
For the last half-decade or so, the BC Liberals have strenuously denied that soaring, world-wide commodity prices, skyrocketing international demand for our natural resources, historically low interest rates and an explosion in federal transfers to provincial governments, had anything at all to do with B.C.'s improved economic circumstances, and succession of budgetary surpluses.
Rather, they crowed that British Columbia's economic and fiscal successes were due exclusively to BC Liberal policies, the courage and foresight of the premier, and the commitment of his dedicated caucus. External forces, whatever they were, were irrelevant.
Well, times have changed, and so too has Campbell's tune.
Ten plus five equals...
To meet this grave situation, which Campbell said was the "worst crisis in over 75 years," the premier outlined a 10-point plan -- which was on top of a five-point program he unveiled earlier in the day in Nanaimo (which proposes meetings with experts, business leaders and other governments).
To start, the legislature will be recalled for a short session to begin on Nov. 20. Six weeks ago, of course, the government cancelled the legislative assembly's scheduled fall sitting because it had nothing to do.
Well, now there is. Legislative approval is needed for tax cuts promised by Campbell, including relief for industry (a school property tax rebate), small business (a reduction in the small-business income tax rate to 2.5 per cent) and individuals (a retroactive cut in personal income tax).
As well, the provincial government will remove limits on deposit-insurance protection for individuals with credit union accounts, and set up a private-sector pension plan for those British Columbians who do not have a group pension scheme.
A technical measure that will be applauded by the private sector is a doubling of the commission Victoria pays to businesses for collecting the sales and hotel taxes. It's a gift estimated to cost the provincial treasury $60 million over a three-year period.
That's seven of the proposals unveiled by Campbell. Another is a gimmick, pure and simple -- Victoria will give the BC Ferry Services $20 million to cover a 33 per cent reduction in fares for December and January.
Why those two months? Well, the premier explained, it will help families get together over the holidays. Then again, the BC Liberals hold only four* of 14 seats on Vancouver Island, and there's this election in May.
One more proposal put forth by Campbell is a pledge to accelerate capital expenditures for infrastructure. This is a neat trick insofar as British Columbia's GAAP accounting allows the cost of capital spending to be spread over many, many years. So, while the BC Liberals get the benefit of having construction jobs created and projects fast-tracked, just a fraction of those expenditures will be counted in the current or subsequent fiscal years.
Define 'avoidable'
Finally -- and this is proof that B.C. will be facing a fiscal shortfall very soon -- Campbell said that his government would re-evaluate spending priorities and reduce "avoidable" government expenditures.
The intent of this measure, the premier said, was to "not start digging ourselves into that hole that we worked so hard to get out of in 2001."
That comment echoed what Campbell told CBC News earlier in the week following an economic summit he and Canada's other premiers attended with the prime minister in Montreal. "It's taken us more than a decade to get out of the deficit holes that were dug," he said.
"And I think we should be building on that because that's the foundation of that financial prudence into the future, not starting to dig another hole. So I am not in favour of deficit financing."
It's possible to detect in Campbell's remarks the sentiment that while he blames the current economic and fiscal uncertainty on "the world," he still credits British Columbia's economic prosperity and fiscal strength to his own government's actions.
But as students of fiscal history know all too well, it is seldom that public finances fall seriously into deficit -- digging a hole, as the premier put it -- because of government over-spending. And that's because government expenditures (absent a war), are generally relatively stable.
On the other hand, government revenues fluctuate considerably. And this is especially true in countries such as Canada, and provinces like British Columbia, which depend to a great extent on the extraction and export of natural resources. Inadvertently, Gordon Campbell himself provided evidence of this in his televised address.
"Today the world's financial system is in the grips of its worst crisis in over 75 years," he said. That takes us back to 1933, the nadir of the Great Depression, which began in 1929 and persisted through the early years of the Second World War.
Did governments around the world face horrendous deficits in the Great Depression because all of them were engaged in out-of-control spending? Hardly.
In the late 1920s and early 1930s, global commodity demand and prices fell off a cliff. Around the world, government revenues dropped off a cliff. Those deficits were caused because, while government expenditures stayed steady -- and, actually, most decreased significantly, to the consternation of John Maynard Keynes -- the monies flowing into public coffers slowed to a trickle.
It was very nearly the same in British Columbia in the early 1980s, as commodity prices plunged and government deficits quickly appeared. The condition persisted in B.C. through to the late 1990s, until the most-recent global commodity boom got underway.
It's revenues, not spending
To appreciate that Victoria's spending is not responsible for B.C.'s worsening fiscal situation, the premier should consult the 2008 edition of the British Columbia Financial and Economic Review, an annual publication published by the finance ministry.
Table A3.6 on page 93 shows historical expenditures by the Consolidated Revenue Fund for every fiscal period from 1984/85 to last year, 2007/08. And for every year but the last four, government expenditures were between 17.1 per cent and 19.7 per cent of the province's GDP.
Then, in 2004/05, the figure fell to 16.6 per cent, and over the next three years was 16.2 per cent, 15.6 per cent and 15.9 per cent.
How, one is tempted to ask, is it possible that Victoria faces fiscal uncertainty when government spending is in decline, and at its lowest point in a quarter-century?
The answer, of course, is on the other side of the fiscal equation -- government revenues.
The monies flowing into the provincial treasury will slow -- and probably have already begun to slow -- as people lose their jobs and businesses see their sales weaken, as commodity prices fall and companies lay off their workers, and as Ottawa tries to get its finances under control by freezing or even slashing federal transfers.
Running in the red?
Still, as was stated earlier, the situation is grave and the premier should be commended for taking action to mitigate the potential impact on British Columbia. But he also is facing an election in six months, and woe be the B.C. premier who seeks a mandate from the voters as red ink drenches the province's books.
Next February, the Campbell government will introduce the fiscal plan for 2009-10. By law, its revenues must exceed its expenditures, but as governments of every political stripe across North America wrestle with gargantuan shortfalls, what is the likelihood that it will be?
Almost impossible, and so let us begin to prepare for a B.C. budget packed with that good, old fudge. But here's something else to consider: what should we do about it?
*Two corrections made at 3:20 p.m. on Oct. 23, 2008.
Related Tyee stories: