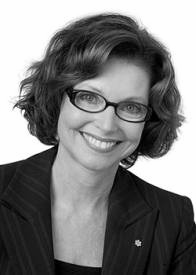 [Editor's note: This is the first in a two-part series by Will McMartin on B.C.'s finances and natural resources.]
British Columbians are fortunate to live in a province blessed with bountiful natural resources. We own immense tracts of timber, veritable mountains of minerals and metals, untapped oceans of natural gas and world-class fudge.
Fudge?
No, not the tasty chocolate fudge that everyone loves to eat. Rather, ours is that special "fiscal fudge" cooked up by politicians trying to camouflage or distort B.C.'s finances.
It should surprise no one, therefore, that Finance Minister Carole Taylor has been busy in the kitchen over the past several months, preparing a sweet-tasting concoction of fiscal legerdemain.
Thanks to soaring commodity prices that have filled the provincial treasury to overflowing, however, Taylor's fudge has a different flavour from that of her many predecessors.
Whereas Social Credit's "Budget Stabilization Fund" (appropriately known as the BS Fund) in 1987, and the New Democratic Party's aptly-named "fudge-it budgets" (pre-election surpluses later disclosed as post-election deficits) in 1995 and 1996 - to mention just two, well-publicized examples - were whipped up to conceal or reduce fiscal shortfalls, Taylor's heaping serving of fudge is intended to minimize a massive surplus and dampen salary and benefit demands by public-sector workers whose contracts expire this year.
Runaway revenues
B.C.'s latest foray into the fiscal kitchen began on September 14, when Taylor unveiled a post-election mini-budget for fiscal 2005-06. She pegged revenues for the year at about $34.5 billion and expenditures slightly lower at nearly $32.9 billion. After $300 million was deducted as a "forecast allowance," Taylor was left with a surplus of $1.3 billion.
That figure should have been pretty accurate; after all, the fiscal year (which runs from the beginning of April to the end of March) was nearly half over. What could go wrong?
Yet things did go awry. Not with expenditures, of course. Provincial spending is boringly predictable; seldom do we see big surprises either to the upside or the downside.
That is because Victoria exerts considerable control over its outlays, nearly all of which occur within the province's borders. Over the course of a fiscal year, the government can correlate spending with income, speeding-up or delaying, increasing or decreasing certain items of expenditure as necessary.
But B.C. is less able to manage revenues, which, to a large extent, rely on factors (such as global commodity prices) or sources (transfers from Ottawa) set outside the province.
And so it was that last fall, with natural gas and metal prices skyrocketing, provincial revenues began to soar well above earlier estimates.
How to make $1.4 billion vanish
On November 30, just 10 weeks after she issued her mini-budget for 2005-06, Taylor released the second quarterly report for the fiscal year.
Expenditures, as expected, were relatively steady, dipping slightly to about $32.8 billion. But revenues had exploded to more than $35.7 billion - a whopping $1.3 billion higher than Taylor's mid-September estimate.
This was phenomenally good news for British Columbians. With the original surplus of $1.3 billion and the unspent forecast allowance of $300 million, plus the new-found $1.3 billion windfall, B.C. was on track for a record breaking surplus of almost $3 BILLION.
Taylor, however, mixing bowl in one hand and spoon in the other, decided to downplay British Columbia's good fortune.
As was shown in the second quarterly report, the finance minister retained the entire $300 million forecast allowance (even though the fiscal year was nearly over, and government revenues were strengthening).
But she also added an unbudgeted expenditure of $1 billion as a "provision for compensation agreements." Those monies, Taylor said, were available as an incentive to public-sector workers whose unions were able to conclude new collective agreements before March 31, which is the end of the fiscal year.
It is important to understand that the finance minister did not have legislative authority to make that $1 billion expenditure when she released the second quarterly report. Under the parliamentary system of government, the peoples' elected representatives - in B.C., the 79 MLAs sitting in the legislative assembly - must approve all public expenditures before they are incurred by the executive (also known as the cabinet, or government).
Simply, the inclusion of an unvoted $1 billion expenditure in the quarterly report was inappropriate and misleading. Yet, it served the purpose Taylor intended, which was to understate the size of the government's massive fiscal surplus.
Whereas the budgeted, voted surplus was close to $3 billion, Taylor declared that it was only slightly more than half that amount, or $1.6 billion.
Surplus silliness
Then the finance minister added a thick layer of icing on her $1 billion fudge, saying that if no new collective agreements were reached by the fiscal year-end, the bonus monies would disappear forever into a black hole of debt repayment.
"If by the end of March, it's not all spent," she said at a news conference to release the second quarterly report, "that money, whatever is left, goes back to repaying the debt."
Editorial writers at the Vancouver Sun swallowed the fudge in a single, unquestioning bite. "At the end of the fiscal year, any surplus automatically goes to pay off the provincial debt and cannot be carried forward into the next fiscal year," the newspaper stated authoritatively in an editorial published December 3. This, the newspaper claimed, was because of "rigorous accounting rules that govern the provincial budget."
That assertion not only was incorrect, it's just plain silly. There is no requirement - statutory, accounting or otherwise - that Victoria's surplus funds must go to debt repayment at the end of a fiscal period.
In part this is because no one knows the size of an annual fiscal surplus until the comptroller general and auditor general "close the books" on the year and release the public accounts - a process which does not occur for at least four months after the fiscal year has ended.
The notion that a surplus of unknowable size must be spent on debt repayment at year-end is, therefore, to say the least, nonsensical.
More fudge anyone?
Perhaps emboldened by the unquestioning support she received from B.C.'s news media, Taylor again served up her fudge on February 23 when she introduced the province's budget for 2006-07.
Like the second quarterly report, Taylor's budget incorrectly showed (in an "updated forecast" for 2005-06) an unapproved $1 billion expenditure as an incentive for public sector unions.
It took another two days for Taylor to finally bring forward legislation - Bill 5, Supply Act, 2005-2006 (Supplementary Estimates No. 1) - requesting authority for the $1 billion expenditure. The bill went through all three readings in a single day, but has yet to receive royal assent.
Only after the lieutenant governor has given her approval - nearly four months after Taylor first showed the $1 billion expenditure in the 2nd quarterly report - will the government have the legal authority to expend the monies.
Myth of paying off debt
But there remains Taylor's contention that the $1 billion (or a portion thereof) will revert to debt repayment in the event that no (or few) new collective agreements are agreed to by public sector unions by the March 31 deadline.
"This was unexpected revenue that came into the books this year," the finance minister told the legislature on February 23 during debate on Bill 5. "British Columbia is very proud of the fact that we are now GAAP-compliant.
That's something that this government has done. We believe in accountability and transparency." (GAAP stands for "generally accepted accounting principles.")
Then she said "Whatever is left of that $1 billion will immediately go to paying down the debt of British Columbia.
So that money is not lost to the people of British Columbia. It just goes to a different area. It's no longer a signing bonus because the contracts won't have been signed, and therefore it will go to paying down the debt for British Columbians."
Readers should know that nearly all of Victoria's debt is long-term, or "funded," which means that it is not due for repayment for at least a year or more after it is borrowed. Simply, B.C. obtains cash by selling bonds that mature over various periods of time; say, five, 10 or more years after they are purchased by institutional investors.
At the beginning of the current fiscal year, for example, B.C.'s gross direct debt totalled $39.9 billion. But repayment of that debt - redemption of the bonds - is spread out over the next four decades; B.C. taxpayers will be making debt payments in every year but six between now and 2045. (See 'net debt maturies' at this link.)
In the current fiscal period, 2005-06, the gross debt scheduled to mature added up to $2.8 billion. When Taylor brought in her second quarterly report, that amount was down to $802.8 million, and by December 31, stood at a mere $50 million. That latter amount (on bond series BCCMTN-49) was paid on February 24 - the day after Taylor brought in her 2006-07 budget and the day before she introduced Bill 5.
Consequently, there is no long-term debt scheduled to mature before the end of the current fiscal year. Taylor may have the $1 billion (or a portion thereof) in unspent bonuses on her hands on March 31, but she has no maturing debt to repay on or before that date.
It is true that the finance minister could attempt to redeem some funded debt before it matures - a measure called "defeasement" - but in that event, B.C. taxpayers would have to pay a penalty to the affected bondholders. That hardly seems a sensible or prudent fiscal policy.
For a rainy day?
So, what will happen to that $1 billion in the event that it is not paid to public-sector workers before March 31? The fact is that the provincial government ends every fiscal year with a large amount of cash on its books. Last year, for example, which was the first fiscal year that B.C. was GAAP-compliant, the government's year-end, balance-sheet showed $3.6 billion in "cash and temporary investments."
Indeed, Taylor's budget for fiscal 2006-07 shows that she expects to finish the current period with $2.6 billion in cash.
So, if Taylor is unable to expend all or some of the $1 billion before March 31, the portion remaining at year-end will be recorded, along with other surplus monies, as cash. The provincial treasury, which is a division in the finance ministry, invests surplus cash in a variety of short-term, interest-earning instruments, such as T-bills.
Importantly, cash remaining at the end of a fiscal year is recorded on the government's balance sheet as a "financial asset." And, as such, it reduces by a comparable amount the government's "net liabilities," which also may be referred to as "net debt."
And there's the rub. By retaining all or a portion of the $1 billion as cash - that is, not dispersing it to public-sector workers - Taylor will, in effect, be reducing B.C.'s net liabilities or net debt, even though not a single penny goes to paying off outstanding debt.
B.C.'s surplus monies will not go anywhere on March 31; or, at least, not to debt repayment. But as cash held in the provincial treasury, they will reduce B.C.'s net debt by the same amount.
Those monies then will be available to Taylor in the coming fiscal year, 2006-07. She could use them to fund ongoing government operations, pay down debt when it comes due, or - although it seems a stretch given her rhetoric - even provide bonuses to public-sector workers.
The bottom line
In summary, soaring commodity prices delivered an unexpected windfall surplus to B.C. in fiscal 2005-06. Finance Minister Taylor, loath to reveal the actual size of the surplus on the eve of contract talks with public sector workers, fudged the books by claiming an unbudgeted, unapproved expenditure of $1 billion for contract bonuses.
She then added an extra layer of fudge by saying that the 'bonus' monies would disappear into debt repayment on March 31 if new collective agreements were not signed by that date.
All of which goes to show that no matter which political party is in power, and regardless of whether B.C.'s finances are in surplus or in deficit, "fudge" endures. It seems to be an enduring Pacific province commodity.
Veteran political consultant and analyst Will McMartin is a regular columnist for The Tyee.