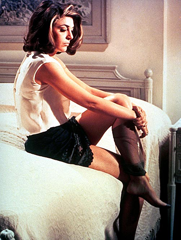 Leopard-print spandex, Lee press-on nails and orangey-foundation used to be the signs of a cougar sighting: a single, man-hungry, 30-something woman. Oh, the good old '80s.
But that's not what a cougar is anymore. In the current pop culture vernacular, "cougar" simply means a sexy woman over the age of 35. The word "desperation" seems to have disappeared from its definition; words like smart, successful and funny have often taken its place. It no longer even necessarily means single -- just hot and older.
There are a few more pejorative cultural examples, like in this season's Gossip Girl: a step-mom who sleeps with two male high schoolers in an attempt to enjoy the last dregs of her prime before the plastic surgery starts.
But the list of good "cougs" is long and growing: Tina Fey, Carla Bruni, Halle Berry, Rachel Griffiths, Kylie Minogue and even Helen Mirren, and of course the '90s supermodels who are "back": Cindy Crawford, Christy Turlington and the rest of George Michael's "Freedom" video cast. More Emmy statues went to "older" women than ever before and the language used to talk about their wins wasn't about how they manage to do so much and still get dinner on the table.
"Forty-year-old women look very good these days," remarked my mom this summer.
Well, here's to you, Mrs. Robinson...
Mrs. Robinson is no longer the prototype of the cougar, partly because in today's world, a woman her age is almost as likely to be the mother of a newborn baby as a teenager, and more likely to have a busy career than enough free time to have a romp around with teenage boys in the afternoon.
It could be my own bias inventing all of this (and my mom's), but it's refreshing, in my world, that women of a certain age are no longer called that. That audiences, watching last week's vice-presidential debate, were just as likely to find the female candidate "hot," as the male one. That some women are joining the ranks of George Clooney, Bill Clinton, Jon Stewart, Bill Maher and, yes, Joe Biden as icons with both sex appeal and power.
Palin: not a sign of progress
When it comes to U.S. politics, though, women who swoon for Say-It-Ain't-So Joe still invariably do so out of the euphoria of "watching a man with real command of facts, details and history," while admiring his physical virility -- an intoxicating mix. But though I rarely hear mention of Sarah Palin without some reference to her "hotness" -- as my friend said yesterday -- Palin is only there because she's pretty. It looks like politics still hasn't outgrown the style-versus-substance divide.
The scores of feminist pundits reminding readers and viewers to separate Palin's policies from her pageant past, and her qualifications from her lipstick jokes, have a tough job -- because there is almost nothing of the former. Still, until now, in politics, it's been almost mandatory to be anti-sexy to be taken seriously: Madeleine Albright and Margaret Thatcher are just two examples. So it seems like progress that an attractive woman is running for a top position. Except she's just jumped to the other side of the dichotomy, proving it's still either sexy and vacuous, or dragony and smart for women.
But change comes in little high-heeled steps, right? Slow and, at times, painful, but at least moving forward; and one day, women might embody the full range of career possibilities regardless of whether we're good looking or not.
In other news on the gender front...
According to Brandweek everyone thinks hard times must be triggering women to pull back on discretionary vanity products but the opposite is true: business is up. Julia Beardwood, principal at design shop Beardwood & Co in New York, was quoted in the article saying that when the economy is in crisis, men drink and women buy cosmetics and skin treatments. And the same happened after 9-11.
Does this mean that stress brings traditional stereotypes out -- the certainty of gender roles in a world where there's no other certainty? Or does it mean that a little sugar, in the form of lipstick and botox, is somehow thought to help everyone's bad medicine go down? As one Salon writer put it, "Apparently, national crises make some women take their mothers' advice to heart: Put on a little lipstick, and you'll feel better."
And more little high-heeled steps...
Also, this week, via Time magazine, are the results of a study aimed at figuring out why men earn more than women: nature or nurture, in a nutshell. To eliminate most of the usual factors, they interviewed people who have undergone sex change operations. They found that women who become men (known as FTMs) do significantly better than men who become women (MTFs). MTFs in the study earned, on average, 32 per cent less after they transitioned from male to female. And the FTMs found they were treated much better, paid more, respected more and promoted.
"Schilt, one of the authors of the new article, interviewed a female-to-male transgender attorney a few years ago. As a younger attorney, the lawyer had been Susan; now he was Thomas. He told Schilt that after he transitioned from female to male, another lawyer mistakenly believed that Susan had been fired and replaced by Thomas. The other lawyer commended the firm's boss for the replacement. He said Susan had been incompetent; "the new guy," he added, was "just delightful."
But take heart: in 1978, full-time women workers earned just 61 per cent of what full-time men did, but 79 per cent now. If that keeps equalizing at the rate of .6 per cent per year, we'll be on par the year I retire.
Related Tyee stories: