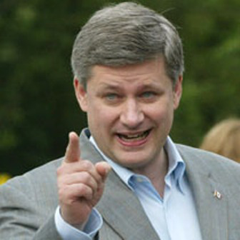 In the last election, the Paul Martin liberals used the tried and true "hidden agenda" attack on the Stephen Harper Conservatives and were gobsmacked to find the smear didn't stick. How could it?
Harper had been in the public eye too long. After years in Parliament, how hidden could anyone's agenda be? If Harper really had kept an agenda under wraps all those years, he probably would have forgotten it. Most of us can't even remember where we keep our car keys if we don't drive every day.
The media tarred Martin for running on yesterday's game plan, just as sports columnists blamed Leafs coach Pat Quinn for failing to adjust to the New NHL. But that hindsight insight hasn't stopped our favourite pundits from recycling slightly used storylines from the last two elections this time around.
So it is that the newspapers' collected wisdom once again is that winning polls are Harper's enemy, and that Harper himself will do all he can to downplay the Conservatives chances of forming a majority.
Which is strange, because if we look at another favourite media narrative, we might understand why this first one no longer holds true.
Minority mayhem?
Pundits have long parroted the idea that Harper plays politics as a chess match, several moves ahead, yet they seem almost impotent in applying that wisdom to actual events. In fact, while the opposition parties and media seem anxious to replay history, Harper has learned from it. In the previous two elections, when polls showed Harper flirting with majority territory, his support vanished. So, Harper understood he must make minority government itself unpalatable.
While the Harper communications cabal has shown itself tone-deaf in many instances, they have demonstrated one impressive ability: the understanding of how much the Canadian voters will retain from non-election political news. They have taken advantage of this by stonewalling accusations from the in-and-out affair, Cadman, Julie Couillard, and other instances, knowing headlines will read: "Opposition attacks, Government denies." And they know that, without bending or admitting anything, that is all that Canadians will remember.
The example that is relevant here is the Harper efforts to turn minority Parliament into the dysfunctional House of Ill Repute. With much of Harper's famous priorities carried through Parliament early in their tenure, Canadians could easily have been convinced that minority parliaments can work. We have the history to back that up, with much of the beloved Pearson's headline accomplishments coming from a minority government: universal health care, the maple leaf flag, and the Canada Pension Plan.
Taking Parliament apart
Harper was getting things done in his minority, and, many Canadians thought, was forced to hold his party's more radical influences in check. Many Canadians liked the idea of forced restraint. Minority government, Canadians might believe, was safe and efficient.
And so, Harper went about changing those psychological associations. After covering the more straightforward side of his legislative slate, Harper went to the task of taking Parliament apart. The Liberals were happy to play into his hands, and with the two sides equally up for the task, Parliament descended into the chaos and obnoxiousness of a schoolyard.
Committees devolved into circuses -- and Harper's central office provided the carnival program, newly written How-To guides for disrupting committees. All sides put their worst faces forward; venom, mud and spit flew.
But voters, the Conservatives reasoned, would blame no party more or less than any other for the mess. What they would remember was the mess.
Cynical, but effective
That is the association most Canadians have with minority government now. Outside Toronto, Montreal and Vancouver, Canadians are no longer scared of a Harper majority. Many are desperate for it to rescue Parliament from its embarrassing descent into the gutter.
It's cynical, to be sure, but if we don't see the near 40 per cent support for the Conservatives drop any time soon, it will indicate that the prime minister has been successful in destroying the bogeyman of Conservative majority by displacing it with instinctive repulsion for minority rule.
Related Tyee stories: