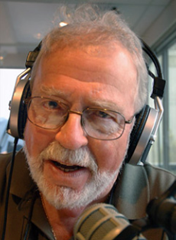 I won a law suit! In itself that's so rare that I can't help myself from telling you again. And I hope you'll pardon my cheek in telling you what I think it means.
I genuinely feel for the plaintiff, Kari Simpson, because it shouldn't take nine years, and I assume six figures worth of costs, to find out whether or not you've been libelled. Justice delayed is justice denied.
For me, it was very satisfying to get near the end of the line knowing that I am connected to a legal decision that truly has changed the law for the better, and actually may have stopped the decline of free speech.
I'm not going into the case itself -- you can easily "Google" it -- except to say that the lead judgment of Mr. Justice Binnie made me very angry when he referred to the kind of work I did as "shock jock," something not even my worst enemy would accuse me off. I have written the judge, giving him a resume of my media career and asking that he change that part of the judgment. Not even the trial judge -- we shared a mutual loathing -- said that about me, contenting herself to smile sweetly and tell me that she always listens to the CBC (not when I'm on, I'm guessing).
This judgment sets forth the standards for defamation to be found in areas of public interest and they are:
(a) the comment must be on a matter of public interest;
(b) the comment must be based on fact;
(c) the comment, though it can include inferences of fact, must be recognizable as comment;
(d) the comment must satisfy the following objective test: could any [person] honestly express that opinion on the proved facts?
(e) even though the comment satisfies the objective test, the defence can be defeated if the plaintiff proves that the defendant was actuated by express malice.
Although this falls short of the American standard (see Sullivan vs. New York Times) it goes a long way towards killing "libel chill." Let me explain.
Until now, the inhibitor of free speech was not just the fear of losing a lawsuit, but in being in one in the first place. The Simpson case gives you some idea of how long a lawsuit can last and how much it can cost. If you are a large corporation or a very rich person you can say to someone wanting to sue you, "Go ahead... be my guest." Because access to the law is confined to those with money or power or both.
In the perfect world, if A alleges harm to him by B, someone judges the matter quickly and effectively and that's that. In the real world, the commencement of a libel suit starts you down a very long, slippery slope and there's no backing up. It can be a ruinous process for most individuals, for even if you win, your legal bill will be the size of some small country's annual budget.
The high cost of litigation has given rise to what is called a "SLAPP suit" (strategic lawsuit against public participation) or a threat of lawsuit that is intended to intimidate and silence critics by burdening them with the cost of a legal defence until they abandon their criticism or opposition. Winning the lawsuit is not necessarily the intent; often the plaintiff's goals are accomplished if the defendant succumbs to fear, intimidation, mounting legal costs or simple exhaustion, and abandons the criticism.
SLAPP suits are wonderful ways for the big and the strong to shut up critics, and in a country where free speech has been on the decline, a great tool for the establishment.
Paradoxically, SLAPP suits are a boon for mischief makers who often could wheedle a settlement out of a shaky case simply because the defendant -- often a newspaper, radio or TV company -- would pay a modest sum to get rid of a pest.
I am not saying that Kari Simpson's suit against me was a SLAPP suit.
However, the standards laid down by the Simpson case should make it easier for the media to analyze and editorialize on public affairs. Now that the standard is, roughly, that an honest belief and absence of malice is a good defence, perhaps we will start having the sort of public discussions a free country should revel in.
The Simpson case tells us something else of equal, if not greater, importance: we must overhaul our civil justice system. When one reads, as I did the other day, that young lawyers should, after two or three years, make around $200,000 a year, you have to give your head a shake. Where is it written that lawyers providing a service sheltered by a legal monopoly can charge not what the service is worth, but what the traffic will bear?
For as long as I can remember, people have been examining the legal system with an eye to meaningful reform -- such an exercise is now in progress -- and nothing of substance happens. No matter how the rules of procedure for civil suits are juggled and amended, they still provide lawyers the roadmap for stretching cases on interminably.
I know whereof I speak because I was once in the game and played it very well.
The incentive to a lawyer is not to shorten proceedings and save costs, but quite the opposite. One is not paid to be a great lawyer but a great biller. In the firm meetings, no one cares that you did a fine job on a pro bono (free) case, but how much you billed. Indeed the stories are legion of lawyers charging out more billing hours than there were hours to bill!
While, not unnaturally, I'm glad I won my lawsuit and glad that the plaintiff lost, I come away from the case with this nagging thought: how did it take nine years, God only knows how many hours in examinations for discovery, plus a hugely expensive paper war and 13 judges for the plaintiff, in this case where the facts were uncomplicated, to find out she had no case?
The Supreme Court of Canada has clarified the law of libel and made it much easier for people like me to comment on public affairs. That's how it should be in a society that has shut up all muckrakers and tenderized all public comment.
We needed that.
Now we need a system where access to law is not denied to all but the wealthy.
Related Tyee stories: