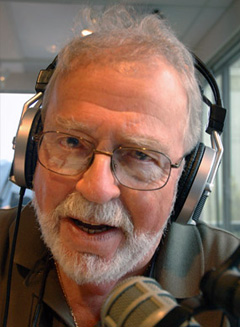 [Editor's note: Beginning today, former Socred cabinet minister and veteran radio commentator Rafe Mair becomes a regular contributor to The Tyee. He wrote this article for the Ryerson Review of Journalism, published by the Ryerson School of Journalism. The article was spiked by the editors.]
Censorship is hardly new even to countries that hold out free speech as the foundation of all freedoms. In the 1770s Thomas Paine circulated a paper he called "Common Sense" which is seen as the triggering mechanism for the American Revolution. In 1798 Congress passed four laws called, collectively, the Alien and Sedition Acts which, among other things, made it a crime to insult the president, members of Congress and other officials. It is a lasting stain on the administration of John Adams that he didn't veto this legislation – nor did he come up with much of an explanation for not doing so.
Until 1968 theatre in London was subject to censorship by the Lord Chamberlain and those of us of a certain age remember the so called voluntary Hays Code covering Hollywood films that resulted in nonsense like the bride and groom shown the morning after the wedding night in separate beds, clad in pajamas with scarcely a hair out of place.
In a perverse sort of way, literature and the arts profited from censorship. During Shakespeare's time, criticism of the monarch ensured that in very short order you would be in two pieces. But Scottish kings like Macbeth were quite legitimate targets. Jonathan Swift's great satires, Gulliver's Travels and A Modest Proposal, if written in non-satirical form undoubtedly would have got the old Dean into the slammer, never again to emerge. Alexander Pope's wonderful spoofs of Hanoverian manners and morals, and even those gentle souls the Brontes and Jane Austin, were able to tease their establishments without having to score direct hits.
Two-edged sword
Censorship of the media in recent times has been a double-edged sword in both the UK and Canada where libel actions are relatively easy to maintain as opposed to the United States, where the Court in the landmark Sullivan v. The New York Times, in 1964, ruled that prominent people must show malice to make out a case of defamation. As one who has been in a couple of libel suits, I can tell you that the test facing the plaintiff in Canada is mild and the onus of proving innocence is effectively on the defendant.
But there is another form of censorship which, while it's been with us for a very long time, has become so endemic as to make it impossible for there to be a Canadian muckraker (an honourable term made a pejorative by Theodore Roosevelt who got riled by reporters like Upton Sinclair and Lincoln Steffens who trolled through speeches and documents and called things for what they were.)
There has been censorship of newspapers for as long as one cares to research. Perhaps the worst of many in the UK was Lord Beaverbrook whose red pencil is now carried aloft by the likes of Rupert Murdoch and, until recently, by Canada's very own aristocrat, Lord Conrad Black. I must pause here to make this personal observation. After nearly a quarter of a century I have never been censored nor have I ever felt the need to self censor, although must say that if I hadn't said, on air, that the Corus Radio Group knew the cost of everything and the value of nothing, I might still be working on their Vancouver station where I toiled for 19 years.
Censor thyself?
Censorship is seldom direct, the canning by the Asper press editor Russ Mills of the Ottawa Citizen, a few years ago, being an exception. There's no need for it to be. Publishers hire editors who reflect their views. Editors hire reporters, columnists and editorial writers that are also "safe". Interestingly enough, one of the most fertile areas of self censorship comes in the sports department where sports franchises ban reporters from the dressing-room if they aren't suitably loyal to the team. Jocks get pretty skilled at seeing how far they can go before revenge is taken. The ones often under the most pressure are radio and TV outlets who broadcast the home games. When one says that sports fans immediately point to Don Cherry as a man of great courage I reply, "horse shit!" When did you ever hear Cherry criticize the violence that the owners so love, especially in American cities? Listen to the man – if you can stand it – and virtually every word he utters has owners chuckling in immense satisfaction.
The jocks who do call it as they see it – men like Bruce Dowbiggin – usually have to freelance and find occasional friendly or careless sports editors. One only has to look at the shameful way the hockey owners treated hockey players in the pre-union days, and how the disgraceful conduct of Allan Eagleson was first exposed (are you ready for this?) not by a Canadian Sports writer and not by a major Canadian media outlet but by Russ Conway, a sportswriter in a hicky little paper in Lawrence Massachusetts. The follow-up was by Dowbiggan and two non jocks, David Cruise and Alison Griffiths, freelance writers.
There isn't a nook much less a cranny in Canada where the writer is not required to self censor with the exception of a couple of remaining privately owned community newspapers (I write for part of the David Black chain in BC and feel free to say what I wish) and in our part of the country, the estimable Georgia Straight which, it is feared, may soon be sold. Even most of the community papers are owned by the Aspers or someone like them.
The Mulroney files
What about the Toronto Globe and Mail (and it is "Toronto" in these parts). Last spring the editor, Edward Greenspon, in his weekend column, mentioned, rather casually, that former Prime Minister, Brian Mulroney, just after leaving office, received $300,000 from the Airbus "fixer", Karl-Heinz Schreiber currently trying to evade extradition to Germany on fraud charges. Mulroney tried to get the paper to kill the story. That, plus one line in the National Post, is about all Canadians saw of this matter! This is the same Prime Minister who threatened a flurry of lawsuits if the RCMP even tried to take a peek at Mulroney bank accounts in Switzerland and who received $2 million from the government for his troubles, one for himself, one for his lawyer. Brian Mulroney is the centerpiece in Stevie Cameron's blockbuster, On The Take and again in The Last Amigo – two books that if erroneous about Mr. Mulroney (given his threats against the government) should have brought libel suits. They didn't.
But I wouldn't want you to think that the TG&M weren't active on the file – they were. They accused Stevie Cameron, quite wrongly, of being a paid informer for the RCMP and their utterly independent columnists picked up the whip and gave Ms. Cameron a bunch of whacks of their own. When I challenged one of these writers to tell me the evidence upon which she based her charge she replied that I would have to ask the editor about that!
Safety zones
I offer no solution. I can't imagine what it will be like for fresh faced graduates of Canadian journalism schools when they find that the laws of libel are the least of their worries.
Oh, there's still some tough journalism left but that only applies where the editor considers it safe. You'll be able to demonize the Church of England on past wrongs to Natives or slash at governments the establishment doesn't like much. But if I were to give you two role models, two people who spoke their mind and accurately reported what they saw, the names would be Stevie Cameron and Claire Hoy, both of whom can expect to be rarely if ever printed by any of the national media in this country.
And that's the sad story of the media and independence of journalism in this free democracy with its Charter of Rights and Freedoms – freedom of speech prevails as long as the boss agrees.
Rafe Mair will be a regular voice on The Tyee's Election Central page as well as a regular contributor of columns to The Tyee's Views section during and after the election. The Rafe Mair Show, BC's Only Hard Talk can be heard at the CKBD 600AM and online at www.600am.com, from 8:30am to 10:30am Monday to Friday.