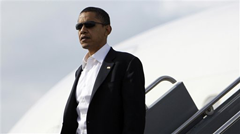 The old Jewish joke about an earthquake in China goes, "terrible news, but is it bad for the Jews?" Among my people this is called the elephant question.
Every time I am asked to comment on the American presidential campaign on the radio, the host invariably asks me what the outcome will mean for Canada. I call this the moose question.
Usually the question is framed very specifically -- what will the choice mean for NAFTA? Will the new American administration turn protectionist?
Issues, bigger and smaller
A few months ago, at the height of the Democratic primary battle, both candidates made protectionist noises, as Democrats are wont to do during election cycles despite the fact Bill Clinton negotiated NAFTA in the first place. As most readers will recall, this became an issue in the Ohio and Pennsylvania primaries when someone in the Harper high command slipped the news to American news sources that although Barack Obama might talk tough on trade, it would only be campaign chatter and shouldn't be taken seriously in the Great White North. It is possible that this report hurt Obama among working class voters who believe that NAFTA has done them in. Heads rolled in the Obama advisory hierarchy.
But the truth of the matter is that that report was almost certainly accurate.
It is highly unlikely that Obama would reopen NAFTA. He has many more far pressing matters at hand -- Iraq, Afghanistan, the Middle East, restoring good relations with Europe abroad; tax raises, bank bailouts (yes, this crisis will continue), and the deep recession at home. Trade issues fall below the radar of great big and immediate concerns, the only concerns that matter in American governance, or for that matter our own.
Besides, a re-opened trade treaty would mean that Canada would bring the oil card to the table -- on balance, the Americans would have as much if not more to lose than Canada in a fundamental revision of NAFTA.
Sleeping dogs will stay asleep.
Is the neighbour healthy?
But the trade issue is far from the most important consideration for Canadians when they consider the American election in November.
Most significant for us is how the Americans manage their economy. A deep depression down south will spill over to us. A fiscal crisis down there would tear at our financial structures as well. An invasion of Iran or another new military adventure, or conversely, an early exit from Iraq would have major implications for the world balance of power, not just the health of the American armed forces.
More important than strategic or even economic considerations, however, is a seemingly more intangible factor -- the moral quality of American international hegemony. As Barack Obama demonstrated to 200,000 cheering Berliners yesterday, Europeans, Canadians and for that matter people all over the globe are deeply responsive to the tone of the American president, whoever he or she might be. George W. Bush has infuriated most of the world by his belligerent and ignorant approach to a wider world about which he has shown no desire to learn or to negotiate with as equal partners.
Of course wider forces govern American foreign policy; corporate and governmental greed for power and wealth do not change all that much no matter who is in the White House.
And yet presidential tone is terribly important, both because all people want to be understood and respected, and because most people understand intuitively that a healthy American government that is engaged in a positive way with the American people is a better ally than an internally divided and demoralized administration.
Roosevelt's reach
Over the decades, I was taught to consider this core factor of American foreign relations by older generations of Canadians. As do most professors, I get many requests for community speaking, all pro bono of course. Usually I try to wriggle out of such engagements, but I have always loved talking with seniors' groups. Typically I lecture very briefly on a subject through which they have lived and then get out of the way while they inform me how events felt to them back in the day. In the '70s and '80s, I usually put the Depression or the Second World War on the table. If the '30s was being discussed, several of the seniors would make the point that Franklin D. Roosevelt had been their beacon of hope in that dreary and frightening time. By contrast, R.B. Bennett, and W.L. McKenzie King gave them the feeling that the Canadian government was essentially indifferent to their suffering. But FDR's famously optimistic and stirring radio fireside chats reached them and gave them inspiration and hope for their future. If he could right the leaking ship of the United States, surely Canada would follow along the road back to confidence and prosperity.
The first time I heard this analysis I was surprised, but as it came up over and over again I truly learned what ordinary Canadians believed was most important about American electoral politics and governmental policies. What matters most to us is the social, political and moral health of our neighbors.
Obama, the Canadians' choice
Something like 80 per cent of Canadians prefer Obama this time around, and hope that he will set the tone for a future that is bound to spill over to us. Most Americans also believe that their country is headed in the wrong direction. Whether that will lead to an Obama election remains to be seen. Surely John McCain also will try to run as the candidate of change, but whether he can free himself from the Bush shipwreck remains to be seen.
Yes, it matters who gets elected down there; no, it is not all or even all that much about free trade. That is what I try to tell radio hosts if I am given the time before they pass on to the traffic report or the weather or other matters of more pressing concern.
Related Tyee stories: