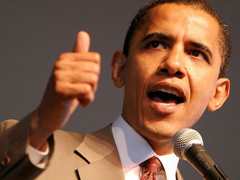 The question is not can Barack Obama win next November. Of course he can. He's not cannon fodder as George McGovern was in 1972 or Walter Mondale was in 1984.
Whether or not he will win depends not only on the usual considerations such as: How well will he campaign? How well will Mr. McCain campaign? What will the issues turn out to be? How will the Iraq card be played?
This election has a special factor in it, which is, of course: Can a black man be elected president?
The special question in 1952 was can a divorced person be elected? The candidate in question then was Democrat Adlai Stevenson, and his divorced status may well have been a factor in his defeat. But by the time Ronald Reagan ran for president, the fact that he was divorced was a non issue.
The election in 1960 asked whether or not a Roman Catholic, John F. Kennedy, could win. The only previous test had been the failed run of Alfred E. Smith in 1928.
In 1984 an issue was could a ticket with a woman as vice-presidential candidate win. The answer was "no."
It must be noted, however, that no Democrat was likely to win in 1928, nor was anyone of any stripe going to beat Eisenhower in 1952 or 1956, and since Kennedy's opponent, Richard Nixon, went on to win, big, in 1968 and 1972, it would appear that he was such a strong candidate that he would likely have won no matter who his opponent was -- as long as Chicago Mayor Richard Daley Sr. delivered Cook County.
By the same token, Mondale had no trouble losing on his own and his choice of running mate, Geraldine Ferraro, may have actually kept it from being worse than it was.
'We need a majority'
But Barack Obama is a one off. Divorces and religious persuasions can recede in the face of other issues but a black face is a constant part of who Mr. Obama is and voters must deal with it. It is, of course, devoutly hoped by many, including me, that Mr. Obama's colour will not affect the outcome. But it will.
While campaigning to become president, Adlai Stevenson was told by a lady supporter that he would get the vote of every intelligent American. He replied, "That's not enough, madam, we need a majority."
Just as Adlai Stevenson was too witty, in a patrician way, to get a majority, Mr. Obama may be rejected not because of his ability or policies but because he's African-American.
If I were an American, I would unhesitatingly vote Barack Obama because I fear the continuation of the Republican-run White House. If I were an American, I would be a Democrat -- I would reject the Thatcher/Reagan/Milton Friedman theory that if you don't tax the rich, the money they save will redound to the advantage of the poor. The notion that "with a rising tide all boats rise together" ignores the plight of boats with anchors that are too heavy.
McCain's brain
For Mr. McCain, like Mr. Obama, there is a constant question not raised. Is he mentally fit for the immense task of leading the world's major super power? He has a volcanic temper, not a happy trait for one proposed to have his finger on the trigger.
Has his horrible abuse by the Vietnamese when he was a POW left unhealed and perhaps untreatable wounds? This is a tough question for me, treated for depression for over 20 years, to ask. But the health of any candidate for the most important, difficult and critical job in the world is always an issue and he/she must be fit, physically and mentally.
This is not stigmatizing any more than it is to ask a person with a history of heart illness to assure us his health will stand up to the rigors of the job. In fact, fearing to ask this question is stigmatizing.
One thing is for sure -- no one will question John McCain's character or his patriotism as his party did of John Kerry in 2004.
No matter who wins, after eight long years the world will be free of the smirking incompetence of George W. Bush who is constant proof of the Peter Principle that people are promoted until they reach their level of incompetence.
If only the American public had seen that "Dubya" had reached that level long before they made him their leader.
Related Tyee stories: