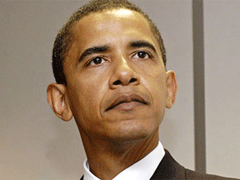 Sydelle Kramer
The Rabiner Agency
New York

March 5, 2008
Dear Sydelle,
You have been after me for a new book proposal and I believe the news cycle has provided me the start of one. Sure, I'm a professor of history by trade. Stick to the facts and all that. But I'd like to make some money, too. So I am keen to explore fictionalized history in the making -- extrapolating what we can imagine from what we can know for certain and just running with it.
How about this un-provable but plausible fiction?
After Super-Tuesday on Feb. 4, the Republican Pooh-Bahs went into something approaching panic mode about the possibility of facing Barack Obama in the general election. His youth, anti-war credentials and movement evoking charisma would match up all too well against Old John McCain, and so they huddled to find a path to discredit Obama to the advantage of Hillary Clinton, an unlikable and soiled candidate they thought they could beat in November.
After discussion with the White House and the McCain campaign team, Marl Bone, the éminence grise of the Republican Dirty Tricks Brigade calls Bean Yoodle, chief-of-tricks in the prime minister's office, knowing that he and his boss are dependable conservatives, Canadian Republicans.
"Bean, we need a bit of a hand," Marl says. "It looks like Obama might sweep the primaries, and he would be a tough nut to crack in November. Looking down the line, the Clintons are right that Texas and especially Ohio are the places for her to make a comeback. She can win big in Ohio with a little help.
"Look, Ohio is the rustiest of the rust belt, a state filled with undereducated and unemployed factory workers who form the base of the Democratic Party. Reagan took them on patriotism and Bush took them on burning flags, gay marriage and all that crap, so McCain might get them that way too. But for now, they are frightened about their jobs and futures and Hillary can appeal to them. When she talks at them she tries to sound blue collar by droppin' her "gs" for Crissake, and they are dumb enough to like it!
"What is going to happen is that Clinton, and in response, Obama too, are bound to demagogue the NAFTA issue. It is phony as hell. Hillary was there at the creation with ol' Bill, and Obama could care less. But they will go for the votes, even they know that the treaty will not be reopened because it is not a high priority and nobody would want a bruising fight over a losing side issue."
Bean replied, "We sure in hell don't want that treaty re-opened up here either -- that would give life to our half dead opposition, and any renewed trade blockages would hurt our economy especially when you dolts are tail-spinning into a recession. McCain would be far better than Obama for our national interests, so this is a patriotic consideration. Tell me, Marl, how can we help?"
"What I suggest, Bean old boy," Marl replied, not entirely liking being called a dolt but wanting something from his strange Canadian bedfellow, "is that you have someone in the Canadian New York consulate call in that Harvard professor what's his name, you know, Obama's economic advisor, for a nice little chat. He can play on the professor's vanity, wheedling from him that anti-NAFTA is just election talk and not proposed policy. Of course we could do the same for a Clinton advisor, but they would smell the rat and the less experienced Obama team will not. She is just as insincere as he is on the issue, but we want her to win the nomination," Marl snickered. "You will know what to do with information, Bean old boy."
"You bet, Marl," Bean answered, rubbing his hands together in mischievous glee. "Our reporters are just as happy to leak Big Stuff as yours. Let me run this by the PM and get back to you.
"I also see the beauty of this when Hillary gets hold of this news," Bean continued, sussing out Marl's thinking. "She can say that Obama is just another lying politician after all and that she really means it about NAFTA. She doesn't of course, but she can appear to be on the high road after he falls into the trap.
"And Obama may well try to cover up, so a verbal leak can be followed by a memo that will apologize for interfering with an American election while affirming the conversation. Mud, mud, glorious mud!
"And if she can puncture his balloon, maybe she can go on to win the nomination and lose the election after all. Hey let's plant that cat among the canaries."
So Sydelle, what do you think of that scenario for the opening of a novel? Of course Hillary would probably have taken Ohio anyway, but this increased her lead and made her viable for the next rounds. She used other dirty tricks in Texas -- especially the phone call at 3 a.m.
So the Clinton campaign and Republican operatives are in bed together for the purposes of defeating Obama.
I will construct a cozy chat (they sleep together at least once a month), when Bill and Hillary talk about their sometimes friend and temporary ally Marl Bone, and plot their next tricks for Pennsylvania in April. And they will agree that Barack simply will not be up to quick refutation of the Canadian conversation. They will call it Swift-Boating the Change Man.
Is this a short story or the beginning of a novel, Sydelle? I have always wanted to publish a story in the New Yorker, so maybe we should go for that; however the fiction might work itself out as a full-monty novel.
I'll get back to you with a proposal for chapter 2 in a couple of weeks, OK?
Yours in Cynical Realism,
Michael
Related Tyee stories: