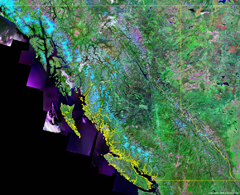 [Editor's note: This week The Tyee will run a number of reports and viewpoints from the Union of B.C. Municipalities (UBCM) convention starting today in Vancouver. Check this site daily for fresh articles.]
This Friday, Premier Campbell will begin rolling out his government's global warming program in his speech at the Union of B.C. Municipalities convention. It's been over seven months since the groundbreaking speech from the throne committed B.C. to a 33 per cent reduction in greenhouse gasses. So what's happened?
Because for now we can still use iceberg metaphors, most of the action so far has been underwater and out of view. A special cabinet committee has met extensively to consider policy options. A new climate action secretariat has been staffed up. All this has taken time, and we will see the results with initiatives made public this fall.
Starting the rollout at the municipalities' convention, though, is a tough first act, even if the theme of the gathering this year is "Climates of Change." There are easier and harder things on the premier's global warming to-do list, and dragging B.C.'s cities towards sustainable practices will take the muscle of a Schwarzenegger in his prime. For evidence, check out the ongoing urban sprawl around Greater Vancouver, the Okanagan and southern Vancouver Island -- all sanctioned by local governments.
Remember though that local governments are creatures of the province. At any time the provincial government can step in to regulate without the kind of legal hassles that would ensue should it step into federal jurisdiction. This raises delicate issues of local control that run head on into the urgency to dramatically reduce emissions, which must mean an end to sprawl right away.
Volunteer action on global warming enough?
For now, though, the B.C. government seems reluctant to bring down the regulatory hammer, and at the convention will encourage local governments to sign on to a "climate action charter," a sort of voluntary statement of commitment that may have some financial sweeteners. Joining, though, is not mandatory, and being signed on "does not fetter future councils or boards."
Will this approach get us where we need to go? The throne speech itself recognized that "voluntary regimes have not worked," and the pro-sprawl momentum in city halls is powerful. The premier may surprise us with stronger measures in his speech on Friday, but if not, watch for that next year should the climate action charter not deliver good results.
Hard cap on emissions in BC
What else can we expect for global warming action from the B.C. government this fall? One of the biggest pieces will be how greenhouse gasses from industry get tackled under the cap-and-trade system being worked out with the western states in the Western Climate Initiative. Unlike the deeply flawed "intensity" targets being proposed by Stephen Harper that would allow emissions to keep rising, B.C. is proposing to put a hard cap on emissions from industry.
What the level of that cap is, how it is allocated, and whether exemptions get built in are some of the key questions that all speak to the larger issue of fairness. Industry appears already to be pushing for rules that will "protect them," but the overall credibility of the government's global warming program will depend on a sense that everyone is being asked to do their fair share. Appeals to personal responsibility will fall flat, for example, if there is a sense that others are getting off the hook.
Will BC make it the law?
Also this fall, look to whether Carole Taylor puts together a world-class climate budget for release in February. On the spending side, we need dramatic new investments in things like public transit, building retrofits and adapting to the climate change impacts that are already inevitable. On the revenue side, we need bold innovation to shift taxes away from the things we want -- such as income -- and onto the thing that in this case we don't want: carbon. This must also be done in a way that does not penalize low-income citizens.
Finally, let's see if the B.C. government makes action on global warming the law of the land. California passed the Global Warming Solutions Act to send a clear signal that it was serious about action. Driving down greenhouse gas emissions is a long-term project that must live beyond any one premier or any one government. We need to lock in a pathway that our children can continue with, and their children beyond that.
Related Tyee stories: