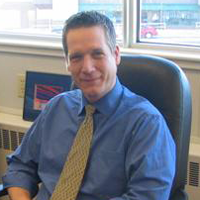 Plum in the middle of B.C.'s oil and gas boom, Dawson Creek Mayor Calvin Kruk is never far from a reminder of Canada's dependence on oil.
"I can see a flare stack from where I'm sitting right now." he said, talking by phone from his home in the city of 11,000 last Saturday. "The place is buzzing with oil and gas activity."
The working-class municipality of Dawson Creek, however, is so ahead in implementing green initiatives it's uncanny. City hall has already been fitted with solar panels and the cop shop is next in line. Green retrofits planned for public buildings are projected to cut back 43 million tonnes of greenhouse gases per year. The town is looking at adopting its own green vehicle policy, and considering building a bio-diesel plant.
Perhaps most ambitiously of all, Dawson Creek is pushing to invest, along with government and industry, in a $200-million wind energy project that will line a ridge just outside of town.
"I'll also be able to see those from where I'm sitting right now," noted Kruk, who is in his first term as mayor.
At a time when both federal and provincial leaders are falling over each other trying paint themselves green, a new book shows that when it comes to global warming, B.C.'s civic leaders are already rolling up their sleeves. Going for Green profiles a number of flinty local leaders who are well ahead of the curve -- and last week's throne speech by Gordon Campbell.
They have every chance of making a solid impact. A recent study showed that up to half of all greenhouse gas emissions have to do with decisions made in municipalities.
'Closest to the ground'
Kruk and Dawson Creek are a great example of what former Victoria school board chair Charley Beresford sees as an important -- albeit minority -- trend in the province.
Beresford is the director of the Columbia Institute, the Vancouver-based group that published Going for Green as a means of offering up real-life, home-grown examples of leading-edge community projects in B.C.
"We have a lot of innovation at the local level," she noted from the Institute's offices in downtown Vancouver. "What we'd like to be able to do is share those stories to inspire local governments to continue in that work."
From converting polluted industrial land into a model sustainable neighbourhood in Victoria to creating an unprecedented organic composting system in Ladysmith to encouraging award-winning green building practices in Ucluelet, Beresford says the province is rife with innovation and ideas.
Those ideas will be key for dealing with our expanding ecological footprint, she said, and for prodding less active communities into action. According to a recent report in the National Post, B.C. has one of the worst records for increases in carbon emissions in North America: they've jumped by 30 per cent in the province between 1990 and 2004.
Given Gordon Campbell's new and aggressive targets, that trend is slated to be reversed, and Beresford thinks civic leaders are uniquely poised to accomplish a lot of that work.
"This is the level of government that communities have the most trust in, because it's closest to the ground."
Based on his first year as mayor in Dawson Creek, Kruk agreed.
"I certainly hear from people. They're not shy about stopping me at the Safeway and saying, 'You know, what the hell gives with this?'"
"At this level people perceive us as a bit more available. We directly affect them."
Getting off the grid
In last week's throne speech, Campbell further announced that he wants B.C. to be self-sufficient in terms of electricity by 2016.
Forty minutes north of Vancouver in the 1,400-resident village of Anmore, Mayor Hal Weinberg has already been working to make that target a reality for the last five years.
Anmore is building a state-of-the-art renewable energy centre, something that might well become a feature in towns and cities across the province and around the world.
Along with a consortium of universities, federal and provincial governments and B.C. Hydro, Weinberg is spearheading a ground-breaking experiment that will combine wind, solar and hydro energy to produce electricity -- in addition to a form of hydrogen used for cleaner-burning internal combustion engines. The design of a control system to handle multiple sources of renewable energy hasn't been done in a micro-scale project like this before.
En route to a conference and speaking by phone from Salt Lake City, Weinberg described the rationale behind the project.
"The whole idea was to try to demonstrate how small municipalities can produce electricity for the purpose of decentralizing electricity production throughout the province as a whole," he said.
"Everybody talks about 'green energy,' and they're usually talking about these big huge operations. But our idea is that practically every small municipality in the province can actually produce electricity."
"If they could dump it into the grid, that could have a huge impact."
Especially when one takes into account the following target, which was also set in the throne speech: "All new and existing electricity produced in B.C. will be required to have net zero greenhouse gas emissions by 2016."
Big-picture investment
The launch of Going for Green also marks the launch of the Columbia Institute's Centre for Civic Governance, a supportive hub for people like Kruk and Weinberg that will conduct research and share best practices in an effort to enhance sustainability projects in towns across the province.
The centre will bring together experts from a wide field of expertise, including prominent land-use NGO Smart Growth B.C. and former B.C. premier Mike Harcourt, who will be an honorary chairperson.
Beresford noted that school boards are also a vital part of the push. She claimed, for example, that in Burnaby sustainable design principles have been incorporated that have boosted students' performance and school attendance.
Back in Dawson Creek, on top of his other files, Mayor Kruk is also wrapped up with solar power through his involvement with the B.C. Sustainable Energy Association, which aims to get solar water heaters into 100,000 B.C. households.
Yet when it comes to megaprojects like these, Kruk says communities can only do so much before higher levels of government need to step forward, and bring industry and investment along with them.
"If we incorporate 100,000 solar roofs across the province, who is going to produce those solar panels? We [in Canada] have an entire industry that needs to be developed."
Beresford agreed. "Leaders on the ground," she said, "need some other help."
Reshaping car culture
Much of this has to do with infrastructure for crucial projects such as transit. To put things in perspective, 40 per cent of B.C.'s carbon emissions come from transportation, mainly cars.
"Those are such big dollars that funds have to come from other levels of government."
Nevertheless, Kruk is glad to be hearing a different tune being sung in Ottawa and Victoria.
"I applaud the throne speech," he said. "It's an ambitious project that they've got going."
Whether or not governments will put their money where their mouth is remains to be seen, but regardless Kruk says that since his city started taking matters of climate change into its own hands, things have been changing.
"It's been building our sense of community and that's something I think is vitally important," he said. "I think there's a renewed optimism, and enthusiasm and confidence in our future."
To order or find out more about the book Going for Green click here.
Related Tyee stories: