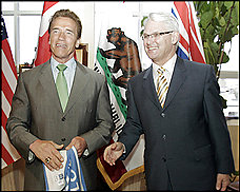 California's Governator and British Columbia's premier wish to offer you an opportunity to fight global warming. They'd like you to invest in B.C.'s forest industry.
But one expert who's read the fine print is warning us not to get played for chumps.
At issue is the hot idea of carbon credits. To counter global warming, governments would set caps on allowable greenhouse emissions, and punish companies that exceed those levels unless they "offset" their pollution by buying carbon credits -- investments in other industries and practices that reduce greenhouse gases.
You yourself could get in on this. If the size of your own carbon footprint has you feeling guilty, you could buy carbon credits along with, say, your next airline tickets.
What's needed is a formal marketplace, preferably close to home. Which is what Governor Arnold Schwarzenegger and B.C. Premier Gordon Campbell recently proposed, a market linking B.C. with California and four other western states allowing individuals to purchase bona fide, climate-friendly carbon credits.
Who would benefit? Among others, B.C. timber firms, who "may be able to generate significant revenues out of proper management of the forest," enthused Premier Campbell. The logic in this is that trees are our friends because they pull carbon out of the air and store it. Forest companies plant and grow trees. Invest in B.C. forests ... climate guilt absolved!
Well, keep your hand on your wallet.
Record logging, huge waste
Ben Parfitt, a veteran journalist and researcher on forestry, has been studying B.C. timber industry practices for the Canadian Centre for Policy Alternatives. He finds the province is encouraging timber firms to cut corners in their rush to harvest pine beetle infested wood. "Industry at government's urging is trying to log as many dead trees as possible, and a lot of living ones too. With record logging activity comes escalating levels of wood waste," he told me. Last year, according to analysis of government data, logging firms left about 4.2 million cubic metres of usable wood on the ground (one cubic metre equals one telephone pole). "Most of that gets pushed into giant piles and burned. The rest is left to rot," Parfitt says.
What's the problem with that?
"If those logs had been turned into solid wood products, like framing, all that carbon -- up to 3.8 million tons -- would have been locked up for up to a century." But whenever a tree burns or decays, the carbon it stored is released back into the atmosphere.
So harvesting timber in this wasteful way, calculates Parfitt, may be upping B.C.'s total greenhouse emissions by 7 per cent.
'Massive eco-system shift'
If the next several decades are do or die for halting emissions, this is the worst possible moment to be vaporizing wood. An industry run like this, notes Parfitt, is selling not carbon credits, but doomsday debits.
Some people will say that mismanagement or not, the real culprit is the voracious pine beetle. If the bug wasn't prematurely killing so many trees, we wouldn't have to hurry so fast to harvest them. You'll get no argument from Parfitt, who says the rest of Canada should be looking to B.C. for a grim glimpse of the future.
Thanks to global warming, fire suppression and monoculture forest management, the pine beetle and its cousins may well chew their away across Canada. The jack pine so common in Canada's boreal forest may fall victim, causing forest fires and soil erosion to accelerate and wiping out long term carbon sequestration provided by the swath of forest across our northern crescent.
"Across Canada a massive eco-system shift is already underway," Parfitt concludes, based on Canadian Forest Service studies.
Scary. But doesn't that still mean every tree planted in B.C. is a good thing, and people should earn carbon credits for helping to pay for it?
Yes, says Parfitt, as long as the accounting is rigorous. And right now, he says, it's anything but.
Check the books
Investing in B.C. forestry won't yield true carbon credits, Parfitt says, unless we plant the right mix of beetle resistant tree species, in numbers high enough to replace not only the wood used, but any waste left behind by the bug wood harvesters.
And we won't truly know the books are in balance, he says, until the province hires many more inspectors to accurately gauge wood waste levels. Right now not even one in ten mountains of wasted logs are eyeballed by an actual government employee, Parfitt says.
Recall that Premier Campbell, in vowing that carbon credits could enrich B.C.'s timber industry, did emphasize the scheme was tied to "proper management of the forest."
Ben Parfitt agrees, but says we're not even close yet. If you were to buy a carbon credit investment in B.C. forestry today, you'd be played for a chump.
Related Tyee stories: