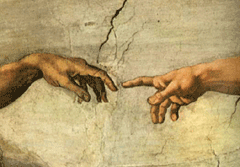 Christianity and science are in the boxing ring once more. We can thank news reports about the opening of a private museum in Alberta promoting creationism, as well as books by Richard Dawkins (The God Delusion) and Christopher Hitchens (God Is Not Great) defending atheism.
There was, as well, the recent death of Jerry Falwell, who with Pat Robertson did more for intolerance than does the Ku Klux Klan.
Before going further I should tell you where I am. A nominal Anglican, I no longer can make myself believe in the Immaculate Conception and consequent Virgin birth, the doctrine of the Trinity, the divinity of Jesus nor the bodily resurrection of Christ -- the last of which is the fundament of Christianity.
I still believe in a superior power and the teachings of Jesus.
In the quarrel between the Falwellites and the Dawkinsites I say both have missed the point entirely. The former rely upon faith unto mumbo jumbo to "prove" the notion of creationism while the latter put all their chips on evolution.
In the beginning...
Let's look at where the creationists find their answer to the doctrine upon which they stake their pile. To do so we must first look at the nonsensical assertions by James Ussher (1581-1656), archbishop of Armagh, primate of all Ireland, and vice-chancellor of Trinity College in Dublin. He established the first day of creation as Sunday, 23 October, 4004 BC; that Adam and Eve were driven from Paradise on Monday, 10 November, 4004 BC; and that the ark touched down on Mt. Ararat on 5 May, 2348 BC, on a Wednesday. This sort of foolishness is the underpinning of radical, fundamentalist Christianity whether Catholic or Protestant and explains how convinced these people are, for if you can believe this stuff, it's mere child's play to believe all the assertions in the Nicene or the Apostles Creed or the fanciful stories in the Old Testament.
Dr. Dawkins is an atheist who takes on Christianity on two levels: the theory of creation and the great harm done by Christianity over the centuries. On the latter point his case is irrefutable. Whether it was the conquest of South and Central America, the Crusades, the Inquisition, the ravishing of young boys, the propping up of vicious dictators, the condemnation of birth control or the injunction against the use of condoms, the history of the Christian Church, especially the Roman Catholic version, has been a litany of vicious, un-Jesus-like actions. The argument Dawkins makes is a slam dunk and I wonder why he wasted so much time proving the obvious.
Even if one were to believe the Christian myths, Christianity cannot answer the fundamental question: who made God?
Expressed another way: before there was a universe what was there?
Christians answer this question by saying there always was a God so it's not necessary to answer the question. What they really ought to say is that the human mind cannot cope with that question. I argue then, that the weakness of religion is not their notion of Creation but their inability to answer the basic question we've all groped with -- what was here before God and where did he come from?
Explain the catalyst
As I will demonstrate, the Darwinians, the evolutionists, have a problem with credibility as well. There is no doubt that they can trace the evolution of plants and animals but while they can demonstrate what happened they cannot explain the catalyst that made it happen.
Science can, by careful and well documented plodding, take us all back to the amoeba or whatever it was that began splitting into pieces and fostering life. It can explain, certainly to my satisfaction, what happened. I look at the paws of my chocolate Labrador retriever and see webs to help him swim to retrieve things. These webs evolved to fill a need for Chauncey to swim after things better than most dogs swim after things.
We're told that life began in water and from life under water developed things that could adapt to land. Slowly at first, amphibians to start with, but eventually we had animals on land. I accept that. But the story is grander than that. Billions upon billions of life forms developed and did so in order to match the environment in which they were thrust or perhaps found themselves.
Thanks to wonderful work by science we know how these things happened. Encoded genes pass on characteristics. If the coding gets mixed up you can have problems such as mental and physical disabilities. It really looks as if scientific reason, not faith, has the world by the tail and on a downhill pull. Except for one thing. It can explain how it happened and why it happened but it cannot explain what made it happen.
Miracles
When the amoeba split, what made that happen?
One assumes that this amoeba had no DNA, being the first. If it didn't, how did it pass on characteristics which would lead to its descendants to go ashore, some to crawl and walk, others to fly? If this amoeba did have such catalystic genes, where did they come from? At some point the first fish started to gulp more free air. We know from fossils and other evidence that it happened; fish got lungs so that they could breathe out of water. But what was it that made that happen?
In fact, the more we learn, the more that question becomes apt. Science unfolds, almost daily it seems, new curtains exposing new, dare I say, miracles. Researchers can show how it happened and, often, the reason it happened. But what started it all? Where did that first encoded gene come from?
We change at puberty. We know that it happens and can trace the various catalysts that produce these changes, but how did those catalysts come into being?
We know that we stop growing and that we are programmed to do so. But "programmed" is a weasel word just as "Mother Nature" is a weasely term.
About that golf ball
If we start out with "faith" as that word means to the most devout believer and if we start with "reason" as that word applies to the most devout scientist, and then work backwards, what do we find?
One thing we find is that there has been a hell of a lot of mumbo jumbo associated with science as well as with religion. But if we take our high priest of Judeo-Christian religion and sit him down and ask for proof, he offers as documentary evidence -- you guessed it -- the Bible.
The scientist takes us back to the huge explosion of matter no bigger than a golf ball from which the universe is formed. Just as the religious leader can't explain where God came from neither can the scientist explain where the golf ball came from, what caused the explosion, where the oxygen needed for an explosion came from, nor can he tell us what was there before the universe.
Thus the priest and the savant join hands. Neither can answer the question that's troubled us all. What inaugurated this earth full of life? And what was there before?
Related Tyee stories: