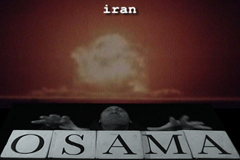 [Editor's note: Andrew Struthers showcases his funny, incisive videos on The Tyee. His biggest YouTube hit has 3.5 million viewers and counting. His latest short film, with commentary, runs below.]
When I posted my last video offering, Guantanamo Bay, I assumed that the comments people posted would be about human rights, U.S. torture legislation and so on. To my surprise, almost every single comment was about 9-11, and how the Bush administration has hoodwinked the world with its official version of the so-called terrorist attacks. I thought, At last! Now the truth can come out. Right here! (If you'll be so kind as to play my latest video, below.)
...By which I simply mean that once you start conflating correlation with coincidence, there's no end to the spooky synchronicities and mysterious hidden connections a human mind might uncover. This simple crossed wire is the mother of all conspiracy theories. And yet in the case of 9-11, there's more to it that that.
Conspiracy nation
There are now more than 628,000 websites touting 9-11 conspiracy theories. True, anyone with opposable thumbs can upload an official-looking website. But a new Scripps Howard poll indicates that more than a third of the general population believes that the Bush administration is somehow complicit in the WTC attacks.
The scientific community's reaction to this rising tide of unreason has been to tackle the theorists head-on with facts, as Popular Mechanics did in its excellent March 2005 cover story. But 9-11 conspiracy theories are born of the irrational mind, and facts can provide no defence against them. Science just ends up being discredited as the handmaid of the Bush administration, an irony that must seem particularly pointed to climatologists.
I propose a different strategy: fight madness with madness. It's a war that the conspiracy theorists cannot hope to win. For I am the Moscow of madness, whereas they are merely the provincial weather stations. If you don't believe me, watch the clip again.
When I hear about pods attached to the undersides of planes, or the mysterious absence of wreckage outside the Pentagon, I am struck not so much by the fact that these ideas are crazy, but that they are dull, and sorely lacking in elegance or wit. So what if the numbers 9+1+1? I much prefer the fact that, a decade before America's trouble with the Ayatollah began, The Beach Boys were already encouraging the nation's youth to "Bomb Iran." Truly, Brian Wilson is the Nostradamus of pop. Or is he?
Creative paranoia
I can uncover such strange truths with ease, because it's my job. A career in art is in essence a lifelong exile to the irrational regions of the soul, the "strange, sad shires" Rimbaud writes of in his book A Season In Hell. Rimbaud is partly responsible for the delightful myth that many great artists are crazy, which is not true, apart from Van Gogh, who got that way from eating out of the same bowl he mixed his lead-based paints in.
Granted, our familiarity with the irrational does make artists appear crazy at times; but the real danger posed by the irrational in this Age of Reason is that, utterly disowned, it will wander the streets unrecognized, and then come up behind you and bite you on the ass. Geopolitically and metaphorically speaking, that's what happened with 9-11. Again, science offers no assistance.
So rather than disown conspiracy theorists as nutjobs, I embrace them as kin: frustrated creative types who don't realize their sprawling digital empires of paranoia are a kind of folk art (most of it bad). My hunch is that 9-11 brought about a paradigm shift that we've all spent the last six years absorbing, and the massive popularity of irrational doubt in the official history of our times is an indication that, in the face of questions as overwhelming as sudden extinction bang! in the middle of a regular working day, science alone cannot provide all the answers the human soul requires.
Or did I dream it?
View Andrew Struthers' previous videos on The Tyee: