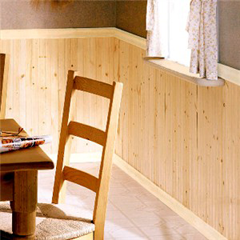 As forest companies go, you would be hard-pressed to find one as innovative as C&C Wood Products. The company has operated a value-added mill in Quesnel for decades, and is considered by many to be a model of thrift and efficiency.
The company long ago pioneered a process whereby it takes very small pine trees -- trees that most other forest companies won't even touch -- and employs 120 people cutting logs into thin boards that are marketed as panelling products and sold to big box retailers like Lowe's.
Yet increasingly, C&C and other value-added mills in B.C. are in trouble. Thanks to a major change in direction by the B.C. government that began five years ago, companies like C&C no longer are guaranteed the trees they once were. And that reality is causing great distress in communities like Quesnel, where municipal politicians are worried about the future of an industry that has been their economic mainstay for decades.
Ironically, the changes have their origin in the bitter, longstanding feud between Canada and the U.S. over the powerful U.S. softwood lumber lobby's contention that B.C. and other Canadian provinces were subsidizing their respective forest industries. In order to address "real or perceived" concerns about subsidies in the U.S., the B.C. government proposed and later enacted far-reaching forest policy changes. One of those changes scrapped all sales of timber that were geared solely to the forest industry's value-added sector, a move that C&C and its supporters on Quesnel's city council have decried.
According to a document prepared by B.C.'s Ministry of Forests in late 2001, the province said it would "terminate" all timber sales that were open only to value-added companies and instead base all future auctions "solely on price." This change and others, the document spells out, were enacted specifically to address the powerful U.S. softwood lumber lobby's concerns about "trade distortions" in B.C.'s timber-pricing policies.
Other changes included:
Scrapping rules requiring companies to bring all the trees they logged into mill towns for processing
Ending the longstanding practice of requiring forest companies to maintain mills in specific communities in exchange for publicly owned timber
Ending the awarding of some publicly owned timber directly to small, independent sawmills
The irony, of course, is that such far-reaching changes failed to gain open access for B.C. to the U.S. market. The Softwood Lumber Agreement, nearing ratification in the Canadian House of Commons and likely in the Senate, caps access to the U.S. lumber market, beyond which B.C. companies pay export taxes of up to 15 per cent.
Deal punishes value-added products
Adding to the ironies, the companies that will pay the highest taxes are precisely those companies that add the greatest value to their products. Under the SLA there is no differentiation between lower value and higher value products covered by the agreement. Thus, a higher value product generates a higher tax. So in addition to losing assured supplies of wood thanks to forest policies brought in by the B.C. government, C&C and other value-added mills will, if they succeed in bidding on logs, be penalized with higher taxes under the deal.
In communities like Quesnel, the hurdles faced by value-added companies are a major concern. Quesnel is in the epicentre of the mountain pine beetle infestation and is expected to take a direct and hard economic hit in the not too distant future. Logging rates in the region are the highest they have ever been, thanks to government-approved plans that encourage forest companies to take down as many dead pine trees as they can before those trees lose their economic value. But everyone knows that the present boom presages a future bust. When logging rates come crashing back down to more sustainable levels, many mills in Quesnel and elsewhere will close.
It stands to reason, then, that local municipal councils are less than enamoured with the province's forest policy changes. Because in a future where natural resources are in short supply, those companies that produce high-value products with small amounts of raw material will be best positioned to survive.
In that regard, C&C is a standout. In the early 1990s, the Western Canada Wilderness Committee, one of B.C.'s higher-profile environmental groups, noted that for every 15 truckloads of logs that entered C&C's Quesnel mill, the company generated one full-time job. In nearby commodity lumber mills -- mills whose appetites for logs have steadily increased as new investments are made -- seven times more logs were needed to generate the same job, WCWC reported.
Mayor wants wood for jobs
Quesnel mayor Nate Belo knows that more from less will likely be a prerequisite to staying in the forestry game down the road. In August, he wrote Forests Minister Rich Coleman to express concerns about C&C's dilemma, saying that C&C "provides more jobs per cubic metre than any other mill in Quesnel."
The mayor went on to note that in years past, the province ensured that value-added mills like C&C had an assured pool of wood that they, and only they, could bid on. Restricting entry to such auctions was done to ensure that mills that generated a high number of jobs, but that lacked their own secure timber supplies, could get what they needed free from competing with other companies that might have an advantage in the market. Now, such auctions have been abandoned. In their place, the B.C. government has opted for "open" competitions, where relatively small companies like C&C bid for timber in the same auctions that larger companies do. The difficulty with this is that if big companies have guaranteed supplies of their own timber -- and most of them do through long-term, renewable licences long ago negotiated with the province -- then the playing field is neither level nor open.
As Belo's letter bluntly warned, by forcing C&C into such a situation, the province is almost guaranteeing that the bigger companies -- or logging contractors acting as their surrogates -- will have a leg up in that market, something that C&C's chief forester Ron Dunn confirms. "When I'm asked by the minister or people in higher levels of the Ministry of Forests why I have a problem bidding for wood, I say, 'Well you have to level the playing field.' We're competing with companies who have 60 per cent or more of their timber assured. We have zero."
At the same time that C&C is being denied assured access to timber, the province has moved ahead with other announcements that could see vast numbers of trees in the Quesnel area siphoned off under long-term licence agreements to major companies like Ainsworth Lumber Company Ltd.
Ainsworth operates an oriented strand board mill (OSB is a sheathing product) about a two-and-a-half hour drive south of Quesnel in 100 Mile House. In September, Coleman's ministry announced that Ainsworth had been awarded a long-term licence to 700,000 cubic metres of timber per year in each of the next 15 years. In exchange for the wood, the company must first build a new OSB mill. (Tellingly, OSB is not a product covered under the SLA, which means that the province can -- and has -- required the company to build the mill before getting access to the wood.)
Big contract's benefits elusive
The announcement was greeted with some fanfare as it seemingly promised a major new wood-processing facility that would see 375 people employed in logging and milling. The problem, however, is that many people expect that the new OSB mill may never materialize. For one, OSB prices are depressed. Two, it is not entirely clear that OSB can be manufactured from a steady diet of dead and deteriorating pine trees. Three, there is rampant speculation that the mill may not be built in the Quesnel area, but far to the south as part of an expanded facility in 100 Mile House. If that's the case, the forests around Quesnel will be subject to a further ramp-up in logging activities but with few if any benefits accruing to the local population.
In the meantime, all of the wood that was awarded to Ainsworth sits untouched, while C&C, a company that only needs one quarter of the timber that has been assigned to Ainsworth, sits without and struggles to stay afloat.
And that's a sad reality for B.C., a province that currently manages to make only 30 cents worth of value-added products for every dollar's worth of lumber produced. Meanwhile, in Quebec and Ontario, value-added mills put out $1.50 in value-added products for each dollar's worth of lumber produced. With the so-called reforms brought in by the B.C. government in response to the U.S. softwood lumber lobby, we are pretty much guaranteed that our province's history of failure to create jobs by adding value to our forest products will continue for some time to come.
Related Tyee stories: