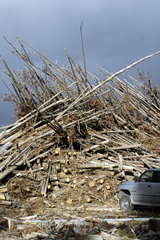 Forests Minister Rich Coleman expresses alarm at the number of jobs that are going up in smoke in British Columbia as mountains of good wood are set ablaze on logging sites across the province.
But his claim -- most recently in the pages of the Vancouver Sun -- that he lacks the "empirical numbers" that would give the public an idea of just how bad the problem is, is simply disingenuous.
In truth, Coleman can easily learn how much usable wood is getting torched. And the answer strongly suggests that B.C. is returning to the bad old "Brazil of the North" days that animated environmental debates more than a decade ago.
Moreover, the squandering of publicly owned timber can be traced directly to policy changes that Coleman and his colleagues passed during their first term in office when the Opposition was reduced to two seats. The changes rewrote the rules governing forestry in B.C., placing company interests ahead of the public good.
And almost all of them, including rules governing wood waste, were instituted by the Liberals in a failed attempt to appease the powerful U.S. softwood lumber lobby, but more on that in a minute.
Piles of massive waste
First, the numbers.
B.C.'s Ministry of Forests has long maintained a database known as the harvest billing system. The database allows anyone to access information on the amount of trees being logged. By doing six simple searches of the database covering the most recent 12 months, The Tyee arrived at a province-wide figure for the amount of wood listed as "waste/residue." According to Coleman's ministry, such wood is "merchantable," meaning it could be used to make lumber or pulp.
And according to the database, 3.5 million cubic metres of it, enough to fill the beds of 100,000 logging trucks, was left on the ground between October 1, 2005 and November 1, 2006. Using a conservative calculation of one job per thousand cubic metres of wood, that so-called "waste" could conceivably have kept two of the largest sawmills in B.C. busy for a year and put 3,500 additional people to work in our forest industry. Instead, the wood was torched and forestry dependent communities lost untold opportunities to create jobs by making lumber and other products.
Making matters worse, the problem may be graver than the figures suggest. The very companies that do the logging are also responsible for producing assessments of how many logs they leave behind. That information then goes to government, where it subsequently falls to public servants to go into the field and audit the companies.
But it is questionable just how effective the auditing is. First, annual logging rates in the Interior have jumped by more than 15 million cubic metres in response to the mountain pine beetle. According to one MOF auditor, that means public servants are lucky if they get to one in 10 waste piles. Second, the costs to go to remote logging sites, particularly on the coast, where more than 2.2 million cubic metres of usable logs were left behind last year, is prohibitively high.
Making matters worse for government auditors, forest companies have up to 60 days following logging to complete their waste surveys and another 30 days more to submit the results to government. During that three-month lag, many of the waste piles may no longer be there. They've been burned.
Because this massive amount of waste is dispersed across a vast landscape in literally thousands of log piles, the general public has only the vaguest idea of what is going on.
'Three times more waste' now
But for people who know where to look -- and Fred Knezevich, a former Ministry of Forests employee in Williams Lake and avid photographer is among them -- it is clear that there is a big and growing problem. Recently, Knezevich pulled off a stretch of the Coquihalla Highway to photograph what he first thought to be a particularly egregious example of wood waste. His image shows angled logs shooting off dramatically in several directions, as if some giant had dropped them there prior to playing a game of pick up sticks. In the lower right foreground, the hood and cab of Knezevich's silver pickup truck juts into the frame. It is dwarfed several times over by the towering stack of logs that shoot into the sky and out of the photograph's upper frame.
"Unfortunately," Knezevich wrote Coleman in early November, "I noticed it was a small pile compared to the piles further from the highway."
Frank Robertson reports similar experiences. A power engineer and long-time pulp-mill worker in Prince George, Robertson journeys down logging roads twice a year in search of firewood for his lakeside cabin. "In my estimation," Robertson told The Tyee, "there's three times more waste than there used to be." And much of it, he adds, is high quality wood. On one recent trip, Robertson found logs three to four metres long and a half-metre or more across. And this was just off of Highway 16 west of Prince George, a corridor dotted by some of the biggest sawmills on the continent.
"There's not a mill that should be shutting down based on what I'm seeing being left behind," Robertson said. "Adding insult to injury, when you go back to those same piles a couple of weeks later, there's nothing left but embers. That's what really gets me."
Missed energy source
What might addle Robertson even more is to learn that the standards governing wood waste in B.C. were relaxed by the provincial government in a failed attempt to appease the U.S. softwood lumber lobby. In December 2001, a document prepared by the Ministry of Forests Revenue Branch and that B.C. and U.S. officials later poured over as they attempted to break the impasse between Canada and the U.S. over alleged subsidization of Canadian lumber producers, proposed to "eliminate" stringent zero-waste policies.
The document noted that such policies essentially forced companies to use "uneconomic timber or logs." The document stated that under proposed policy changes, companies would be "free to make commercial decisions" about what logs they left behind. The rules were subsequently changed to today's "take or pay" system, which essentially allows companies to leave behind many logs behind so long as they account for it and pay the requisite fees to the province.
Yet this policy change, along with others, did nothing to assuage the U.S. softwood lumber lobby. Under the Softwood Lumber Agreement, now winding its way through Parliamentary approval, B.C. forest companies face caps on access to the U.S. market. Once certain export or price thresholds are met, companies will be forced to pay export duties on products they ship south of the 49th parallel and that are covered by the agreement. Meanwhile, the public is left to watch as a growing numbers of logs are destroyed rather than being used in some way.
One way much of that wood could be used, suggests NDP forestry critic Bob Simpson, is as a source for energy. Rather than burning masses of logs in the bush with all of the associated energy wasted, the logs could be chipped and used to make wood pellets or they could be burned under extremely high heat in facilities that generate electricity and feed it onto the hydro grid.
Building in rewards
The challenge, Simpson says, is to create the incentives for that to happen. Clearly, forest companies are taking only the best logs and leaving the rest. Government can do two general things to turn that around, Simpson says. Either force companies to bring all the wood in, and offer some kind of break on stumpage payments to make that happen. Or allow companies to take the logs they want and then throw the harvesting sites open to anyone else that may want to utilize the abandoned wood. If the second course of action is followed, incentives may be required to encourage wood pellet companies and others to bring equipment onto logging sites to process and later transport the wood.
Where might the funds come from to do that? Well, for starters, the money that the companies pay government for the wood they waste could be one source. According to the Ministry of Forests, the payments companies made to government for the logs they abandoned last year were just under $7 million.
"We're not doing the kind of strategic thinking we need to do, and all of this waste indicates that," Simpson says.
He adds that an overriding objective should be to ensure that forestry activities are geared as much as possible to addressing global warming. If we're going to burn logs, burn them to create energy, then offset the associated CO2 emissions with aggressive reforestation efforts.
But that would require creative policy interventions, something the province seems less and less inclined to do, preferring instead to let the market dictate what is best for our publicly owned forest resources. And if that means companies setting logs ablaze rather than using them, then so be it.
Tomorrow: How the Softwood Lumber Agreement punishes B.C. firms that add value to raw wood.
Related Tyee stories: