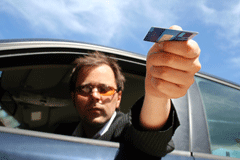 Vancouver city council deliberated Tuesday on how to respond to the province's proposed Gateway Program. At the centre of the discussion was whether the Gateway project is a "done deal" and, if so, whether the city should send recommendations to the province on how to mitigate the effects of the proposed project or hold firm to its commitments to the Livable Region Strategic Plan and prepare for a fight. The council has deferred its decision until next week.
Members of the public voiced their frustration with the province over its failure to produce alternative strategies to Gateway that might make the twinning of the Port Mann Bridge and Highway 1 expansion unnecessary. Why is it assumed that these infrastructure changes are inevitable?
One possible answer is toll revenue. The Gateway Program is planned as a public-private partnership (P3), and private road tolling is big business. From the point of view of demand management strategy, tolling is a good thing and discourages car use. But if a Port Mann toll or distance tolling on Highway 1 is privately operated, it may conflict with system-wide, regional demand management efforts. The city of Vancouver would be well advised to look at how road infrastructure P3s have worked in other cities, and to what extent the terms of a Gateway P3 contract will fit with the wider policy objectives of the region.
A mess down under
The State of New South Wales, Australia attempted to solve a massive congestion problem in Sydney by entering into a 30-year public-private partnership contract with a private consortium to build and operate an underground cross-city tunnel. The tunnel opened to much fanfare in August of last year and has been a fiasco. It has fallen far short of its projected 90,000 patrons a day because motorists found the toll too expensive. As a result, the city began closing surface roads in order to funnel traffic into the tunnel. When public outrage mounted, it was revealed that the state was obligated to close down the roads due to the non-competition clauses of the contract, which was negotiated and signed in complete secrecy.
The contract also compensates the Cross City Tunnel operators for massive damages at the public expense if future public transport initiatives steal potential tunnel customers away. The state is presently bending over backwards to comply with the terms of the contract, with huge political costs, and the company is entitled to a huge buyout if the contract is violated. Meanwhile the city of Sydney is in gridlock.
In Toronto, tolls up 250 per cent
Closer to home here in Canada, the former Conservative government of Mike Harris in Ontario sold a 99-year lease, with non-competition clauses, to a private consortium in 1999 to run Toronto's 407 Express Toll Route as Canada's first private toll road. The toll is charged automatically through electric transponders, which calculate distance travelled. The 407 ETR tolls have gone up 250 per cent since the highway opened and there have been complaints from the public about incorrect billing (including bills sent to people who had never been on the road) as well as hassles from collection agents.
In February of 2004, then-Transport Minister Harinder Takhar announced that the province was taking 407 ETR to court for not getting permission to raise the tolls: "We will fight tooth and nail to protect the public interest. Time and time again, this company shows contempt for its contractual obligations, and contempt for the government and the people of Ontario."
The Ontario government did fight tooth and nail in court for two years and lost. On March 31 this year, the government announced it had settled with 407 ETR. In exchange for dropping its grievances over 407 ETR's tolling policies, the company made some small concessions, including a "customer-benefit program" that will reduce toll rates by up to 15 per cent for 100,000 frequent users of the highway over the next four years, and increased highway capacity by a third, 10 years ahead of schedule.
'A very bad contract'
A somewhat chastened Takhar is now saying, "It's inconceivable that any government would have given a private consortium the unfettered right to raise tolls for 99 years… This was a very bad contract. If we had to sign this contract, we would have never accepted these kinds of terms. It tied our hands. We took this issue to the courts and we fought them, but unfortunately because of the way the contracts were, we lost." Current Conservative leader John Troy has distanced himself from his predecessors on this issue and has said that he would not have sold Highway 407 if he had been premier.
The largest individual shareholder of Toronto's 407 ETR is MacQuarie Infrastructure Group, also a principal player in Sydney's Cross City Tunnel. According to Vancouver city councillor David Cadman, MacQuarie has been a key advisor to the province on its P3 policies.
There are many unanswered questions about Gateway. Since it is clear that "the devil is in the details" of these confidential P3 roadway contracts, and because of the enormous magnitude of the proposal, the public should demand greater transparency in the province's plans. Is the tolling really a "demand management" scheme, well integrated with regional plans, or is it lining the pockets of international shareholders whose main business is building roads?
Paul Keeling is a member of the Civil Society Development Project.