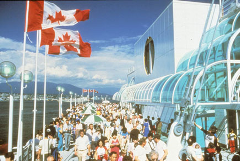 And so it all comes flooding back: Expo 86, the anniversary. Boundless plaudits are heaped on the fair. It changed our soul. It marked our coming of age. It turned us into a world-class city.
Oh, yes. And it was a new high water mark in bullshit. Expo 86 was in the main an underachieving bore that gave us no clearly identifiable legacy that we couldn't have obtained without it. We invited some people for dinner, and so we cleaned house a little early. Dinner parties are good for that: they focus the mind on the necessary tasks at hand. But they don't change our lives.
There's been a lot of talk about Expo's legacies. Let's work our way through them. There's Canada Place "our Sydney Opera House." There is that annoying geodesic dome, an untimely evocation of Expo 67 and a truly hideous piece of architecture by any measure in any era. There is the Expo Line, a federal government sop to the needy child known as Bombardier.
There is BC Place, which gives the BC Lions a half-empty cavern for their eight games a year. It's a monetary sinkhole of massive proportions best blown up after 2010 to make room for more condos. And please ensure that the Terry Fox monument becomes collateral damage.
There is the Plaza of Nations, an utterly unappealing public gathering place and concert venue once referred to as the soundman's Dachau. There's the struggling new casino in the former B.C. pavilion.
There is McBarge, once a floating McDonald's (oh, be still, fatty heart), which continues to drift around our waterfront instead of burning in a fortuitous insurance fraud.
Could we at least have saved the Expo Theatre, the pleasant, covered 4,000-seat summer venue that the city still desperately needs, but which instead was promptly destroyed to provide ample parking for Yuk Yuk's?
We did get a new Cambie Bridge a little quicker than we would have otherwise, to replace the bridge with wooden sidewalks that sometimes burned.
There is the Roundhouse Community Centre, an excellent use of the old railway-engine repair facility built in the year that Vancouver was founded. We should have at least one point of pride. But I still lament the missed opportunity to create an important transportation museum in a building and a city defined by that activity.
"I'll meet you in Peru."
Then there are the memories. Oh, the memories. That useless monorail, so quickly dismantled. The high-tech information kiosks that offered nothing of any practical value whatsoever, next to the bulletin boards crowded with pushpins and napkin scraps declaring "I'll meet you in Peru."
This week, the phone-in shows have positively brimmed with people noting how much they enjoyed Saskatchewan. And Saskatchewan. And Saskatchewan. It was one of about five pavilions worth visiting. The Czech exhibit in the Roundhouse was another. General Motors' holographic Spirit Lodge presentation was worth the wait.
The Northwest Territories offered a brilliantly spare evocation of the often-devastating effect that transportation and communication had on Canada's north. Somebody had to take the fair's transportation theme seriously.
Most pavilions, however, simply offered - in words duly recalled from Georgia Straight writer Dave Watson's incisive excoriation of the fair - the native equivalent of the hot dog, a bad travelogue and a brochure inviting you to come around and see them sometime.
And for this, we learned to line up. (Unless, of course, you took Watson's good advice to go in through the out doors.)
It's true that I do have some fond memories of Expo 86. Mostly they are of entertainments that inexplicably worked their way into a lineup sodden with the worst sort of nostalgia. I remember the notorious local rock band Slow, who prompted the Expo police to pull their plug in mid-song after base player Hamm, in the band's own words, "flapped his wally." I remember the keening vocals of Senegalese superstar Youssou N'Dour. I remember my friend Alex playing music with a bicycle as his instrument.
Most local cultural organizations simply tried to keep Expo from overwhelming them into bankruptcy. Few benefited. Three young jazz nuts used Expo to expand the Vancouver International Jazz Festival they'd started the year before. You could credit Expo for the helping hand, but I think nothing would have stopped them from building one of the best jazz celebrations in North America.
The city did get to see some things that would simply not have occurred without the fair. Paris-based Urban Sax overwhelmed much of the site in a surreal spectacle that left an audience of perhaps 50,000 absolutely slack-jawed. I'll never forget chain mail-draped sax players marching like automatons through the massive crowd, with everyone up to their chests in soap bubbles. The collaboration of many local artists in that event surely had some enduring local resonance.
Cultural appetites and standards were doubtless improved as a result of the event. I'm also glad that Expo boss Jimmy Pattison knows "for a fact" that some fellow business people invested in the city as a result of the fair. One was a Chinese billionaire who bought the whole site from the provincial government for a song, so his son could develop it.
Let's build a city for ourselves
Still, I find it hard to credit Expo itself as a cause of the mostly exemplary redevelopment of the north shore of False Creek. Or the cause of our quickly outdated convention centre. Or the cause of our more cosmopolitan culture.
Immigration, particularly from Hong Kong, might have been a more influential factor. The simple passing of 20 years in one of the world's fastest growing cities at the end of the 20th century may also have contributed to our maturation. It's just a thought.
I do know for sure that all this nostalgia evokes the same kind of immaturity that drove me mad during the fair itself: that Sally Field-like desperate need for approval; "We're a world-class city. Aren't we?"
Not yet, apparently. Not until we can reform our liquor laws because it's good for us instead of our cousins from Dubuke. Not until we can leverage an international event to create architecture worth mentioning. Not until we can recognize and support our own great new artistic talent with as much enthusiasm as we show for the rest of the world's has-beens.
Not until we can get jettison our country's cultural clichés - the inukshuks and the ice-fishing - and focus instead on what we do well today and can do better in the future.
Expo didn't give us Vancouver's new urbanism. We created it ourselves. And when we stop preening as we declare that the rest of the world has noticed it, and instead ask how we can make that experiment even more successful, we might actually become the city we pretend to be.
Then we won't need to wallow in cheap nostalgia.
In 1986, Tyee contributing editor Charles Campbell wallowed in cheap nostalgia for the 1960s as managing editor of the Georgia Straight.