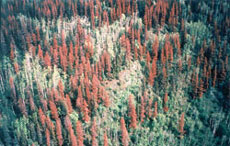 Timelines in forestry are long, far longer than election cycles, which is why governments of all political stripes are often reluctant to invest in reforestation.
There's a danger in such thinking, however, because it causes us to lose sight of where our forestry dollars end up. In British Columbia, forestry related activities fund many of our public services. For that reason, nurturing our publicly owned forests makes a lot of sense. By investing in them today, we set the table for a more secure tomorrow.
Unfortunately, such investments are not being made. And continued failure to do so ensures great hardship for Interior communities in the years ahead.
Today's beetle boom
As we all know, vast stretches of BC's forests are under attack by mountain pine beetles. In response, Interior logging rates have skyrocketed to levels previously unseen. Right now, an additional 11 million cubic metres of pubic timber is being logged every year in response to the beetles. Further beetle-related logging increases are contemplated.
Yet when the current boom ends in five to 10 years, it is a certainty that logging rates will plummet. This inevitable slump, commonly called the falldown effect, poses tremendous challenges for Interior communities and the provincial treasury alike.
Given reduced future logging rates and the reduced government income that will follow, it makes a lot of sense to use some of the revenues generated from today's elevated logging activities to pay for reforesting some of our public forestlands.
The coming devastation
By the province's own estimate, we could emerge on the other side of the current logging boom with 700 million cubic metres of dead pine trees, spread across 4 million hectares of land. These lands will not have been logged by the companies and the companies will bear no legal responsibility to replant them. That responsibility properly rests with the province.
Yet in Budget 2005, the BC Government projected spending just $89 million over three years on reforestation and other unnamed "beetle response" initiatives. That's depressingly little considering that the province recently estimated that somewhere between $800 million and $1 billion is needed, and privately its forestry officials say even more is required. Last year, BC logging companies posted record profits of $1.5 billion. Much of that came thanks to the beetles, with companies making minimal 25-cent-per-cubic-metre stumpage payments to the province for millions of beetle-attacked trees that made perfectly good lumber. The 25-cent stumpage rate made sense decades ago when it was set. It certainly does not today. Given the looming reforestation challenge, it is time to replace that rate with something more commensurate with the true value of the wood. Once that is done, every cent of the increase should go into a special stand-alone reforestation account, aimed at cushioning the falldown effect for forestry communities down the road.
Tap stumpage fees
Much of the $1 billion-plus needed to replant some of our beetle-attacked forests could be raised by the stumpage generated from those increases, and raised without diverting funds from other needed public services. Interior communities need a sense of hope that the beetle crisis is being properly confronted, and that a working forest will still exist in the future. Fortunately, solutions are at hand, but they require more action and greater investments today. They require the province to assume a more active role in cultivating a more diverse landscape that will be less vulnerable to future beetle attacks.
Ben Parfitt is resource policy analyst with the BC Office of the Canadian Centre for Policy Alternatives and author of Battling the Beetle: Taking Action to Restore British Columbia's Interior Forests, available at www.policyalternatives.ca.