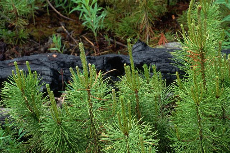 [Last in a three-part series]
It might not be so bad if the only problem we had to worry about in BC's forests these days was the armies of mountain pine beetles that have killed millions of trees over an area roughly the size of Ireland.
But at the same time that the beetles have grabbed headlines across Canada, other threats to the well-being of BC's forests have rapidly increased. More and more trees are falling to forest diseases. And there are ongoing concerns that the kind of devastating forest fires witnessed two years ago in Kelowna and Barriere could easily re-occur, thanks in no small part to the thousands of hectares of dead and tinder-dry trees now wiped out by pests and diseases.
Viewed separately all of these things pose challenges, but collectively, they signal that Canada's most forest-rich province may be paying a heavy price for decades to come for forest practices that promoted uniformity over diversity.
Monocultures, or tracts of trees of a similar species and age, appear to be behind a lot of the problems now confronting the province's interior forests. And it will take a great deal of ingenuity and perseverance to find creative ways out of the mess we've made.
Red band needle blight
Rob Scagel, a forest consultant in Surrey, has tracked tree-planting records in the province for years. The numbers he has compiled using government data paint a troubling picture. In the 10 years ending in 2004, the number of pine trees sewn in tree nurseries for eventual planting in BC rose by 27 percent. At the same time, the number of spruce trees sewn - spruce is the second most popular tree species for planting in the province - declined by 14 percent.
The sharp increase in pine trees planted is probably nothing more than the forest industry's response to provincial laws that stipulate companies must have new crops of trees re-growing in a timely manner following logging. "It is easier to do that with pine than with spruce because pine just grows faster," Scagel says.
But a burgeoning number of pine plantations may well be exacerbating the problems we're seeing today, Scagel says, adding: "It's time to re-think what we're planting."
One troubling forest disease that has spread in tandem with the phenomenal beetle outbreak is known as red band needle blight, or Dothistroma. According to a 2004 Ministry of Forests' publication, the blight is now one of "the most significant forest health diseases in northwest BC."
Large expanses of pine trees around and to the north of Smithers are affected by the blight - a fungus spread by toxic spores - which is turning the needles on many planted pine trees an alarming shade of red. The blight is associated both with reduced tree growth and, if it continues year after year, tree death.
Large numbers of trees "severely damaged" by the blight have been found in five large forested regions in the northwest of the province and under the Ministry of Forests' administration. And here's the rub. Many of them were planted only recently, within the last 25 years, in fact. Not only were these plantations made up almost entirely of young pine trees, but the trees were planted in areas where there used to be healthy, mixed forests with varieties of trees including cedar, hemlock, spruce and pine.
According to Alex Woods, a Ministry of Forests researcher in Smithers, up until December of 2002, lodgepole pine trees were considered a "preferred" species to plant in the northwest following clear-cut logging. But with the blight quickly spreading, the decision was made to downgrade pine to an "acceptable" species, Woods said. "Now, they can only make up less than 20 percent of the constituents in any one opening."
Young are dying now
The death of young pine plantations due to mountain pine beetles is also an emerging concern. Tracts of planted trees, some just 15 years old, have been killed during the outbreak - a far cry from the 80-year-old-plus trees that have traditionally been attacked.
Big questions now lie ahead as logging rates increase in response to the legions of beetles moving throughout BC's interior. The logging increases have been a central platform in the BC government's "action plan" to deal with the beetle infestation, and are frequently referred to by Premier Gordon Campbell and Forests Minister Rich Coleman in their public pronouncements on the outbreak.
Campbell recently called the outbreak an unprecedented "natural disaster", but has talked comparatively little about the nature of the lands that will be attacked and logged and what trees will grow in place of the ones removed.
Since 1987, logging companies in BC have been legally required to "reforest" the public lands that they log. That means that they must either plant new trees on those lands or wait a period of years and see if the logged lands naturally re-seed on their own. Either way, the companies are legally obliged to ensure new crops of trees reach a "free to grow" status on previously logged lands. Free to grow, meaning that the new trees are sufficiently large enough that they will not be overrun and out-competed for light by competing brushes and grasses.
Scagel's analysis points to a troubling spread in the amount of planted pine. But the proliferation of pine trees across the landscape is probably far greater than the numbers implied by his research. That's because many companies choose to allow the areas they log to naturally re-seed. And in many cases, what re-seeds in the harsh sunlight of clear-cuts is pine.
Fire suppression boomerang
The spread of pine has also been promoted by another phenomenon that shows just what the province is up against in "managing" the beetle problem. According to scientists at the Canadian Forest Service, there are about two-and-a-half times more pine trees on the landscape today than there were a century ago.
Mostly, this is because of successful efforts to suppress forest fires - the natural building block in pine-dominated forests. The irony is that in "saving" forests from fire, we now have a situation where we have many more pine trees on the landscape than decades ago, pine trees that are now falling to the beetle and the logging companies.
Add our pine-fixated tree-planting efforts into the equation, and it's safe to say that all bets are off when it comes to having "forests forever" - an industry and government slogan some readers may remember seeing and hearing a lot of just a few years ago.
It is a phrase rarely heard these days.
Previously in this series:
The Bug in BC's Economy: Timber towns 'race to the bottom' with tax breaks.
What Price the Beetle? The Cariboo-Chilcotin region alone wants $480 million.
For an animated map showing the spread of the Mountain Pine Beetle in BC, go here.
Freelance writer and researcher Ben Parfitt lives in Victoria. He is a frequent writer and commentator on natural resource, business, environmental and social justice issues for a variety of publications and author of Forest Follies: Adventures and Misadventures in the Great Canadian Forest.