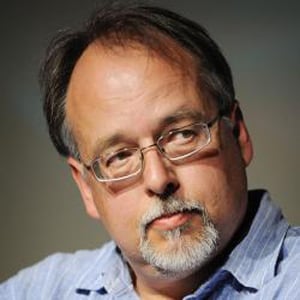 Tyee readers are likely well acquainted with Jessica Ernst, the oil patch scientist and landowner defiantly challenging the regulation of fracking in Canada.
Known for standing up to one of the most powerful industries on the planet, eight years ago Ernst sued gas driller Encana and Alberta's energy regulators, claiming contamination of the well water in her rural backyard and the failure of government authorities to investigate.
Ernst's suit also alleges a provincial regulator breached her charter rights by refusing to communicate with her after she publicly criticized it.
Now Ernst's story, which has earned followers on three continents, is the subject of a new book by journalist Andrew Nikiforuk, who has covered developments in Ernst's case for this website.
Slick Water: Fracking and One Insider's Stand Against the World's Most Powerful Industry, published this fall by Greystone Books, blends Ernst's compelling personal tale and long legal saga -- still ongoing today -- with the story of fracking and its human and environmental impacts.
It concludes Nikiforuk's trilogy on the oil and gas industry in Alberta, which includes 2002's Saboteurs and 2010's Tar Sands, a winner of the Rachel Carson Environment Book Award.
In the words of New Yorker environmental journalist Elizabeth Kolbert, Slick Water is "a true-life noir filled with corruption, incompetence, and, ultimately, courage." More specifically, Nikiforuk says, it is a story about "the courage of women."
This Wednesday, Nov. 18, Nikiforuk embarks on a two-week book tour that will include five stops on Vancouver Island and one on Salt Spring Island. Find a full list of dates and locations in this story's sidebar.
Not an Islander? Slick Water is available for sale at most major bookstores and online. (We'll also be giving signed copies to Tyee supporters in our upcoming fall fundraising drive. Stay tuned.)
Ahead of his tour, we checked in with Nikiforuk to ask about the latest on Ernst's case and what book tour attendees should expect -- beyond a Slick Water reading and signings, of course.
Tyee: Pursuing Ernst's case over the last eight years has cost hundreds of thousands of dollars. What drives her to keep going?
Andrew Nikiforuk: To date, Ernst has spent $350,000 of her own savings in her pursuit of justice. What drives her is the evidence and the knowledge that contaminated groundwater travels over time. She understands that groundwater is a public resource and that 20 per cent of the continent's freshwater comes from aquifers. Her lawsuit is really predicated on the notion that an injustice anywhere is really a threat to justice everywhere. As a result, she has inspired many rural communities in Ireland, England, Michigan, New York state and the Maritimes, because she will not stand down.
Ernst's friends describe her as "a formidable enemy." In this case, is her enemy fracking?
Ernst would say that her enemy is not fracking. She would add that she is not an activist either. To her, the real enemies are the regulators who have ignored the science. Instead, they deregulated and refused to enforce the laws they are mandated to uphold. Across North America, oil and gas regulators have willfully avoided proper groundwater monitoring. As a consequence, Ernst does not think that fracking, a technology that even industry describes as a combination of brute force and ignorance (many fracks simply miss the target formations), can be properly regulated.
What's the current status of Ernst's lawsuit, and what's next?
Part of her case hits Canada's Supreme Court this January. At issue is whether a regulatory agency can violate a citizen's constitutional right to freedom of speech by branding them as a security threat and banning communication with them. The Harper government intervened against Ernst. We'll see if the Trudeau government is prepared to act differently.
What can readers expect from the Vancouver Island tour?
British Columbians don't really understand that their government's obsession with liquefied natural gas is driven by a highly disruptive and uncontrollable technology. Every citizen should know Jessica Ernst's story as much as Caleb Behn's, the subject of Damien Gillis' Fractured Land. Both tales tell us a lot about the limits of brutal technologies and centres of power that have abused their mandates. So I'll be giving folks some scientific background as well as an introduction to a complicated and compelling story about female courage.
Don't miss Andrew Nikiforuk as he tours Slick Water on Vancouver Island, Nov. 18 to 26. See sidebar for details.