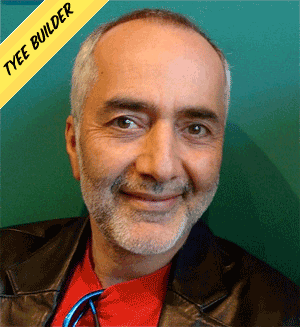 Hold the Bananaphone. Did you know that (besides being the saving grace of road-tripping parents with small children) Raffi is a strong advocate for Canada's media singing an independent tune? That's why he's a Tyee Builder.
"What hooks me about The Tyee? The writing, the writers, and the passion. And let's not leave out the elegant website design. Stylin'!" -- Raffi Cavoukian
Stylin' is right: we're fine with the way The Tyee looks. What we're hoping to do with our Tyee Builders Program is to amp up our reporting capacity and publish more award-winning journalism on those eye-pleasing pages. Just like Raffi's "Baby Beluga," The Tyee swims "wild and free" of any mainstream media organization. If we're going to keep up with them, we need you to help us along. Click on the yellow button below to learn more about how to join Raffi and the rest of the Tyee Builders in supporting The Tyee.

About this Tyee Builder: Raffi Cavoukian - known by most as just "Raffi" - is a singer, songwriter, author, and outspoken advocate for "child honouring": a "children-first" way of looking at the world that encourages healthy communities and rebuilding the environment with kids in mind. Born in Cairo, his family moved to Canada when Raffi was young. He has won numerous awards for his work, including the Order of Canada (1983) and the Order of British Columbia (2001). You can read more about Raffi's work on his organization's website, Centre for Child Honouring.
About the Tyee Builder Program: Want to give independent Canadian journalism a boost? You've come to the right place. The Tyee is trying to become fully sustainable. In order to do so, we've launched the Tyee Builders program to allow readers who love The Tyee's work to help fund more of it. Every penny you support us with will go directly to pay Tyee writers and editors. And besides the warm, fuzzy feelings you'll get knowing you're helping dial up the volume on an independent voice in Canadian media, we've come up with a few other ways to thank you. Click on "Hammertime" above to learn more and start Building!