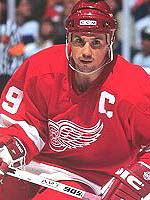 Who can understand the NHL playoffs? Nobody. Anybody who says different must produce an accurate pre-playoff prediction that the Oilers would beat Detroit. Otherwise, shut up.
When the playoffs begin, logic dies. Events are now controlled by the God of Fun. Sacrifice a goat and a cow, for a mighty god is he. He maketh the weak victorious; his servant Moses McTavish doth part the Red Wings. It's loopy.
The Oilers-Red Wings series didn't even make sense semiotically. It's easy to understand why the Ottawa Senators would battle the Tampa Bay Lightning-politicians and lightning are sworn enemies. Senators work constantly to defeat the forces of speed and illumination (and once more, victory is theirs). But why would Detroit wheels and Alberta petroleum products conflict? They're natural allies. Why wouldn't they work together against, say, the animal kingdom? Together they could make Buffalo extinct.
Where's my zipper?
Anyway, it wasn't supposed to be a fair fight. Detroit-best team in the league over the regular season. Edmonton-not even very good down the stretch. They made the final playoff spot because their main competitors for the prize were the Vancouver Canucks. It was like a race between two passed-out drunks to see who would wake up and put his pants on first. Edmonton put theirs on backwards and spent two weeks searching in vain for the zipper, good enough to win in this case, since the other guy turned out to be something worse than asleep. People have now begun saying that Edmonton had the advantage of playing meaningful games down the stretch, while Detroit was in cruise control, locked into a cozy conference lead. But Vancouver played both teams late in the season. Detroit looked stronger.
At the deadline, Edmonton traded for goalie Dwayne Roloson, who subsequently put together a two-month stretch reminiscent of the French army in Spring 1940. Drop the puck for the second season and voila-Roloson becomes Dominik Hasek without the hypochondria. (Actually, Canuck fans always knew Roloson could stone a team-with Minnesota, he used to be a real nemesis for Vancouver. Then again, they hand out Canucks' Nemesis Awards like "Participant" badges at a high school track meet.)
Round One fun
I am among those fans who believe Round One is the peak of NHL playoff fun. Such a smorgasbord of teams and styles, such a long tradition of topsy-turvy. As the playoffs go on, it begins to look like a death march. Unless your own beloved warriors are involved, maintaining interest gets tougher. Hockey in June always seems off. It's in late April and early May that the chase still seems fresh and fun. Especially when stuff like this happens-eighth-seeded Edmonton over top-seeded Detroit in six games. The price of Oil is soaring, all right.
How does it happen? How does Detroit suddenly stop being Detroit? How does Edmonton erase scientific evidence gathered over 82 games? I wasn't surprised when underdog Colorado defeated overdog Dallas. The Avalanche have Joe Sakic and an intangible playoff tradition of grit and fire. But Detroit has Steve Yzerman. And Chris Chelios. Old guys, sure, but they had younger talent, too. I did not see a single pundit who picked Edmonton over Detroit. You'd have to be a chimp with darts to make that call.
Bring on the chimps. This is their season.
Steve Burgess is the Tyee's critic at large and that includes sports.