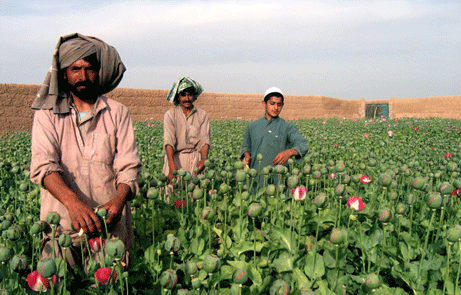 Over the next few weeks, Afghan farmers will be planting poppies, a crop long cultivated here, but much maligned of late. They'll also be sowing seeds of frustration among those trying to rein in an illegal drug industry spun out of control.
Nowhere is this more true than Helmand province, the world's largest opium producer and the subject of the accompanying photo essay. Last year, Helmand grew more than half of Afghanistan's record harvest, which supplied a whopping 93 per cent of the world's opium, according to the UN Office On Drugs and Crime.
Safai, a photojournalist with the Institute for War and Peace Reporting (IWPR), has documented one cycle in the losing battle fought by counter-narcotics officers in Helmand. Men flock from as far away as Pakistan to the provincial capital, Lashkar Gah, to take part in the harvest. There, they negotiate wages with landowners and buy tools of the trade -- instruments for scraping poppy bulbs and collecting the opium paste that oozes out.
A token amount of Afghanistan's harvest is confiscated (no high level trafficker has yet been caught) and a fraction stays in the country to supply a relatively small but growing number of addicts.
The rest feeds heroin habits around the world, destroying millions of lives and enriching others with drug money.
Much debate, few answers
Next year's harvest will mark yet another season of frantic debate about how to address "the poppy problem." Proposals range from licensing the crop to produce medical painkillers to eradicating it through aerial spraying. While such solutions often play well in the West, they tend to lose coherency when faced with obstacles on the ground -- successfully enforcing a licensing system in such a lawless country is a dubious proposition at best; public opposition and Afghanistan's vast, rugged terrain make any large scale spraying program likely to fail.
What is clear is that the current piecemeal eradication approach -- plowing under a field here, leaving one standing there -- is not working. And there is growing evidence that it's driving disgruntled farmers into the arms of the Taliban. What to do?
Vanda Felbab-Brown, a fellow at the Washington-based Brookings Institution, has been studying historical approaches to dealing with poppy cultivation -- from China, to the golden triangle, to Turkey's successful transition to licensed production. She has some advice for those attempting to eradicate poppies in Afghanistan: Don't.
Stability first
In a recent article in the Washington Post Felbab-Brown pointed out that "during major insurgencies or civil wars, no counter-narcotics policy has ever succeeded in eliminating cultivation."
The Thai government abandoned attempts at forced eradication while fighting insurgents in the 1960s. It eventually succeeded in eliminating cultivation, but only after defeating the insurgents and then implementing 15 years of programs to provide farmers with alternative livelihoods.
Turkey's medical licensing program depended heavily on U.S. support and government control over its territory -- factors clearly lacking in Afghanistan.
China took a far more aggressive approach to eradication in the 1950s, executing traffickers and imprisoning millions of addicts. But Mao Zedong only implemented such harsh policies after he gained control over the countryside. Before that he collaborated with drug lords.
Rather than sinking resources into eradication programs, Felbab-Brown urged NATO to focus on creating security. "Only after stability is achieved do counter-narcotics policies have a chance to reduce cultivation, and then they should follow the Thailand model, rather than the China model."
Western hysteria, Afghan complacency
While western officials wring their hands over the widespread cultivation of opium poppies, attitudes in the Afghan countryside are significantly different. Last month, IWPR journalist Matiullah Minapal reported that traffickers in Helmand were distributing some of their profit to the poor during the Muslim holiday of Ramadan. In accordance with a tenet known as "zakat," Muslims are obliged to give one-fortieth of their yearly income to charity. And drug dealers are not excluded, at least in Helmand.
"Opium trading is legal, but its consumption is not," one religious leader told IWPR. "Anything that is legitimate and can be traded for a profit is subject to zakat."
Impoverished residents of districts in Helmand where aid workers are afraid to go told IWPR they were grateful to receive the food and clothing distributed by drug traffickers.
"May God bless them," said one.
"We would have a very miserable life had they not helped us. We will always support them," said another.
With sentiments like those, the possibility of convincing Afghans to support eradication seems remote indeed, especially while they are caught in the middle of a conflict that is keeping them mired in poverty.
Related Tyee stories: