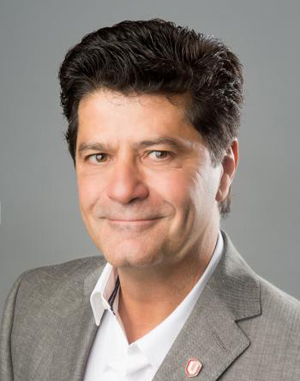 In an opinion piece published on The Tyee Tuesday, former Canadian Labour Congress president Ken Georgetti, while urging that Tom Mulcair remain leader of the NDP, slams "those on the left who spent the entire 2015 federal election campaign promoting strategic voting" and decries their "culpability" in the NDP's loss.
The union I lead, Unifor, was a supporter of strategic voting, and so, in response to Georgetti I say, if we are going to start pointing fingers, let's be clear on a few facts.
Defeating a government that imposed an austerity agenda, trampled on our rights, had complete disregard for First Nations people, and attacked the labour movement is unquestionably the right thing to do. It's called having a vision to stop the madness.
Strategic decisions are implemented when the risks are high and we need to put the interest of the greater good first.
Georgetti himself lost an important vote in May 2014. There was an important shift in our labour movement and it was the first time in the history of the Canadian Labour Congress (CLC) that the sitting president lost. Georgetti lost because of a strategic vote of labour delegates. Together, we made the choice that we wanted a more progressive and aggressive voice for our labour movement.
As president of the CLC, Georgetti presided during all three terms of the Harper government. In that time, the right-wing movement increased support in all three elections culminating with Harper's majority. The increased strength of the right-wing and the weakened role of labour's central body were only some of the factors that led to Georgetti's defeat.
Defeating conservatives matters
As a trade unionist and a progressive, I understand the importance of defeating conservatives. If our labour movement is compromised by legislation, then all workers and our entire country is at risk. Trade unionists understand this important fact.
In Ontario we voted strategically to stop Hudak and his anti-worker so-called "right to work" agenda, and we did the same in the federal election to stop Harper.
For the sake of our future and Canada's social fabric, good jobs, and to advance -- not retreat -- on equality and equity in this country, I am proud of the work of Unifor and the many activists that worked together to kick out Harper. That campaign is a shining example of labour's strength when we work together. It's called movement building, a lesson that Georgetti seems to have forgotten.
Seventy per cent of Canadians voted to get rid of Harper, and 70 per cent of them voted for the candidate they thought was best suited to defeat a conservative in the riding. We cannot, as a movement, criticize Canadians for reclaiming their country by concentrating on the defeat of Harper. We must embrace it.
Make no mistake about it, there is still much work to be done to hold the government's feet to the fire, and truly move progressive politics forward.
Unifor will continue to put the collective needs of our members and all Canadians at the forefront of our political agenda.