How have public protests -- sit-ins, blockades, demonstrations -- managed to remain relevant, particularly in this age of fragmented media, viral campaigns and digital petitions?
Think of the millions who spilled into the streets of American cities in December to protest police brutality against African-American men, the People's Climate March in September, which attracted over half a million in New York City alone, the Arab Spring uprisings from Tunisia to Turkey, the demos in support of Pussy Riot in Russia.
Or consider my own hair-trigger willingness to protest, eight times in the last year, by my calculation: twice for reconciliation with First Nations, once against pipelines, once for climate action (New York City), three times against coal exports, twice for public education.
This is pathetic, of course -- as most have been losing causes and I am not supposed to do this. Communications consultants like me aren't supposed to lose, let alone descend to the street, except for our lattes. We are the guys who are paid to orchestrate events with polls, strategies and fake grassroots campaigns like the plan from PR giant Edelman to create fake groups to counter opposition to the Energy East pipeline.
Yes, I work mainly for non-profit agencies -- the Canadian HIV Trials Network, World Health Organization, Canadian environmental groups -- but my weakness for demonstrations clashes with the non-partisan persona expected of many hired hands in my field.
Still, I continue to waste too many Sunday afternoons walking down the centre lines of city streets. Why? Because, occasionally, good public demonstrations can, without money or much organization, change the way their participants and millions of us see the world, obliterating the costly public relations' strategies of big industries and bad governments.
How do they manage this? For three reasons: first, demonstrations are theatrical, and people love a show; second, they involve risks and can contain an element of danger, especially when protesters confront powerful interests; third, public protests have the power to undermine, or sometimes rewrite dominant narratives about controversial issues.
Last December's anti-pipeline protest on Burnaby Mountain is a good case study.
Greek tragedy
The best demonstrations are cathartic, which means (as you will recall from your careful reading of Aristotle) that they purge or purify our emotions and relieve tension in the same way as dramatic tragedies.
Many of the hundreds who showed up at Burnaby Mountain, including more than 100 who were willing to violate a criminal injunction and be arrested, were likely looking for ways to blow off steam after months and years of bad news about the progress of global warming, its potentially catastrophic effects, and the refusal of governments to take action.
These feelings of despair were no doubt heightened by the steady drumbeat of support for pipelines. The glossy leaflets from Kinder Morgan's proposed Trans Mountain pipeline, sent to every household throughout the Lower Mainland last fall, extolled the virtues of an expanded pipeline, promised lots of good jobs and prosperity and little risk -- though the project would triple the amount of tar sands bitumen being shipped via Burnaby through one of North America's busiest ports. These promises echoed those of higher levels of government about similar projects, at the same time as reports about oil spills and the science of climate change suggested otherwise.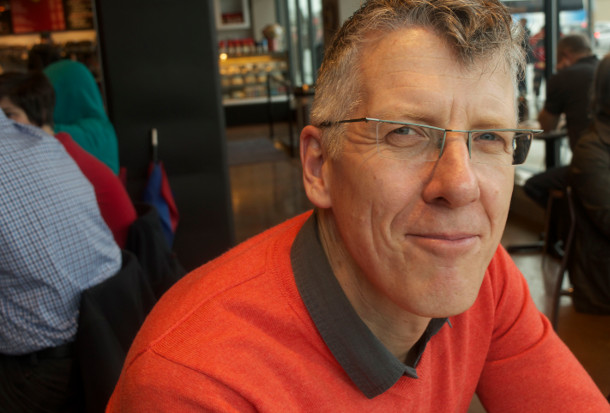 "People had not had a place to express their anxiety," said Karen Mahon, a leader of the momentous Clayoquot Sound anti-logging protests of 1993, who joined the protest on Burnaby Mountain a week after a Supreme Court judge granted Kinder Morgan an injunction against the protesters' blockade. "This became a stage to vent against the leaders of our country who were doing nothing about climate change... It was sanity-making."
That the stage was rain-soaked, muddy and suburban didn't matter. The media were there -- with their local and national audiences -- and the dramatis personae were terrific: noble First Nation chiefs, guys in hardhats with big drills, young and not-so-young hippies, disobedient grandmothers and a defiant mayor, bewildered RCMP officers. Not far off-stage, meanwhile, was a pushy prime minister, whose minions were fond of calling environmental protesters foreign-funded "radicals," possibly with connections to terrorist groups.
The risks then were obvious, and nobody knew the ending of this little piece of national theatre. How many demonstrators would be arrested? Would there be violence? Would rain and the walk-in (uphill, after public vehicle access had been cut) dampen the spirits of protesters?
"Demos are very unpredictable," said Valerie Langer, another veteran of the Clayoquot protests, now a lead campaigner on the Great Bear Rainforest. "You can organize details and tweet people to get them out, but not every demonstration catches fire."
The tinder that ignited national interest in Burnaby Mountain was the arrest of a soft-spoken Simon Fraser University professor, Lynne Quarmby. The first group of protesters, who called themselves "caretakers," had been camped out on the mountain for months; but the protest had no charismatic leaders and was made of different groups with different agendas.
Professor Quarmby, a resident of West Vancouver, was the antithesis of the dangerous "foreign-funded radical," and her bold action galvanized other soft-spoken, thoughtful people to come forward and disobey the authorities: grandmothers, First Nations chiefs, a mother and child.
"It was inspiring," recalls Langer, who joined the demo after hearing Quarmby was planning to be arrested the next day. "Nobody expected to stop the pipeline in that moment. But on behalf of Canadians, good people demonstrated they were not going to sit alone in their homes, while this company, and our federal government, went about wrecking the planet."
Arrest plan
Langer and Mahon, who together has witnessed more than 800 citizens arrested at Clayoquot more than two decades ago, saw the opportunity to organize the protest effectively. By word of mouth and Twitter, they encouraged those who wanted to be arrested to meet at the protest site at 10:30 each morning and told media of the plan. On site they advised those thinking about being arrested about the potential consequences, so there wouldn't be any nasty surprises. Several grandmothers stepped forward. One, age 74, told reporters she had never dealt with the police before, though she had once had an overdue book; another, age 87, described her arrest as the culmination of "a great day."
Footage online and on national television of the president of the B.C. Union of Indian Chiefs, Stewart Phillip, and granny Jean McLaren neatly undermined the expensive narrative that Kinder Morgan and the federal government had been promoting for many months.
News reports helped to corroborate the protesters' new narrative. A British Columbia Supreme Court judge ruled that the arrest of many of the protesters had been unjustified, owing to a faulty GPS-guided demarcation of the area bound by the injunction. We also learned that Kinder Morgan had been boasting to shareholders about how little tax it had been required to pay on its existing and highly lucrative Burnaby-bound pipeline
Trans Mountain did get its core samples. And it will likely win approval for its pipeline expansion from a compliant National Energy Board. The mountain protest, however, succeeded in galvanizing public attention on Kinder Morgan's proposal for the first time. On one day, 800 people showed up, and the story enjoyed prominent coverage nationally for more than a week.
Most important, perhaps, it seeded this more credible story in the public mind: North America's largest pipeline company ignores the opposition of local municipalities and uses the courts to make criminals of decent citizens in its efforts to expand a pipeline that would greatly threaten the local environment and fuel dangerous climate change.
When I wrote for Adbusters in the 1990s, Kalle Lasn, its founder, used to disparage demonstrations as an outdated tactic of "the old left." Then, in 2011, he invited readers to an impromptu protest in Wall Street and triggered the global Occupy movement.
When I called him on this recently, he said the tools of social media have re-energized street protests. "As we saw in Cairo, the sheer power of having 100,000 in a square can depose a dictator," Lasn said. "In the old days, politicians didn't pay attention. Now if you have 10,000 in Wall Street demanding a Robin Hood tax, the authorities have to respond."
People who criticize Occupy Wall Street are uninformed, he added. The movement dragged economic inequality onto the political agenda, and established a powerful conceptual frame about the richest one per cent controlling much more than their fare share of the wealth. "Sure the protesters have gone home, but the movement has morphed into something much bigger -- in the guts of young people for whom the future does not compute."