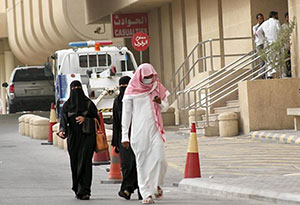 Statistically, the bug now known as Middle East respiratory syndrome coronavirus (MERS-CoV) is a trivial threat. In the two years we've known about it, the World Health Organization has officially recognized just 635 cases of MERS, with 193 deaths. All appear to have originated in the Middle East, chiefly Saudi Arabia and the United Arab Emirates.
By comparison, Saudi Arabia suffered 6,596 traffic fatalities in 2010, and about 20 per cent of the people in the Persian Gulf region suffer from diabetes.
But look again at those MERS deaths: a 30 per cent case fatality rate, where SARS had a rate of eight per cent. A disease that deadly will get attention, especially when it comes from a previously unknown virus and it flourishes in hospitals. The Gulf monarchies also have political reasons to fear MERS, and Saudi Arabia just announced that it's been fudging the case numbers for a year -- a confession likely to have major repercussions.
A recent book argues that Saudi Arabia and its Gulf neighbours are "rentier states," living off the revenues from oil. Some of the oil money is distributed in a kind of ethnic socialism: native-born Saudis and Emiratis get cheap housing, education and fuel, as well as undemanding government jobs. In return, they allow the monarchies to do as they please.
Part of this "ruling bargain" is to import cheap labour in vast numbers, for everything from housecleaning to business management. The money and working conditions are atrocious, but usually better than those available at home. One of the benefits of the ruling bargain is a good health-care system, and the Saudis have an extensive one. In many ways, it is indeed good. The previous health minister, Abdullah Al-Rabiah, is a Canadian-trained surgeon who recently separated conjoined twins.
But that was after he got the sack. As health minister, Al-Rabiah had presided over the rise and spread of MERS as a Saudi disease. While cases were seen in Jordan in March and April of 2012, the virus was first identified in a Saudi patient a few months later. Ever since then, the vast majority of cases have affected either Saudis or visitors to the Kingdom; the other Gulf monarchies have seen cases too, but far fewer.
Al-Rabiah's strategy was to say as little as possible about the cases and to spin what he couldn't conceal. While the World Health Organization and other agencies worried about what was going on, the Saudi Ministry of Health stonewalled them. But the minister couldn't conceal the fact that cases were breaking out right inside Saudi hospitals.
A pattern began to emerge: a few relatively elderly patients would arrive in hospital with MERS as well as underlying medical conditions like diabetes and kidney disease. (How they contracted the virus has yet to be clearly determined, which is a scandal in itself.) Then, with astonishing speed, hospital workers would start coming down with it as well. Even healthy young nurses and doctors were dying of it.
Yet another scandal: in one hospital, no fewer than 19 kidney patients contracted MERS from the dialysis machines. Sloppy infection control was clearly allowing the virus to spread from patients to caregivers and on to still other patients.
Not much news of this got out. On the World Press Freedom Index 2014, the kingdom ranks #165 (Canada ranks #13 and the U.S. ranks #46). The media obey the House of Saud, and most of its MERS reports simply repeat the ministry's case reports with no analysis or investigation. A few western bloggers picked up scraps, reading between the lines of Arabic news sites and Twitter hashtags. (A young Saudi, meanwhile, was recently condemned to 10 years in prison, a $260,000 fine, and a thousand lashes for setting up a "liberal" blog.)
Mutiny in King Fahd Hospital
But in early April, King Fahd Hospital, Jeddah's biggest public hospital, shut down its emergency department. Too many doctors, nurses and paramedics were falling ill and dying, and the rest of them were in open mutiny. The story simply couldn't be suppressed.
Within two weeks, Al-Rabiah was, as Google Translate put it, "exempted" from his job as health minister. But by then MERS cases were exploding everywhere, not just in Jeddah.
Worse yet, a Malaysian pilgrim had returned from Saudi Arabia and died of MERS in his home village. Six Filipino paramedics in Abu Dhabi, the richest of the United Arab Emirates, had all come down with the disease; one had died of it, and another had returned to the Philippines before his test turned out positive for the virus. Two health-care workers on holiday in the U.S. have tested positive for MERS.
The virus is now stressing two key institutions: the mandatory pilgrimage to Mecca that all Muslims are supposed to make at least once in their lives, and the expatriate workforce that Saudi Arabia and the other monarchies rely on for everything from housemaids to surgeons.
Over three million Muslims a year now take part in the Hajj (which this year falls in early October) and the Umrah, a pilgrimage that can be made at any time of year. The pilgrims bring in astounding revenues; a single Vancouver pilgrim flying to Saudi Arabia on a 15-night package can expect to spend at least $8,450, plus Vancouver-Toronto airfare and extra fees running to around $500.
Of course, you could also bring home a free case of MERS. Last year the Saudis warned the elderly and those with underlying medical conditions to postpone their journey. They got through the 2013 Hajj with no serious outbreaks, though a few pilgrims went home with MERS to places like Spain. Late this May, Umrah pilgrims brought the disease to Algeria and Iran.
So after this spring's rise in cases and deaths, many pilgrims may simply stay home, at severe cost to the Saudi economy. An authority on Saudi Arabia, David E. Long, said in a 2011 article that "there are no published figures that break out gross revenues generated by the Hajj, but they are estimated to be in the billions of dollars, including annual government expenditure."
Meanwhile, MERS has sickened and killed several expat health-care workers, mostly Filipinos. But you don't have to be a Filipino in health care to worry. Saudi Arabia has over nine million expatriates compared to 19.8 million Saudis. Expats make up 87 per cent of the population of the United Arab Emirates, and 85 per cent of Qatar's population. Few stay more than a few years, and if they leave in unusual numbers to escape falling ill, or are not replaced, the Gulf economies will face a disastrous labour shortage.
Al-Rabiah was replaced in April with Adel Faqih, who's also the Saudi minister of labour. He improved communications, posting daily case reports with more details. But after a week or so the details vanished, especially details about health-care workers.
A bombshell announcement
Then, early in June, he sacked Dr. Ziad Memish, a deputy health minister who's dealt with MERS from the start. The next day, the Saudi Ministry of Health announced that it had somehow missed 113 MERS cases in the past year, as well as 92 deaths. The real totals, as of June 3, were now 688 cases and 282 deaths, up from 575 and 190 the day before.
This was a startling admission of incompetence, raising still more questions: Were the cases missed, or were they suppressed? What about the contacts, like family members and health-care workers, of those cases? And will the Saudis finally tell the World Health Organization what's been going on for the last year and a half?
That organization can report only the cases reported to it, and Saudi cases have been shared slowly and with few details. "WHO is working closely with Saudi Arabia for additional information on these cases," the agency recently stated with a touch of exasperation, "and will provide further updates as soon as possible." The next update should be a collector's item.
WHO's leverage on its member states is limited, but it does wield some economic clout. When SARS hit Toronto in 2003, the real blow came from WHO's travel advisory against visiting the city. Toronto had to throw a free Rolling Stones concert to recover economically. A similar recent ruling means Pakistanis can no longer leave their country without documented proof of polio vaccination, which has greatly embarrassed the government and military.
Since SARS, WHO has been very careful about issuing such travel advisories. Its MERS updates always point out no such advisory has been issued. But if the Saudis can't control the outbreak, and won't tell the world what the situation really is, WHO might just pull the trigger, issue a travel warning, and reduce the Hajj by hundreds of thousands.
Or the Philippines, much as it relies on remittances from expat workers, might recall its workers from the Arabian Peninsula and ban further travel. India, already jittery about MERS, might do the same with its expats.
With no one to do the chores, and native-born populations expecting idleness or unable to do skilled jobs, the Saudis and the other Gulf monarchies would learn what happens when a rentier economy can't pay its own rent.
So would the rest of us, as we watched Gulf oil shipments dwindle and Canadian gas prices soar, while political upheaval erupted from the Persian Gulf to the Red Sea.
The Gulf monarchies survived the stress of the Arab Spring, which started with the suicide of a single unknown young Tunisian. But they may not survive the stress of a single virus, unknown to the world just two years ago.