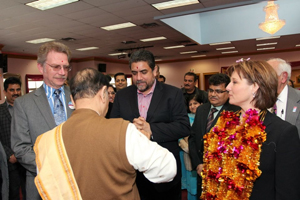 "Religion and political expediency go beautifully hand in hand." -- Friedrich Durrenmatt, Swiss author
Premier Christy Clark held an "inappropriate" meeting last week with a former BC Liberal candidate who faces six federal charges for failing to file corporate income tax returns, says BC Conservative Party leader John Cummins.
The Tyee has learned that Clark met on Tuesday, March 26 with Sukh Dhaliwal, who resigned his nomination in Surrey-Panorama February 8 after it was learned he faced charges filed in Federal Court on Oct. 15, 2012.
Cummins said Sunday that as premier, Clark should not meet with Dhaliwal because his charges are still unresolved.
'It's inappropriate'
"You shouldn't allow your office to be involved when someone is before the courts," Cummins said in an exclusive interview. "Prudence suggests that until that matter is resolved, the premier should not be involved -- it's inappropriate."
The charges have not been heard in court and thus are unproven allegations by the federal prosecutor.
The Tyee was alerted to photos on the Facebook page of Surrey's Laxmi Narayan Mandir Hindu temple showing Clark and Dhaliwal receiving blessings with Marvin Hunt, her new BC Liberal candidate in Surrey-Panorama.
The event seems to be a political appearance, with only BC Liberal candidates present and no New Democrat MLAs in the photos.
"You have to question the premier's judgment. That judgment is flawed, time after time," Cummins said. "There's just something that's not quite right about it.
Neither the BC Liberal Party, Dhaliwal or Hunt responded to Tyee requests for comment by deadline.
Cummins noted an earlier controversy where convicted attempted murderer Jaspal Atwal was a replacement guest at the 2012 budget speech in the BC Legislature on a ticket from Premier Christy Clark¹s office.
BC Liberal Party executive member Tariq Ghuman resigned his position after taking responsibility for bring Atwal -- who was convicted of shooting a visiting Indian cabinet minister in 1986 in a murder attempt -- to the Legislature.
And Dhaliwal has been in controversy before. In 2008, when serving as a federal Liberal Member of Parliament for Newton-North Delta, Dhaliwal sent an official letter supporting convicted international drug trafficker Ranjit Cheema to a United States judge, urging that Cheema be given a chance at rehabilitation.
Nonetheless, Cheema was sentenced to five years in jail for conspiracy to import 200 kilograms of heroin from Pakistan to North America. Cheema was killed in a drive-by shooting in May 2012 in East Vancouver.
Hunt backed by Dhaliwal
Surrey city councilor Hunt took over the nomination at Dhaliwal's urging, according to local media reports.
Dhaliwal was nominated as the BC Liberal candidate on Oct. 31, 2012 but claims that he only became aware of the charges laid Oct. 15 involving Genko Consultants Inc., where he is president and his wife Roni secretary, in late November.
Dhaliwal told media at the time he resigned in February of 2013 that he had been unaware of the income tax charges regarding his company, one of three he owns, and that his personal taxes were up to date.
Clark's willingness to take big political chances by being publicly seen with Dhaliwal is a clear sign that things are increasingly desperate for the party as the election nears.