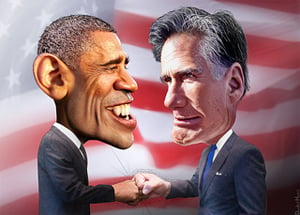 There's no politics like American politics. More money, more power, more bat-shit than any democracy you can name, appalling and thrilling by turns. And from time to time an outside observer of U.S. presidential politics might reasonably ask: Are Americans insane?
A great many Americans would probably answer "yes," although they would be pointing fingers in various different directions as they did. Calling opposing factions crazy, or much worse, seems central to American political discourse these days. And granted it does not help when an outsider chimes in. Americans may hate each other but nobody loves a mouthy foreigner. Yet aspects of American politics can look deranged to outside observers, and they tend to be the issues that most overlap the defining myths of the nation.
A recent Tyee piece by Daniel Francis discussed Canadian national myths that continue to shape our self-image. Francis also quoted Bernard de Voto, who said that American history "began in myth and has developed through three centuries of fairy stories."
The Second Amendment is the most obvious battleground for those who would define American ideals. And that battle seems to have essentially ended long ago. I remember driving through Nevada in the fall of 2008 and hearing an Obama radio ad. Most of it was devoted to assuring and then reassuring Nevada voters that Obama would not touch their guns.
The Second Amendment is like a constitutional form of mental illness. Its tragic consequences make news weekly. The chief advertised benefits -- the need for guerrilla resistance against a successful invader and the desire to protect one's family with firearms -- are respectively ludicrous and dangerous. No sane person could argue that near-unrestricted gun ownership has been a net boon for American society. But then no legitimate case can be made that Jesus hears your prayers either, and neither argument is likely to be conducted rationally.
Health care hysteria
But that's old news -- the gun issue has been inflammatory forever. It's the health care issue that often seems most mystifying to Canadian observers now. President Obama invested most of his political capital in a historic battle to achieve a lasting benefit for working class Americans. And apparently they hate him for it. Polls show opposition to Obamacare is just as strong among its potential beneficiaries as among the wealthy. (On the other hand, a Pew Research Center poll showed 15 per cent of Americans believed the Supreme Court had overturned Obamacare. Moral: don't turn off the TV after the first CNN report).
Since the beginning of the political fight to pass health care reform, the hysterical tone of Tea Party opposition has lent credence to the idea that, when certain buttons are pushed, otherwise sane Americans lose their shit like that quiet man no one suspects until the neighbours are all being interviewed in front of his burning house. In 2012, no issue is more likely to make Americans seem nuts than Obamacare.
But in some ways the impression is misleading. There are reasonable arguments against Obamacare, some coming from the left. Democrats love to point out that the plan was based on Mitt Romney's Massachusetts plan and incorporates many previous Republican proposals. But the flip side of that argument ought to disturb Democrats. This is not your Uncle Tommy Douglas' health care plan.
Which is not to deny the debate has been disturbing. The slavering intensity of the opposition, the Sarah Palin invocations of "death panels," the constant substitution of the word "socialism" for actual argument, has been depressing. Yet the most depressing aspect may be how the health care debate has underscored the primacy of money in U.S. politics. Obamacare opponents, including the notorious Koch brothers and Newt Gingrich backer Sheldon Adelson, have spent close to $250 million on anti-Obamacare ads. In a perfect world that sort of spending would only cause voters to wonder what vested interests the attackers are trying to protect. But as sports fans and lottery ticket purchasers have long known, our world is far from perfect. On the basis of the health care debate, it now appears that for $250 million you could convince a substantial number of Americans to stick steel needles into their eyes.
Attack dogs
Elitist kvetching, some say. And indeed it may simply reflect the need for political and policy campaigns to simplify and amplify, the better to make their points about complex issues. Good policy rarely makes for good politics. Instead key impressions are formed by signifiers, details that make an undue impact, like teeth-spinach on a first date -- attacking Obama for a missing flag lapel pin in 2008, mocking Mitt Romney for strapping his dog to the car roof in the current silly season.
For those who seek instruction on the nature of American politics, there are few better examples than George Herbert Walker Bush, aka Bush the First. The 41st American president was elected disgracefully and defeated with honour.
Bush's 1988 presidential campaign, run by Lee Atwater, has entered the annals of infamy. Bush and his team pushed buttons shamelessly, notably by touting an anti-flag-burning amendment. But the lasting shame resulted from the Willie Horton ad. It attacked Massachusetts Governor Michael Dukakis as a man who allowed black rapists out of prison where they could ravish white women. How large a role the ad played in Dukakis' subsequent defeat is a matter of conjecture. But it did represent a low water mark in late 20th century American presidential politics.
Four years later Bush would be defeated by Bill Clinton. Again, the reasons are many. But nothing hurt Bush more than the constantly replayed clips of his 1988 campaign pledge: "Read my lips: No new taxes."
Crazy cynical
Perhaps a politician who puts that noose around around his own neck deserves the inevitable. But the fact remains that when the budget crunch came, Bush did the right thing. He put aside a foolish campaign pledge and agreed to tax increases. He compromised. And paid dearly for it. Few lessons have been so well learned by subsequent Republican politicians. Today's inflexible GOP ideologues are hardly crazy. Cynical perhaps, but not crazy.
The illogical nature of politics is hardly news. NRA wing-nuts despise Obama despite the fact that this president has been a gunslinger's pal, staying far away from anything with a faint whiff of gun control. Like previous Republican candidates, Mitt Romney has been able to campaign as the champion of fiscal responsibility despite the consistent GOP record of high deficits and the revelation that Obama has increased federal spending at the slowest rate since Eisenhower.
The saddest part of American politics is not that it's insane -- at least not always. The saddest part is that it's irrelevant. The campaigns are run, the bullshit is flung, and as to the future, flip a coin. It's pretty much like choosing your lifetime partner based on his or her torso. That happens a lot, too.