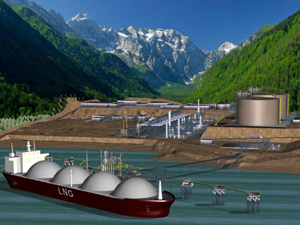 "Fixation on short term corporate profits and short term political gains to the exclusion of longer term planning is a recipe for disaster." -- David Hughes, geoscientist, on Canada's natural gas exports
There's one big question about the B.C. government's new plan to build three liquid natural gas plants near Kitimat -- how much will this cost BC Hydro customers on their monthly electricity bills?
That's because LNG plants are energy pigs, consuming enormous amounts of power to convert natural gas into a liquefied, transportable form to ship by tankers to Asia.
The electricity needed for just one LNG plant alone is equivalent to that needed by three Catalyst Paper mills -- B.C.'s largest electricity user.
So what BC Hydro consumer should wonder whether LNG will become the Smart Meters of the north -- with expensive BC Hydro costs once again being loaded onto the backs of ratepayers to subsidize private corporate profits.
Safety concerns
And just like the $1 billion Smart Meters program, there are safety questions to investigate further before the province spends untold taxpayer dollars again.
Five past fiery LNG plant accidents have taken hundreds of lives, though industry proponents claims that LNG exports are safe.
Residents of Texada Island banded together to strongly oppose a proposed LNG plant there in 2007 for both safety and environmental reasons.
Premier Christy Clark made another questionable decision last week -- to suddenly reverse the BC Liberal government's 2007 order to make BC Hydro energy self-sufficient by 2016, with power produced in this province.
That policy was ex-premier Gordon Campbell's way to subsidize buying expensive electricity from private Independent Power Producers who built run-of-river plants and other facilities.
The last BC Hydro call for tenders for IPP electricity was priced at $134 per megawatt hour, compared to between $4 to $52 per megawatt hour for power purchased on the open market, and an average $5.81 per megawatt from BC Hydro's publicly owned dams.
Despite that huge extra cost, BC Hydro is on the hook for obligations of $30 billion in IPP energy purchases over the next 25 years.
Someone -- you the consumer -- has to pay the difference.
Artificially created 'liquid gold' rush
BC Hydro rates are already slated to jump by 16 per cent over three years instead of a planned 32 per cent that drew public outrage.
Campbell's Clean Energy Act forced BC Hydro to plan to have enough power for the province without importing any during any period of worst-case water levels -- both a highly unusual circumstance and an incredibly expensive insurance policy that was unnecessary.
But it created the demand for IPP electricity, since BC Hydro has been prohibited by the BC Liberal government from developing new public power alternatives since 2002, creating what energy author John Calvert called the "liquid gold" rush.
So was that policy simply a temporary way of pumping cash into the IPP sector and always the BC Liberal intention to dump it after massive long-term contracts were signed? Or is it a radical departure from the Campbell doctrine?
Certainly we've seen no public consultation, detailed studies or debate over the issue -- just another flip-flop decision from the premier's office.
Flash forward. Will the government's desperate rush to create only 800 permanent jobs at three LNG plants, and temporarily employ thousands of workers during the eight-year construction phase -- lead it to spend billions subsidizing LNG's big oil companies owners?
Has this government ever wasted money or gone over budget before with its ill-considered plans? Smart Meters, Vancouver Convention Centre, 2010 Olympics -- why worry?
China's major stakes
It's also worth noting that the federal Conservative government is crying wolf because some environmental groups opposing the Enbridge Northern Gateway Pipeline proposal to ship heavy crude oil to Kitimat -- also for tanker transport to Asia -- receive minor funding from outside Canada.
Not only is the oil industry overwhelming foreign-owned but corporations outside Canada also control the rapidly developing LNG sector.
PetroChina has major stakes in B.C., partnering with Shell in its global LNG production interests and is part of the consortium hoping to build facilities in Kitimat.
Energy Minister Joe Oliver -- who has led the federal government charge that "foreign radicals" are subverting the Enbridge proposal -- had no problem cozying up to the Chinese Communist government last year in Beijing and offering up Canadian resources.
"We in Canada have the resources that China needs. We are open for business and we are willing to provide their minerals, energy, forestry and mining needs," Oliver told The Globe and Mail after addressing Chinese leaders and business executives.
Left unsaid is that any way you slice it, LNG consumption leads to increased greenhouse gas emissions and global climate change. Burning B.C.'s LNG will only enhance China's status as the world's biggest GHG emitter.
Bad for our energy and economic security?
Lastly, everyone wants more family-supporting jobs in B.C., which would be created in construction and LNG plant operations.
But British Columbians have to ask how much they are personally willing to pay out of their wallets as a subsidy to highly profitable foreign corporations to create those jobs.
As David Hughes, a geoscientist with 32 years service with the Geological Survey of Canada has recently written:
"Canadians, who after all are the owners of Canada's natural gas resources, are served last when it comes to their longer term energy security and environmental interests. The lure of obtaining prices that are double or triple North American prices through LNG exports is impossible to resist for corporations looking at the near-term bottom line."
"The lure of royalty and lease sale revenue, and jobs building infrastructure and producing gas, is impossible to resist for politicians strapped for cash. This does not bode well for Canada's energy future," Hughes concluded.
And at some point, hopefully sooner than later, we also have to ask whether exporting limited non-renewal energy resources like LNG to support the industrialization of foreign countries' economies is a good long-term strategy.
Giving other countries the energy they need to manufacture value-added products that Canada will import, rather than using that power to do it ourselves, will eventually come back to haunt us.
And it likely won't take long.