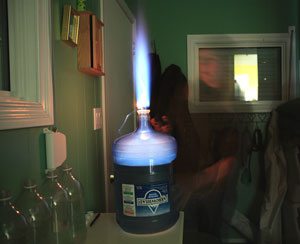 Vaclav Smil, one of Canada's smartest energy experts, calls "unrestrained energy use in affluent societies" a dangerous habit.
Just imagine a 50 kilogram Filipino nanny driving a 3,600 kilogram SUV through the traffic clogged streets of Calgary to purchase a bag of candy for her obese white charges and, well, you've got a snapshot of civilization's bankrupt energy aspirations.
Along with this sort of libertarian spending comes much moral carelessness. As Smil notes, most energy markets don't take into account the growing environmental costs that accompany unconventional hydrocarbon production such as bitumen, shale gas or methane trapped in coal seams.
In many respects, the brute force, high-energy extraction methods deployed to capture these hydrocarbons aren't any more sensible than a whaling fleet chasing sardines or a harried nanny behind the fuel guzzling SUV venturing out for a stick of gum.
Perhaps no story better illustrates these bitter energy truths than that of Jessica Ernst and Alberta's coal bed methane (CBM) boom. And it concerns the energy debate of the hour: hydraulic fracturing.
Fracking comes to Rosebud
Beginning nearly a decade ago, the natural gas industry carpet-bombed some of the Alberta's best agricultural land with 10,000 shallow CBM wells. It also fracked everything underneath. No company disclosed what toxic chemicals they actually deployed to break open these shallow coal seams. And no regulator recorded the original state of the groundwater either.
And then along come Ernst, a 54-year-old scientist and oil patch consultant. Before the boom she lived on top of an unfractured coal seam on a quiet piece of fescue just north of Calgary in a town called Rosebud. Clean and nonflammable water flowed through coal formations that fed her water well and that of her neighbors. Historical water records confirm it.
But during the boom things changed. The region's geological formations got blasted so many times by highly pressurized injections of nitrogen, water, sand and toxic chemicals that methane started to seep up all over the place. Even Ernst's dogs stopped drinking the water. Today the landowner can now set her tap water on fire. In fact, she now trucks in fresh water to avoid inconvenient kitchen explosions while making dinner. Nor is she alone.
Being stubborn and somewhat testy about justice and the fate of public resources such as groundwater, Ernst decided to sue. She just doesn't think energy security should trump water security.
Her $30-million lawsuit penned by well-known Toronto lawyers (and that means Ernst is damn serious) is an eye popper as well as reality check on the costs of pursuing extreme sources of energy.
In fact, her well-documented case is considered by some to be so credible that Ernst has been invited "to present her story and make recommendations to governments at the 19th session of the Commission on Sustainable Development at the United Nations in New York" next week.
Both shale gas and CBM, the harnessing of blue flame slaves for urban markets, are in many ways energy's new heart of darkness. As the Ernst lawsuit shows, their production tools can be just as ugly, negligent and brutal as 19th-century slave traders in the Congo. (The men who shackled blacks for New World plantations were also creating jobs and satisfying the world's demand for more energy.)
The lawsuit
For the record, the 79-page document alleges that EnCana, an energy trader as big as King Leopold, broke nearly a dozen laws -- an accusation that, it should be noted, remains unproven in court.
The suit says EnCana conducted "a risky and experimental drilling program" that contaminated a local aquifer with toxic chemicals. Given that "the fracturing process can connect to other fractures or can extend beyond the coalbed and into bodies of groundwater."
But companies have now done that right across the continent. Ask rural citizens from Harrisburg, Pennsylvania to Pavillion, Wyoming and many will tell you that hydraulic fracking is an extreme example of unrestrained greed.
The whole process takes more wells, more heavy machinery, more energy, more compressor stations, more land fragmentation, more water and more captured regulators than conventional natural gas.
But that's ho-hum part of the claim. The interesting bit comes next. The document alleges that so-called energy regulators watched EnCana contaminate an aquifer but "failed to follow the investigation and enforcement processes that they had established and publicized."
Moreover, says the suit, the regulators charged with protecting groundwater in Alberta treated "the legitimate concerns of citizens regarding resource development with contempt and hostility."
At one point, Alberta's Energy Resources Conservation Board (ERCB) even banished Ernst from its offices. It flat out refused to discuss compressor noise pollution or water contamination with the landowner. (Imagine if natural gas companies banished customers with furnace problems!)
The regulator also accused the oil patch consultant, a scientist who works with facts and thinks regulators should be concerned about facts too, of "attempting to humiliate the organization" by asking questions about the board's reluctance to investigate groundwater contamination.
The Goliath-sized regulator, which employs approximately 800 people and spends $170 million a year overseeing hundreds of thousands of oil and gas wells, finally dispatched one of its legal eagles to the scene.
According to the lawsuit, the man threatened Ernst: if the pesky landowner didn't shut up about her flaming water, "don't expect us to help you." But she kept on talking and the regulator, well, kept its promise. Shortly afterwards, Alberta Environment found 50 pollutants in local water wells that matched fracked wells.
The lawsuit says that the Alberta Research Council belatedly did a study but it was "inadequate," used "factually incorrect data" and made conclusions not supported by the facts. And on it goes.
So there is an extreme price to be paid for energy obesity especially when that energy comes from extreme sources requiring extreme practices supported by extreme regulators.
And that price is being mostly borne by the citizens of rural North America. Meanwhile urban consumers burn their blue flames with the same sort of thoughtlessness as a small person in a big car on a little errand.
Given the damning contents of the claim, every barbecue fancier and city homeowner using natural gas should read it. In fact, home gas bills should probably come with an unrestrained message: "WARNING: Urban consumption of natural gas from fracked zones sacrifices water supplies in rural neighborhoods."