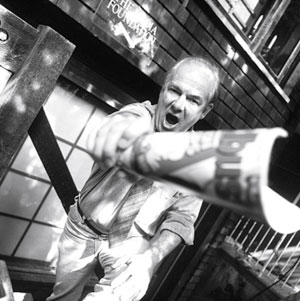 Twenty years ago the B.C. forests industry responded to anti-logging protesters with a TV advertising campaign reassuring viewers that there was nothing wrong with the way logging was managed in British Columbia and that we would always have forests. The campaign was called "Forests Forever."
Kalle Lasn, a freelance filmmaker, saw these ads and was so outraged he teamed up with some friends to create a response -- a claymation cartoon style ad featuring an ancient tree talking to a sapling, explaining that, "a tree farm is not a forest." Lasn hoped that his ads would counter the pro forestry propaganda. He never found out.
Much to Lasn's shock, Canadian networks refused to show his ads arguing that they didn't show "advocacy ads" -- a surreal claim considering that there was no other way to label the Forests Forever campaign. And isn't an ad for diamonds or Porsches advocating consumerism. And...
Lasn's outrage at discovering that all Canadians didn't have equal access to Canada's airwaves fueled a lawsuit, created Canada's most internationally successful magazine -- Adbusters -- launched one of the most unique protest movements in modern history, Culturejamming, and eventually inspired the ultimate unholiday, "Buy Nothing Day."
For 20 years, Lasn has been battling for our "mental environment," creating satirical print ads like Joe Chemo (featuring a bedridden smoking camel) and stirring things up with Adbusters on a bimonthly basis.
But he's never forgotten the court case that launched it all -- a court case he finally won in April 2009 when the Supreme Court gave him permission to sue CBC and Canwest Global for refusing to air his advertisements. And the battle isn't over. Lasn is currently looking for donations to continue the battle against media conglomerates. For more information or to donate visit their site.
I met Kalle at his office in Vancouver a few days after his big victory and we talked about how lies about our old growth forests led to the birth of Adbusting.