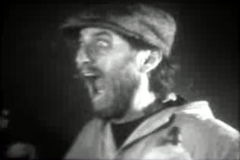 British Columbia is presently engaged in a healthy debate about aquaculture's future. But it seems we have forgotten our past. Aquaculture has a long history on the left coast, a rich heritage captured in this 1939 documentary about Vancouver Island's very first fish farm:
Truth be told, fish farming in B.C. goes back only to the 70s, and an incident involving then-premiere Bill Bennett, two Norwegian businessmen and one briefcase full of lolly. But that's another anecdote. Personally, I only remember the industry back to the winter of 1988.
That was my first glimpse of aquaculture, and it wasn't pretty. I worked for an outfit in Tofino, now long defunct. The salmon farms hadn't yet mastered the genetic angle. I saw a lot of monsters. Two-headed freaks we called Derns (after Bruce Dern in "The Incredible Two-Headed Transplant"). VWs, named for their "Herbie The Love Bug" shape. Handbags, bloated with gas. Morts, which had died en route to the plant. Mushies, so soft you could tear out their gills with a finger. The list goes on. A far cry from the noble beasts I slaughtered each summer on the high seas.
Gilled, gutted, scraped
I spent those dog days fishing five miles out, for sockeye and coho. It was a lot sketchier than life in the plant. I almost got knocked overboard in the middle of the night while running through inky waters to Cape Scott. A safety line is all that saved me. But it's a life that I could have looked back on, as I sank into the fathomless darkness, with pride. That can't be said about my nine winters in the fish plant.
To be fair, there were good plants and bad plants. Longbeach Shellfish, Jack Greg's joint, was good. Workers cut the whole fish, honing our skills for the summer opening. Pay was fair, and every time someone on the crew had a birthday, Jack bought a cake and we knocked off early.
The multinational that knocked down the old red boathouse next to Fourth Street Dock and built a giant steel box in its place was not good. Workers either gilled or gutted or scraped out the bloodline, so the entire shift was reduced to three gory seconds, over and over, like a time-lapse movie of hell starring me.
But it was a job, and in those pre-storm watching days, Tofino had precious few winter positions.
Enter the fish farmers
In my nine years of commercial fishing I saw two major changes. The fish plant coffee room went from using cream to using a powder named Coffee Whitener to using stuff called Coffee Top, a change that I believe was driven by legal requirements to protect consumers by providing more accurate descriptions on product labels.
Meanwhile, out at sea, skippers got jiggy with the hi-tech until their small boats were worth a cool million and there was no way to pay for them. Simultaneously, the going rate for wild salmon, which had to compete on paper for uninformed consumer dollars, dipped below the price per pound fetched by those strangest living curiosities from the fish farms.
It sounds like madness, but seafood buyers love aquaculture because it can provide X number of salmon on a day of their choosing.
At sea, sometimes you catch a whole bunch of salmon, and sometimes your nets come up empty. This sort of behaviour drives seafood buyers crazy. Although some skippers would say it's more of a short putt.
The upshot: I saw more than one skipper lose his boat and end up cutting fish on the line beside me. Environmental and economic arguments aside, is this a deal we want to make?
The new cutting room
The future is unwritten, although the bankers have already pencilled everything in. It might still include a life on the ocean wave. Alaska, for example, has zero fish farms. Not one. Nada. On the down side, they've got Sarah Palin and Ted Stevens.
Our local fisherman's ball is still in play. The last year I worked in the cutting room was 1997. That season, fishermen netted $103 million, just one third of the $274 B.C.'s fish farms raked in. This year, the wild fishery has grown to $135 million while aquaculture sank to only $71 million.
Of course, those are just numbers, which like my short films are inherently deceptive. I don't know what the situation on the ground is these days because I've long since traded that cutting room floor for another, which is where you'll find me these days, pulling double shifts and grumbling about my own coffee.
Sure, it's whole cream. But is it organic?
Related Tyee stories: