Fourteen months ago, Lisa Welsh escaped a fire that killed two of her neighbours and destroyed the Winters Hotel.
Along with many other Winters residents, the 52-year-old woman found refuge at the Columbia Hotel, just blocks from her old home.
But on Wednesday, Welsh lost her housing at the Columbia. She was evicted, she says, because of the behaviour of a man who came to visit her one day when she wasn't at home. According to Welsh, he got upset at building staff when they wouldn't let him go up to her room.
"This is supposed to be a company that's supportive of, and protects, women," said Welsh, referring to Atira Property Management Inc., which operates the hotel. "What is going on here?"
Welsh says the eviction is one of a number of challenges she's faced since the fire, including the deaths of two of her brothers and a brutal assault that left her with a broken leg.
Welsh suspects another reason for the eviction: along with many of her neighbours, she had contacted lawyer Jamie Thornback about a class action lawsuit against Atira Property Management Inc., the operator of both the Winters and the Columbia. The lawsuit, filed in April, also names the City of Vancouver and the fire department, and seeks damages for alleged negligence that led to the catastrophic fire.
The Columbia Hotel at 303 Columbia St. is a single-room occupancy building owned by Atira Women's Resource Society and operated by Atira Property Management. It's operated as supportive housing with funding from BC Housing. Supportive housing includes on-site staffing and may include services to help people who are at risk of becoming homeless stay housed.
Wendy Gaspard, Welsh's neighbour, who also survived the Winters fire, said residents are frequently warned about breaking building requirements like keeping the hallways clear or violating rules about guests.
"She has not breached worse than anybody else. They're picking on her and I think, to me, it has something to do with the divide and conquer thing — they don't want us all to be here in the same building," Gaspard said.
"There are a lot of people who have been pleasantly moved out and rehoused, and there are some people just being kicked out."
Amy McCallion, a board member of Atira Women's Resource Society, said she could not speak about Welsh's case because of privacy concerns.
But she said Atira's "number one priority is always to make sure tenants and employees are safe and free from any form of harassment, violence or hate speech." McCallion said evictions are a big decision and "never the first option."
Before moving to eviction, McCallion said staff will give tenants breach letters outlining the problem and warning residents they could lose their housing if they don't change their behaviour. If that doesn't work, McCallion said staff will begin the formal eviction process. Atira staff also try to find alternative housing for evicted tenants.
Gaspard called on tenant advocates to be present when court bailiffs came to remove Welsh from the building. Vince Tao, a community organizer with the Vancouver Area Network of Drug Users, as well as several advocates from Our Homes Can't Wait, showed up to help.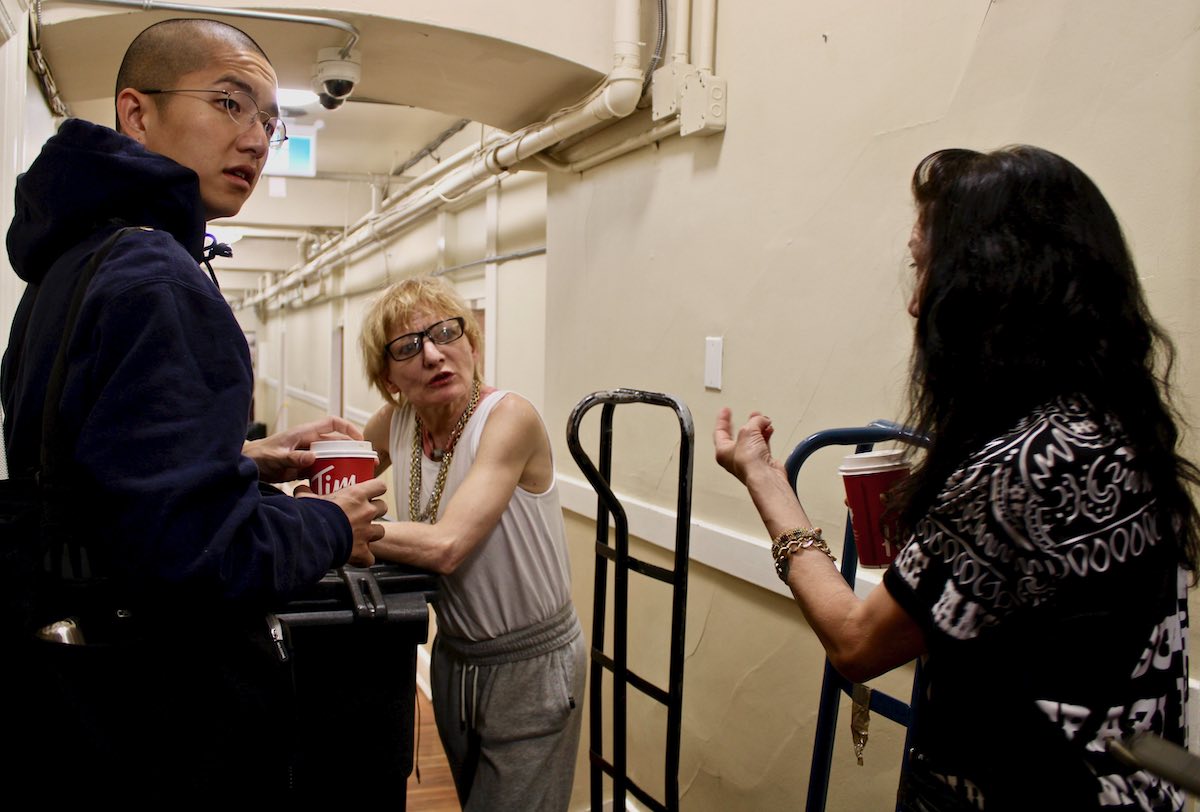 Welsh spent the morning packing her belongings in boxes, some of which Gaspard stored in her room. She was also given a large plastic wheeled garbage bin to store some of her possessions, the same type of bin people are given when city workers clear homeless encampments.
A court bailiff who had come to enforce the eviction wheeled Welsh's bin down the hallway and three flights of stairs. While the advocates Gaspard had called spoke with building staff to get more information about where Welsh could go now, Welsh leaned against the garbage bin filled with her belongings on the sidewalk.
Welsh had lived at the Winters Hotel at 203 Abbott St. for five years before the fire. Like many tenants, Welsh was asleep when the fire started. The building alarm and sprinkler system were turned off, fire extinguishers were empty after a fire three days earlier and fire escapes were locked at the time of the fire, according to Vancouver Fire Rescue Services' fire investigation report.
Welsh said if it wasn't for a friend warning her of the fire, "I'd be dead."
Following the fire, Atira's performance as a housing operator was under intense scrutiny. The organization has also been rocked by a B.C. government investigation that found the former CEO of BC Housing, Shayne Ramsay, repeatedly broke conflict of interest rules when he pushed for funding to be directed to Atira. Ramsay's wife, Janice Abbott, was CEO of Atira until her resignation on May 15, one week after the release of the investigation report.
Gaspard and other tenants say Welsh is not the only former Winters tenant to be evicted from the Columbia. Another resident who was one of the first tenants to speak to The Tyee about their experiences during the fire was also evicted two months ago, according to tenants and advocates. The Tyee is not naming the tenant because we have not been able to contact that person to confirm what happened.
"This is really concerning — it suggests some level of retaliation for the class action targeting Atira Property Management," Tao said.
On Wednesday, Gaspard told The Tyee she was afraid she would be under threat of eviction next.
Four days later, Gaspard received two letters warning she had breached the terms of the contract she signed when she moved into the building. One letter warned her she had broken the rules by letting Welsh into her room on Sunday to collect some of her belongings, while the second letter said she was in breach of her contract because a guest she had let into the building had not shown his ID to staff. The second letter warns, "your housing is [at] risk because you have a difficult time following the rules."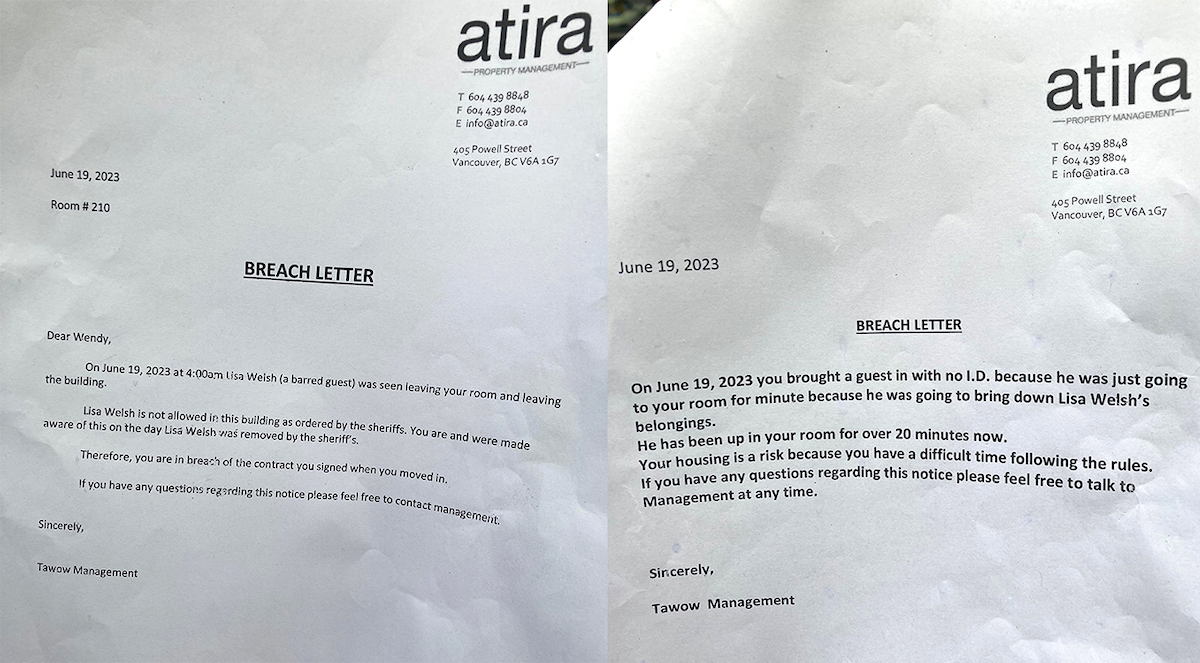 Gaspard said she didn't let Welsh into the building, but she did let Welsh into her room to collect some of the belongings Gaspard was storing for Welsh. Gaspard said the man she let in to help her move some of Welsh's possessions is the boyfriend of a tenant on her floor, and a frequent guest in the building.
In response to Tao's comment, McCallion said Atira hasn't treated the former Winters tenants differently than any other tenants who live in housing run by Atira Women's Resource Society or Atira Property Management.
"It's a bit heartbreaking to hear that's the concern, because that's certainly not our intent or what I see happening in practice," McCallion said.
As Welsh was leaving the building on Wednesday, staff told Gaspard and Tao that she had a spot at a nearby transitional housing building, also operated by Atira. While Gaspard, Welsh and Tao understood that Welsh could only stay at the transitional housing for three nights, McCallion said that is not the case: residents of that transitional housing building usually stay between 18 and 24 months.
Gaspard and the tenant advocates believe it was thanks to their efforts that Welsh was able to secure the transitional housing spot.
But McCallion said staff always try to find alternative housing for evicted tenants.
Outside the Columbia Hotel, Gaspard commiserated with Welsh, wondering who she would play music with now that Welsh had been evicted. Then Welsh, Gaspard, Tao and the other tenant advocates walked together down the street, Welsh wheeling the garbage bin half-full of her belongings.
After a stop to drop the bin off at a friend of Gaspard's, who promised to keep it safe while Welsh got settled, the small group accompanied Welsh to the transitional housing building. Tao went inside with Welsh to help get her settled.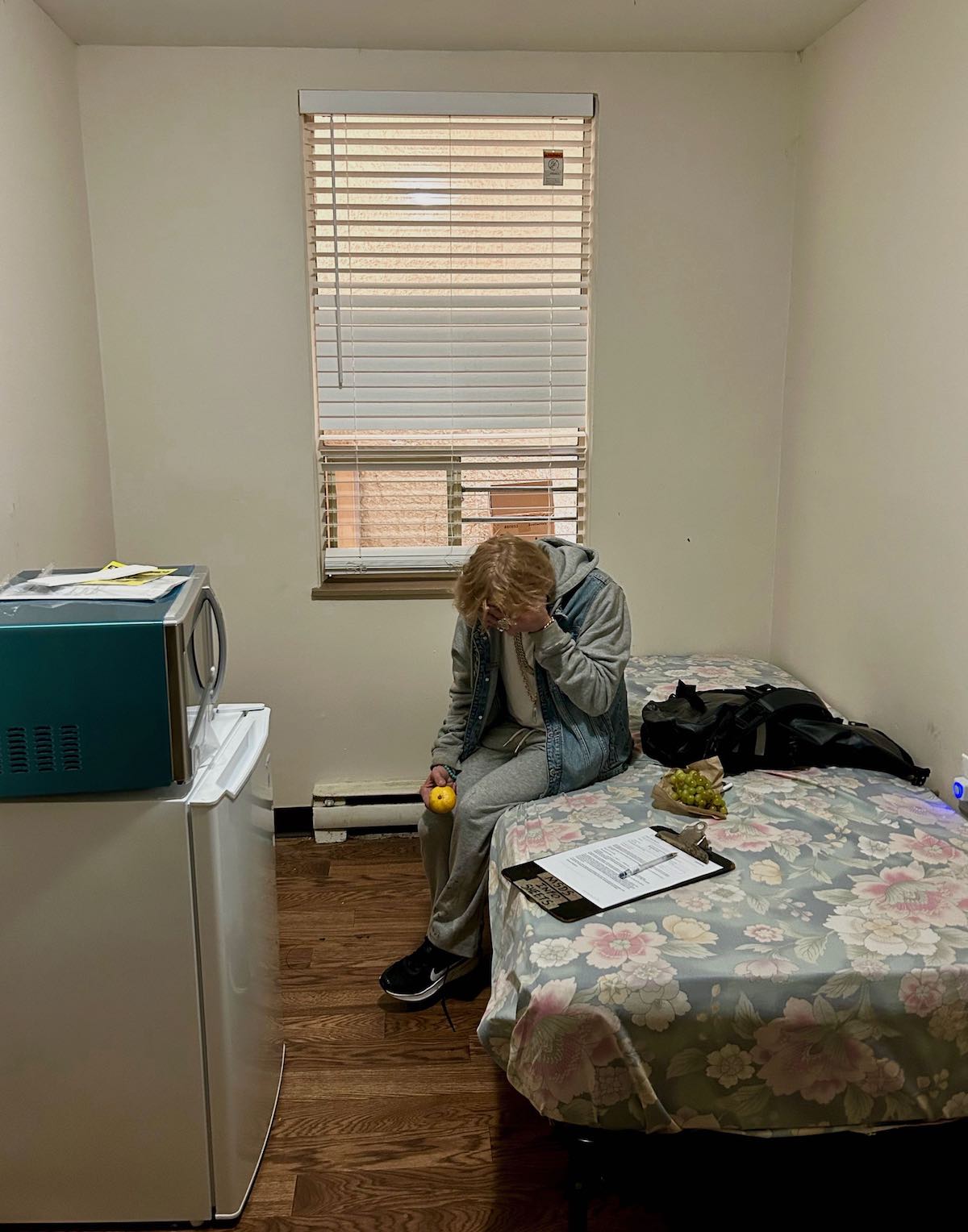 Gaspard said she was relieved her friend would not be on the street. She and Welsh made plans to go to Carnegie Community Centre and see if housing outreach workers could help find permanent housing for Welsh.
"All it takes is for tenants to unite and resist, with the help of some advocates. At the very least, we were able to win Lisa some temporary shelter," Tao said.
"Imagine if we weren't there — she would be another statistic and someone out of the street, which we know increases the risk of overdose death, vulnerability to assault and worse."