The danger was past, but Patsy Gessey could not shake her fear.
On June 30, 2021, she and her husband Owen Collings had stood on a hill across the Fraser River as a massive blaze ripped through the village of Lytton and destroyed their home. They watched flames shoot into the sky and then move sideways like a wave. "There was so much soot in the air. We could feel the heat," Collings remembered.
It was "like a movie," said Gessey. A movie whose implanted images of ferocious destruction occupied her mind for days and weeks afterward. "I was in shock for so long."
The mental toll disasters take on evacuees and frontline responders can be heavy. Survivors of disaster can experience a range of reactions including anxiety, grief, stress and post-traumatic stress disorder, or PTSD. These feelings might come in waves over years and be triggered by anniversaries.
The rising need to help disaster survivors as climate change causes more fires and floods could put pressure on an already strained mental health system.
But researchers have identified practices that can help the mental well-being of those coping with such shock and loss.
It's important, for example, to bring members of communities together after a disaster so they can share their experiences and be directly involved with efforts to rebuild what has been destroyed.
A good way to help survivors cope with terrible memories of the past is by empowering them to shape their futures, collectively as well as individually.
Lytton residents felt deprived of that opportunity by slow moving officials, poor communication and feelings of isolation, some told The Tyee. The sense that more could have been done to ease evacuees' emotional strain was echoed in two surveys of survivors conducted by a consultant for Lytton, one four months after the fire and another earlier this year.
The need persists. An evacuation order remains in place over 600 days after the wildfire levelled almost all the town, which sits at the confluence of the Thompson and Fraser rivers in Nlaka'pamux territory, about 110 kilometres north of Hope.
It's estimated that over 1,000 people from the village, surrounding area and Lytton First Nation were displaced and scattered around the province.
But Collings and Gessey, who have been married for over 40 years, belong to a different group of stalwarts.
"There are some of us who are still here but there's no place to stay," said Collings. Services are scarce. "I mean, we're kind of roughing it."
After the fire was out, Gessey and Collings moved into a friend's cabin across the Fraser River, a five-minute ferry ride to Lytton. The tiny dwelling is near a five-acre plot where Gessey grows vegetables and flowers for locals. She's provided fresh produce for the community for the past 20 years.
"For Patsy that's her reason for living here," Collings said. "Market gardening is in her blood."
Collings wasted no time getting involved in the village's recovery efforts. He co-ordinated access for provincial and federal ministers and their entourages, documentary film crews and journalists. And he volunteered to sift through ashes in search of neighbours' valuables, managing to salvage more than one wedding ring.
Collings spent hours on his hands and knees just trying to find someone's watch, he said. He found digging through the rubble to be cathartic. It gave him a chance, he said, to start working through the immensity of the disaster while bonding with other survivors and first responders.
He learned first-hand what research shows — that having a place to gather and share stories and experiences is crucial after calamity strikes an entire community. Collings said he wishes officials had worked quickly to set up a resilience centre where locals could gather to get information on recovery, meet and share what they'd been through.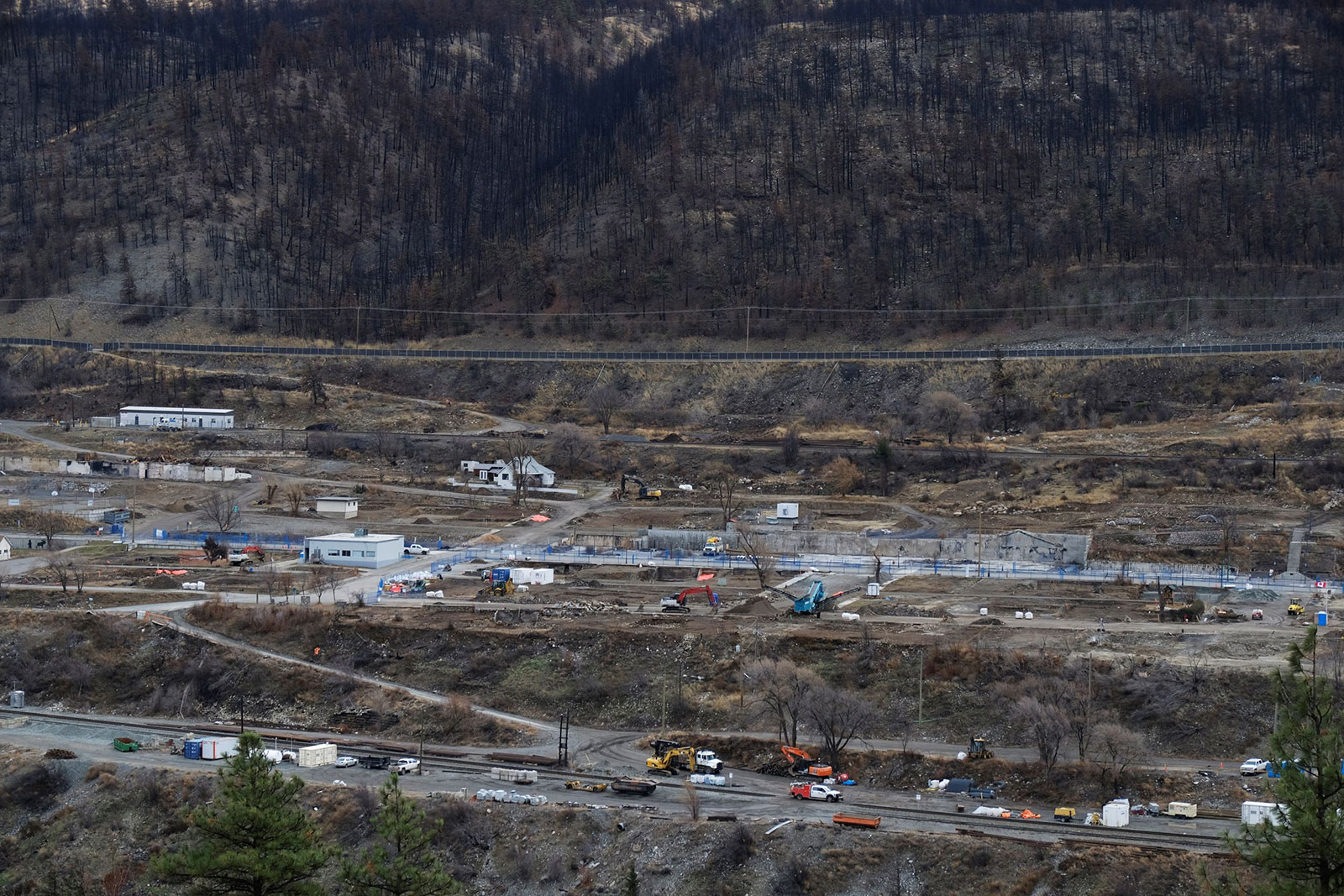 Lytton's draft short-term recovery plan published late in October 2021 mentioned Lyttonites were frustrated with the lack of community consultation and involvement on "multiple occasions." It recommended that a resilience centre be "opened immediately" and "stay open for the years to come."
A centre eventually was opened at the end of November 2021 at a local school, but it closed in June 2022. While operating, the place enabled people to gather and visit, grab a cup of coffee and get resources and information, Lytton Mayor Denise O'Connor told The Tyee in an email. The Red Cross and other organizations used the centre as a base to answer questions and connect people with aid.
When use dropped off and the school district wanted the space back, the centre shut down. But Lytton survivors' continuing desire for better communication and emotional support was a theme again in an April 2023 recovery plan by consultants O'Leary & Associates.
Survey respondents rated as high priorities better health care and physical places for people to commune.
"There is an opportunity with shared trauma. We can work together and rebuild with a larger sense of community," one person wrote.
"Mental health support could be the single most important factor when it comes to a community's recovery after a major natural disaster event," reads the plan. "This is because the mental health of community members affects every other facet of recovery."
The report authors also surveyed locals involved in Lytton's recovery efforts. More than 80 per cent said there were not enough mental health support resources to meet the needs of the community.
Two years after the fire, the report noted, "There is a lot of frustration and mistrust of government in the community. Organizations have struggled to address the magnitude of the situation, despite best intentions."
"If you bring the services back, the people will come back," said Collings.
The risk that comes with helping
It's not only direct victims of disasters who can be traumatized by such events. First responders and emergency support workers also can suffer harm to their mental well-being. And sometimes those dealing face to face with the displaced are themselves evacuees caught up in the devastation.
"In a small regional district, I can tell you that the drain on staff is incredible," said Deborah Jones-Middleton, director of protective services for the Regional District of Bulkley-Nechako, which is largely responsible for emergency management in that area. She's also been an emergency response program co-ordinator and trained volunteers to provide aid.
Emergency support services volunteers across the province help respond to everything from apartment fires to major wildfires. They also operate reception centres set up to help provide resources to evacuees after major events like wildfires or floods.
Gessey remembers being comforted by the generosity of volunteers at the emergency support centre in Lillooet after the Lytton fire.
"There was a whole crew of women there who were helping and so many people had donated clothes and bedding and pillows and everything. The women would just zero in on you and they would stay with you and help you find clothes and dig through the piles and say, 'Here, try this one.' I felt so taken care of."
But hours stretching into days of such interactions can drain spirits, noted Jones-Middleton. Support workers are "hearing everybody's stories over and over again," putting them at risk of emotional and physical exhaustion, she said. "Mental health is key."
Jones-Middleton is president of the Network of Emergency Support Services Teams, or NESST, a society created to train and assist emergency support services volunteers. They are taught by NESST to monitor their mental health after a disaster and reach out for help.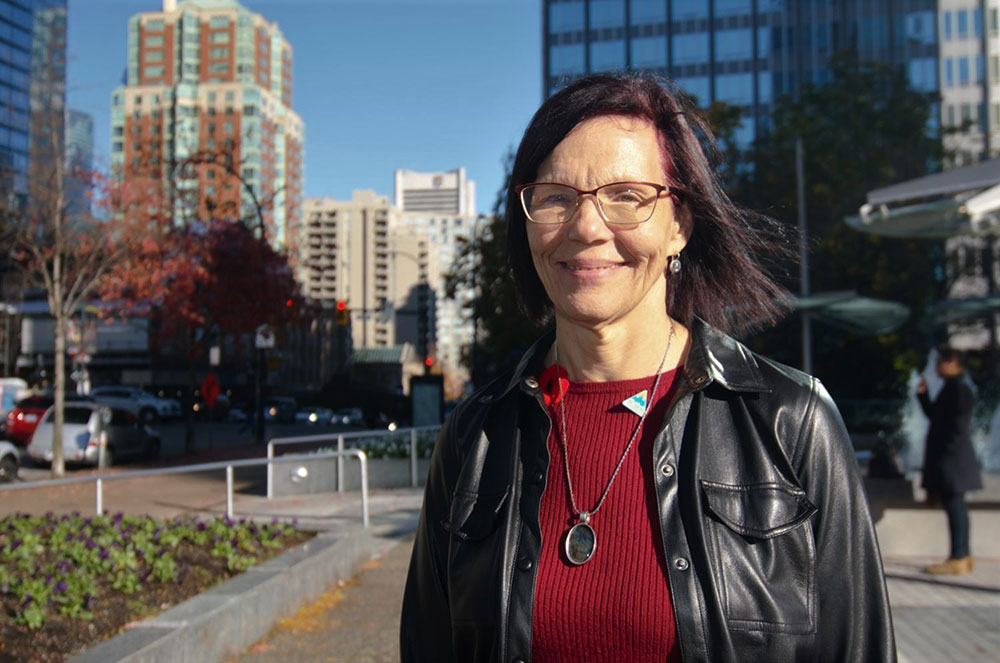 Not all communities have enough resources to ensure that staff and volunteers can get the right training and support. And because the emergency support system relies on volunteers, it can be hard to recruit and retain people.
Paying volunteers, particularly when disasters last longer than 72 hours, would be a good investment in creating less turnover and more knowledge retention, said Jones-Middleton.
Pressure-packed phone calls
Another group of volunteers who can face severe stress during disasters are people who answer support phone lines. The crisis-line team is always operating at full capacity, said Stacy Ashton, executive director of Crisis Centre BC and chair of BC Crisis Line Network.
Crisis line centres have had to develop specific resources for health emergencies such as the pandemic, the toxic drug supply and climate disasters. After a disaster, crisis lines are seeing an increase in call volumes ranging between 10 and 25 per cent.
First rolls in a surge of "in-the-moment" calls, Ashton said. Then, several weeks after a catastrophe, again come "heightened numbers" of calls as "the emotional toll settles in."
Despite their best efforts to keep up with demand, crisis line volunteers can only answer about 70 per cent of all calls. "It's really hard on our volunteers and our staff to be on a call and know the next call isn't being answered."
More climate change-related natural disasters will mean more British Columbians calling crisis lines, so the province should expect to spend more on the service than the current annual $2.5 million provided through Provincial Health Services Authority, Ashton said.
She's been advocating for a levy on all 911 calls that would fund a mental health option for callers. If someone calls and asks for mental health help, they would be directed to a trained crisis line volunteer. That volunteer could send a clinician, a social worker or a peer with lived experience to respond in person.
Crisis lines de‐escalate almost all calls, saving an estimated $49 million in police costs, according to a budget submission from Ashton to the province. The idea has been made into a recommendation to the government from the committee on finance. Conversations about next steps are ongoing with police and the Ministry of Public Safety, Ashton confirmed in an email.
How information helps heal
As Patsy Gessey dealt with the blow of watching her home and town immolated, she turned what she'd seen into a way to help many fellow Lytton survivors who knew less about the extent of destruction. She was the one to tell them whether their home had burned. "People really walked around without really knowing what was going on and couldn't find answers," Gessey said. "That was really hard on people and that contributed to a lot of anger and misinformation. That went on for months and months."
When she gave people facts they lacked, no matter how tough the news, they were grateful. "It made an unreal situation more real," said Gessey.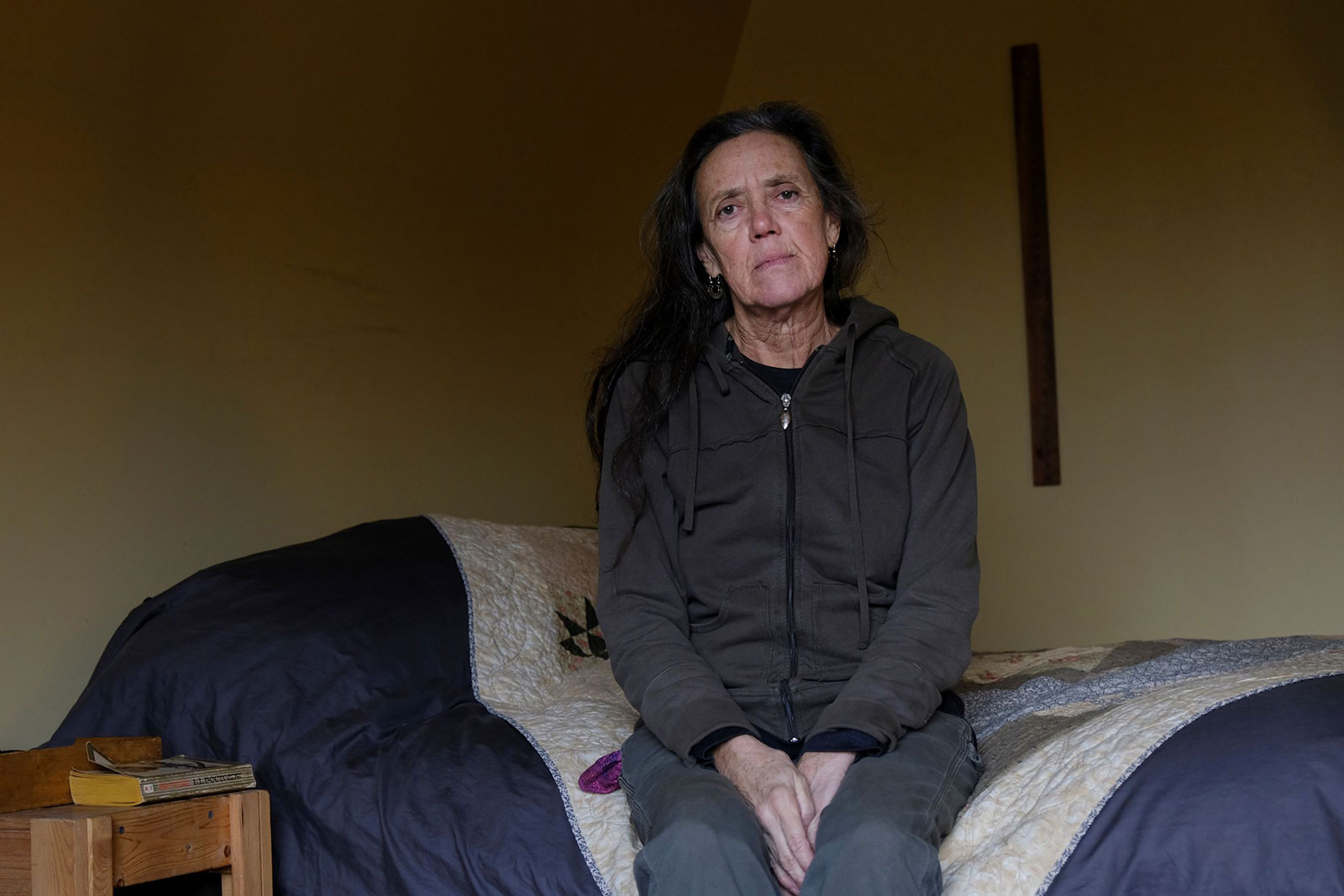 Many disaster survivors The Tyee spoke with shared frustrations about the lack of clear communication from authorities and organizations after fires and floods. The recent Lytton recovery plan survey found "there are multiple simultaneous recovery groups working independently in silos." As a result, they are overwhelming the community with announcements lacking details or direction.
Laura Dewar knows that providing people with hard facts can help people with their healing and recovery. She spent 25 years as a coroner before becoming a wellness manager for the area around 100 Mile House after the 2017 wildfires. In that role she helped wildfire affected communities access mental health support and ensured there were no gaps in services.
The government should "be a little bit more transparent with people who are displaced," said Dewar. "They just need to know where that fire is. Is it close to my house? Do I still have a house?"
Dewar herself has been evacuated four times in five years. In 2021, six wildfires started within walking distances from her cattle and hay ranch near the community of 70 Mile House in the Cariboo region.
After the fires, there was an "overwhelming need for counsellors," Dewar said. "In many cases, local mental health workers were also evacuated and experienced their own personal stress during the 2017 and 2018 wildfires. Some staff did not return to work immediately and some did not return to work again," Dewar wrote in a report and strategic plan developed for the region.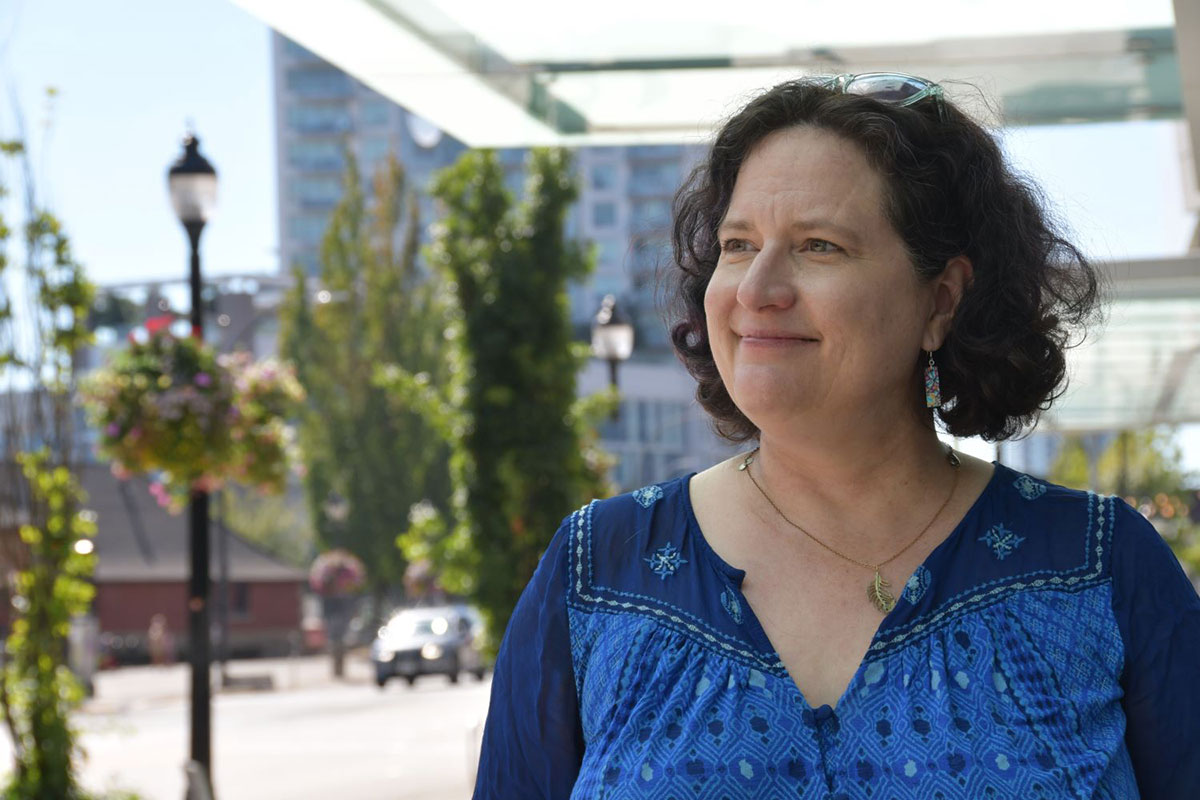 Dewar landed grant funding to bring on more counsellors and conduct events where locals could share their experiences and feelings. The two-year contract was funded by the Red Cross, United Way and the provincial government. Dewar sees it as a model for other communities recovering from disasters.
"There's just something very cathartic about getting together in a group and sharing a meal, and laughs and socializing," Dewar said.
She benefited, too. "It helped me recover. I'm helping other people. Boy, does that ever feel good."
"It is so critical that when people are experiencing mental health challenges they know they're not alone in how they're feeling. And that there are a variety of supports available to them," Minister of Emergency Management and Climate Readiness Bowinn Ma told The Tyee.
She said her recently created ministry is trying to improve and learn from past disasters. The government is doing so in collaboration with organizations including the Red Cross, First Nations Health Authority, friendship centres and First Nations' Emergency Services Society, Ma said.
The ministry also will continue funding "community navigators" who connect evacuees to programs and support, Ma said.
As well, the Provincial Health Services Authority oversees the Disaster Psychosocial Services Program, a volunteer team that provides psychosocial support to communities who request help after a disaster.
The volunteer service has been deployed 43 times between 2017 and 2022 ranging from a day to several weeks, according to Ma's ministry. The teams are made up of mostly volunteers and have an annual budget of about $495,000 to cover the cost of compensation and benefits for paid team members, expenses for volunteers and supplies.
Health Emergency Management BC created a toolkit after the 2017 flood and wildfire seasons to help community leaders, health practitioners and community members. The document shares information on how to plan for mental health supports after a disaster.
'You don't have to go through it alone'
Immediately after the 2021 fire, Gessey sought counselling through the Red Cross. She was able to access art therapy over Zoom and then a few sessions with a trauma counsellor. The process helped Gessey understand feelings she likely wouldn't have processed on her own. "I would have just pushed it further down and just tried to be strong."
"I think it's really important for people to reach out," Gessey said. "You don't have to go through it alone."
While Gessey was able to get support, she believes mental health services for evacuees should be more widely available and easier to find in one place online.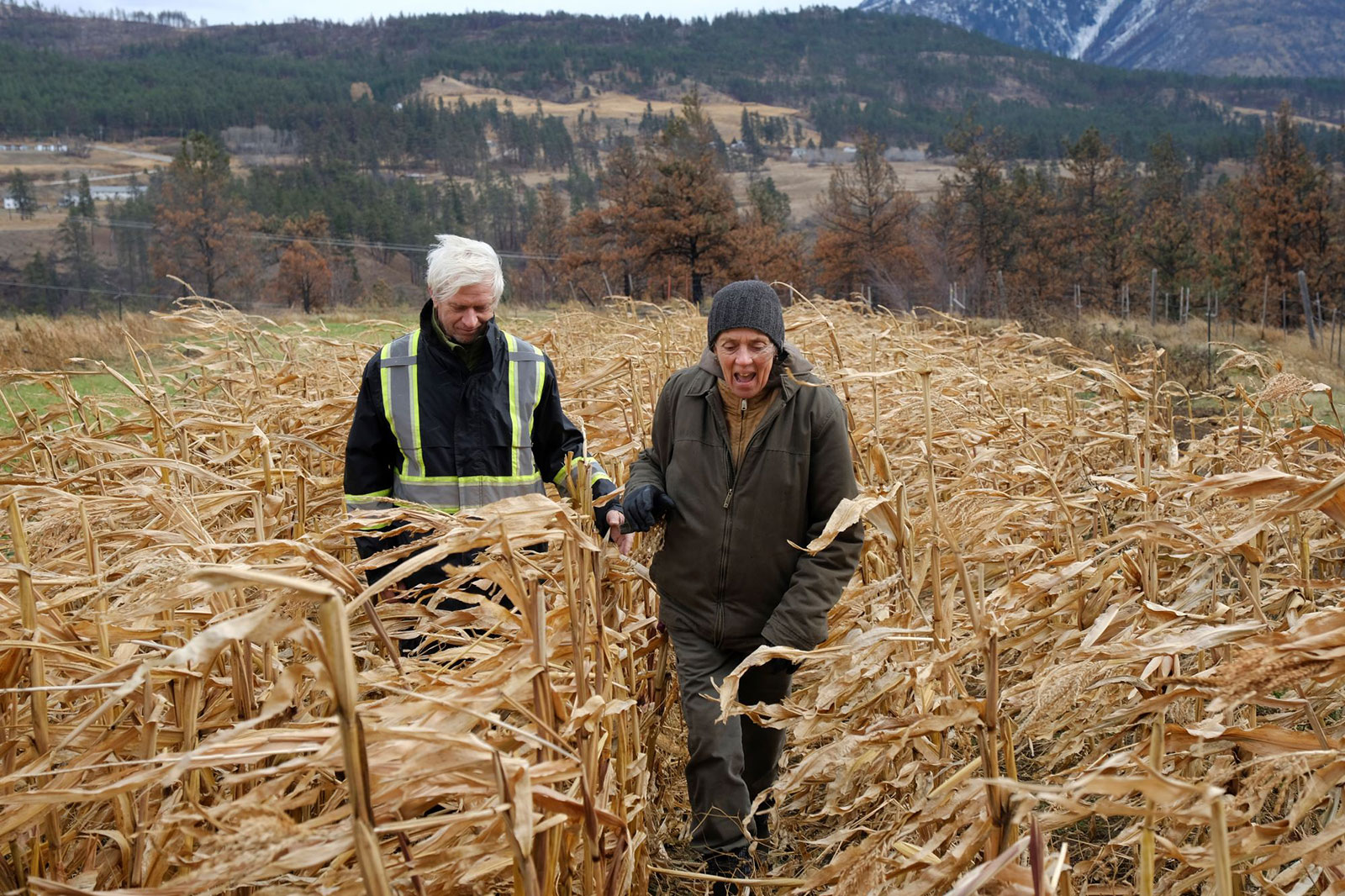 Just a year after the 2021 Lytton blaze, another wildfire threatened the new home and garden Gessey and Collings had established across the Fraser River. This time the couple didn't feel like they were watching a movie. They were lead actors.
Their neighbours jumped in to use hoses to fight the flames threatening their homes. Gessey and Collings rushed to defend their field. As smoke and flames encroached, they dragged their tools into the middle of the field, laid down hoses and turned on the sprinklers. When the fire got too close, they jumped in their truck and drove away.
The next day, they returned to see that their tiny home and most of their garden had been spared.
"I had a real sense of empowerment, being able to save the field because those sprinklers had been on almost for 24 hours before the water system got destroyed by the fire," said Gessey.
"I didn't have the same feelings of anxiety and helplessness as I did last year. Now, I'm in a position where I can help in a moment's notice because I'm not traumatized.
The Lytton fire was a scourge but also a teacher. "I learned a lot about what to do and what not to do."
Gessey now is preparing for the next market garden season. Growing vegetables for the community, she said, demonstrates we can have a more sustainable, innovative, food-secure future. It's one way to address the climate crisis, she believes, and that's good for her mental well-being.
"There's lots of optimism," Gessey said. "I'm not afraid of the fire."
---
If you are looking for resources to help you prepare, respond and recover from disasters, read our story 'How You Can Be Ready for the Next Disaster.'
This is part of of Bracing for Disasters, an occasional Tyee series investigating how to support evacuees and save lives as extreme weather worsens in B.C.
This project was funded by the inaugural Lieutenant Governor's BC Journalism Fellowship. The Tyee retained complete editorial control of this series. With files from the Climate Disaster Project.