Predicting where and when disasters will strike next can be difficult. But in the era of climate change, we know that wildfires, floods, landslides and lashing storms are expected to increase in British Columbia.
So what can you do to be prepared?
Over the months spent reporting The Tyee's series "Bracing for Disasters" we've asked that question of survivors as well as emergency management professionals and volunteers.
Their answers inform this guide — which, in collaboration with the Climate Disaster Project at the University of Victoria, we intend to expand with your help and as we learn more. If you have a resource you think others should know about, send us an email.
BEFORE AN EMERGENCY
Know when you might have to go.
You can sign up to receive notifications about warnings, alerts and evacuation orders in your community. Every community has a different way of notifying residents and many have alert systems you can opt into. Find your community and regional district's emergency management department online to find out how you can opt in.
Don't forget to sign up for alerts for municipalities or areas you travel to or commute through. A disaster could strike on your way to work through multiple jurisdictions so be sure to sign up for alerts in areas you frequent.
Two of the most popular mobile apps that allow you to opt-in to local emergency notifications are Alertable and Voyent. Some regions like Northwest Territories, Saskatchewan and Alberta have territory or provincewide alerting systems.
Have an emergency kit, go-bag and an emergency plan.
You'll want to pack and keep an emergency kit and a go-bag ready to go at all times in an easy to access place. Make sure everyone knows where these are stored. These kits are meant to have essential items that can help you if you are stuck without any access to help.
You can buy pre-made kits or build one yourself. Many aid organizations and government bodies have tips sheets with suggested items you should have in your kit.
The B.C. government has specific guides for building a kit and a plan for the type of housing you have.
The Red Cross has a detailed checklist of items you should include and a culturally supportive list for Indigenous communities and elders.
The Canadian Disaster Animal Response Team has instructions on how to build an emergency kit for your pets. Here's some tips if you don't have a car or need mobility support.
Would you know where to go or how to get a hold of people in case of emergency? Do you have copies of important documents like identification and insurance accessible? Plan for how you might evacuate ahead of time by thinking about what routes you might have to take, what transportation you have access to and how you would contact family and friends.
Save important information in a cloud or secure online account. You should include emergency contacts and digital copies of crucial documents like IDs, citizenship, birth certificates, insurance papers, pet information, prescriptions, wills or other documents that can be challenging to replace. The federal government offers some printouts for creating a plan.
Pre-register for a BC Services ID card and online assistance.
British Columbians can pre-register online for evacuation assistance from the provincial government. This could make the process go faster if you have to apply for evacuee assistance. It can also be a way for the government to let friends and family know you are safe.
To register you have to have your identity verified by BC Services. This can be done online or in person and that could take up to 48 hours. After you have your BC Services ID, you can pre-register for evacuee assistance. If disaster strikes, you will be able to log on and ask for support to help pay for basic needs like food, accommodation, transportation and incidentals.
If you are outside of B.C. find out what evacuee support systems are set up in your province.
Save digital copies of important documents including IDs, insurance information, pet information and contact information.
Document your belongings and check your insurance coverage.
Document and take pictures of your home and belongings. Make a video walk-through of your home, open drawers and cabinets. Save that information somewhere safe like a digital cloud so the information is easily accessible if your devices get damaged or lost. Here's a tip sheet on how to do that and some apps that might make the process easier.
Insurance coverage is changing as the climate crisis increases the frequency and severity of disasters. Standard home, condo or renters insurance should cover the costs of accommodation in case of an evaluation. But not everyone is eligible for insurance and there are limitations on what it can cover. For example, overland coverage can cover some of the damage from flooding but it is not part of standard home insurance.
If you have insurance, you can call your insurer to confirm what support you can apply for if evacuated, how long it would take to make a claim and what would be covered. If you are not sure how to contact your insurer you can contact the Insurance Bureau of Canada's Consumer Information Centre at 1-844-227-5422. Save your policy coverage and insurance coverage contact info in your phone or email.
Bookmark trusted sources for information.
Reliable and trustworthy information is key to help you make the best decisions in the event of an evacuation. Bookmark some of the trusted sources of news and information in your community. There might be some local news sites, radio stations, community groups, neighbourhood apps, community leaders and organizations specific to your area that will provide help and information. Follow them on social media or sign up for alerts and newsletters.
For information about advisories, evacuations and alerts around the province you can visit EmergencyInfo BC. For up-to-date information about road conditions you can use DriveBC. You can also plan your route and view highway and traffic cameras to see what conditions the roads are in.
Learn about the hazards in your area.
Learn about the hazards in your area. Are there slopes, waterways or other geographic features nearby? See if your local government has a hazard report, risk data or vulnerability assessment and if your insurance covers those risks. The City of Vancouver has this list of possible hazards. The Government of Canada is working on mapping flood risk across the country. This resource provides provincial flood maps. 
FireSmart is a national program that provides resources for homeowners and communities on how to assess and manage wildfire risks.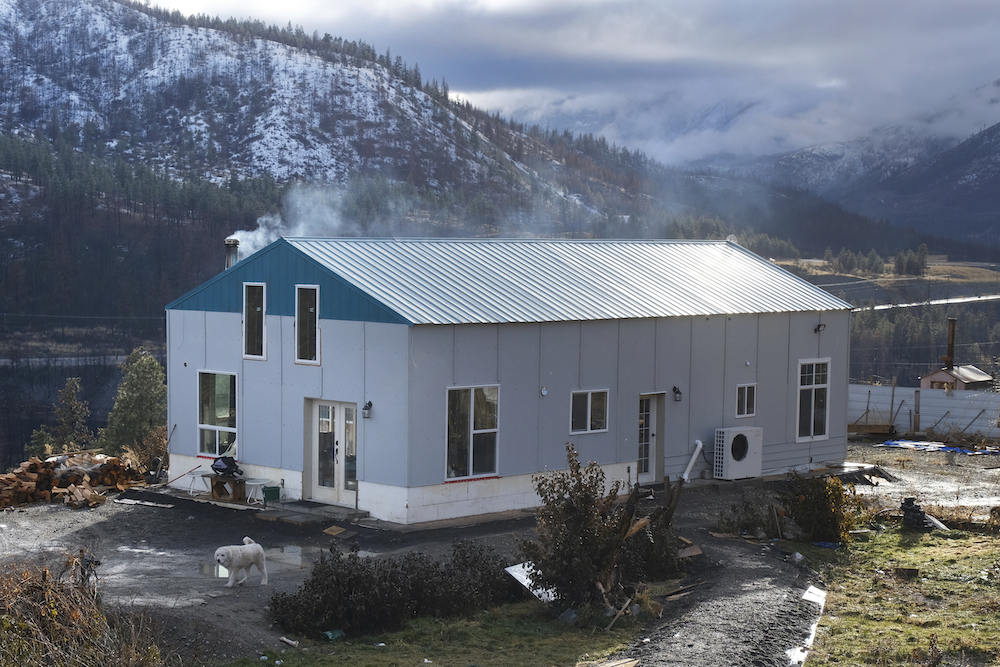 Government financial assistance could be denied if you do not make enough of an effort to protect your property before, during or after a disaster.  
Get to know your community and neighbours.
Evacuees stressed that the connections you make with your community will provide you with tremendous support in times of need. We heard stories of how community members worked together to ensure people without vehicles had a way out of fires and floods, share important information, return lost items and cared for pets.
Build a group of trusted community members and neighbours and find a way to keep in touch. Discuss ahead of time what you might do if you have to evacuate. If you have family or friends in neighbouring areas, check in with them about their emergency plans and if they have the capacity to support you in the event of an evacuation.
DURING A DISASTER
Take action when an alert is sounded.
An alert is issued if officials believe there is a chance you could be evacuated. It's an opportunity to get ready to leave and gather your essential items and documents. If you have a vehicle, fill up on gas and check in on neighbours who might need a ride. If you need access to transportation, be sure to reach out to people you know or find out if your community has a muster station for transportation out.
If an alert is upgraded to evacuation order you will have to leave immediately from wherever you are. So, if you have to leave home during an alert, be sure you have what you need with you. If you have pets, be ready to evacuate them or have someone in the household evacuate them.
Some people might choose to leave before an evacuation order because of health reasons, mobility challenges, transportation access or pets and animals. If you decide to leave during an alert before an evacuation order is given, be aware that you won't be covered by insurance or Emergency Support Services.
Pack a bag.
You should put together all your essential items like your wallet and ID, phone, water and chargers, medications, important documents and essential pet items. Pack durable and comfortable clothes for all weather. Include outdoor wear and comfortable shoes. Think about what clothes will last you and be most versatile if you are evacuated long-term. Evaluate what space you have and pack any irreplaceable and sentimental items.
Evacuate to safety.
If an evacuation order is given, you should immediately leave the area and travel along designated routes. The order might be given out by door-knocking, news alerts, notifications or sirens. The order or person giving the order will also share information on what direction to go. Stay with friends or family or if you have insurance head to an accommodation that will be covered by your provider. Call your insurance provider as soon as possible to make a claim.
Emergency Social Services will provide financial assistance for basic needs that aren't covered by your insurance. If you have pre-registered for evacuee assistance you can log on to your account and apply for funds online.
If you can't get support online, you might be able to head to a reception centre set up for major disasters. There may be more than one reception centre set up for the same disaster so be sure to head to one that is set up for your community. You will be asked for a piece of ID or something with your address to apply for assistance and could be eligible to receive financial support for food, clothing, accommodation, transportation or other incidentals.
Text a contact outside the evacuation area to let them know where you are going and your status.
AFTER THE EVACUATION
Apply for financial support, including help rebuilding.
Disaster survivors told us that applications to various programs can take a long time to process. Try to apply as soon as you can to reduce your wait. If you have internet access you can go online to the provincial evacuation registration system to apply for help. If you have insurance, you should also reach out to your insurance provider right away to find out what is covered.
Some organizations that you might be able to get help from are; insurance providers, the Red Cross, Disaster Financial Assistance, Emergency Support Services, Samaritan's Purse, food banks, GoFundMe and Canadian Disaster Animal Response Team.
For major disasters the Red Cross might assign you a case manager to help you navigate all the various programs. Legal Aid BC created this guide and webinar to B.C.'s Disaster Financial Assistance Program and includes the program basics, how to apply and how to appeal decisions.
If you have questions or don't understand the outcomes of any of these applications, you can ask for a detailed breakdown of government decisions. If you feel you have been treated unfairly by a public organization or provincial government can also submit complaints to the ombudsperson.
Find health supports.
There are some resources to help evacuees with both physical and mental health challenges that can happen after an evacuation.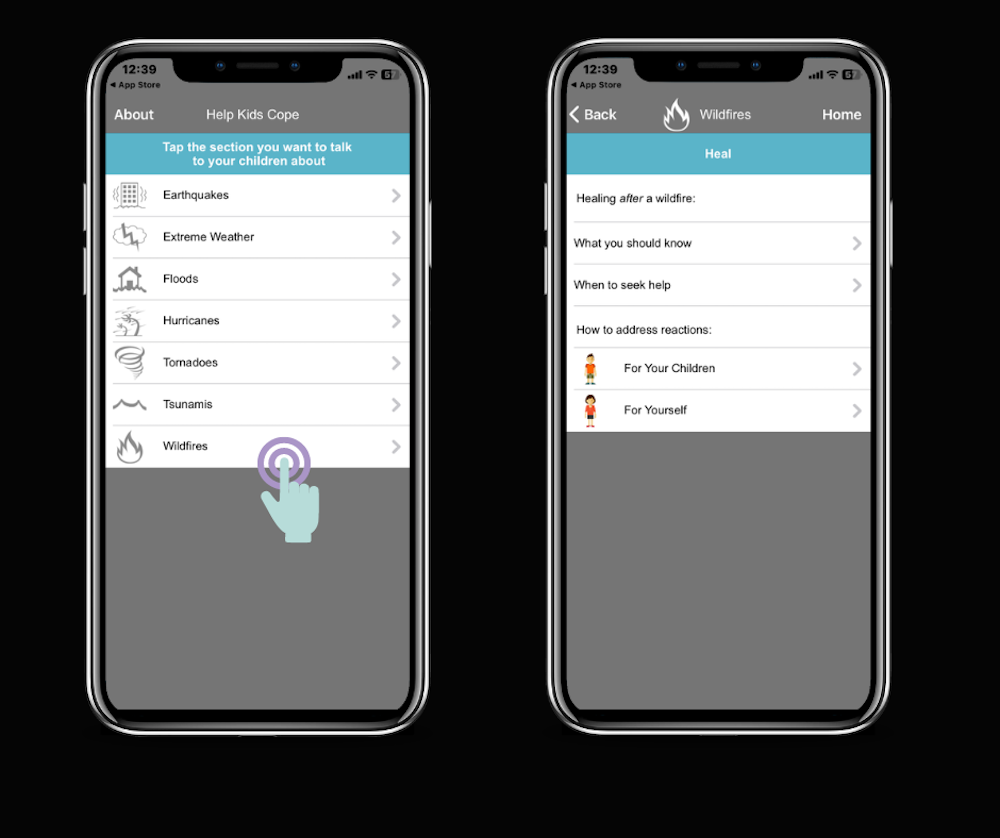 Help Kids Cope is a mobile app created by the National Child Traumatic Stress Network that has information to help people of all ages. It has specific information on how to explain, prepare, respond and heal from natural disasters. The guide includes information like when to seek help after a wildfire and how to address reactions in yourself and children.
The BC Crisis Centre offers 24-7 phone and chat services for anyone who is in distress. Their volunteers have been trained to help folks after a disaster. The Canadian Disaster Animal Response Team has this list of self-care resources to help identify and address stress reactions after a traumatic event.
The Canadian Mental Health Association has this resource list to help people coping with the stress of a natural disaster. The B.C. government has a list of free or low-cost mental health supports. These are not specific to disaster survivors.
The First Nations Health Authority has this list of resources for cultural support and medical support. It provides information on mental health supports, doctor access, crisis counselling and medical transportation.
Want to help disaster survivors?
If you are looking to make a financial donation to groups or individuals affected by disaster, think about how you can get that money directly to people who need it most. There might be appeals from specific groups who are arranging to give direct support. Before donating, consider reviewing the organization's charity profile on Charity Intelligence. Charity Intelligence measures the impact of an organization and how far your donation goes and provides this checklist before giving to disaster appeal.
When there are evacuation alerts or orders, avoid travelling through those areas or on evacuation routes. Evacuees might have to compete with travellers for accommodations so avoid vacationing in cities or towns that are providing support and accommodations for evacuees during a disaster.
We will continue to update this guide made in collaboration with the Climate Disaster Project. Please reach out if you have any suggestions, tips or resources to share.
This article is a part of 'Bracing for Disasters,' an occasional series investigating how to support evacuees and save lives as extreme weather worsens in B.C. This project was funded by the inaugural Lieutenant Governor's BC Journalism Fellowship. The Tyee retained complete editorial control of this series.