Your wallet, phone and charger probably top the list of what you would grab while fleeing in the face of a disaster. These are essential items that will help you navigate whatever you might face next. But what about possessions that hold a special place in your heart? What would you try to save?
For The Tyee's series "Bracing for Disasters" photographers Philip McLachlan and Jen Osborne and I visited climate catastrophe survivors across the province. They welcomed us into their homes and shared their stories of escape and hopes for the future. Some also shared the precious objects they fought to keep safe, managed to take with them or recovered from the ash of a wildfire or muddy residue of a flood.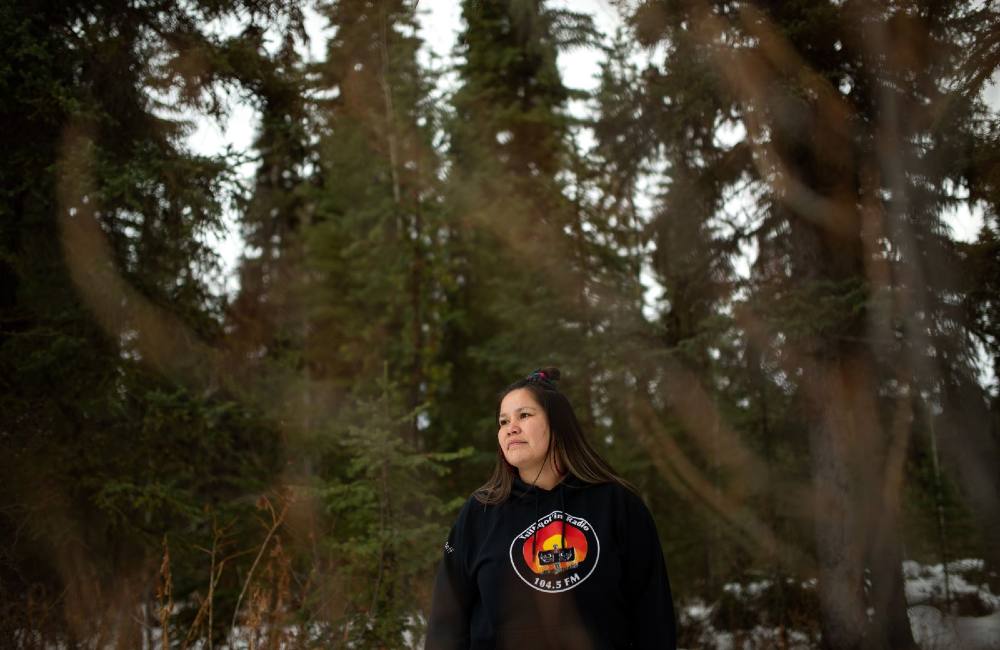 'It's irreplaceable.'
RACINE JEFF remembers seeing flames and smoke from her backyard as she and her family rushed to evacuate. It was 2017 and several lighting strikes had hit nearby forests on the outskirts of Williams Lake, causing several wildfires and forcing thousands to leave.
In the hectic scramble, Jeff scooped up one of her family's most treasured heirlooms, a .22-caliber Magnum hunting rifle that has been passed down for four generations. "This is one of the things we made sure we brought, because it's irreplaceable," Jeff said.
The rifle has helped feed her family for decades. "My great uncle hunted with this, and then my dad shot quite a few bucks with it and my brother and both of my boys got their first buck with it."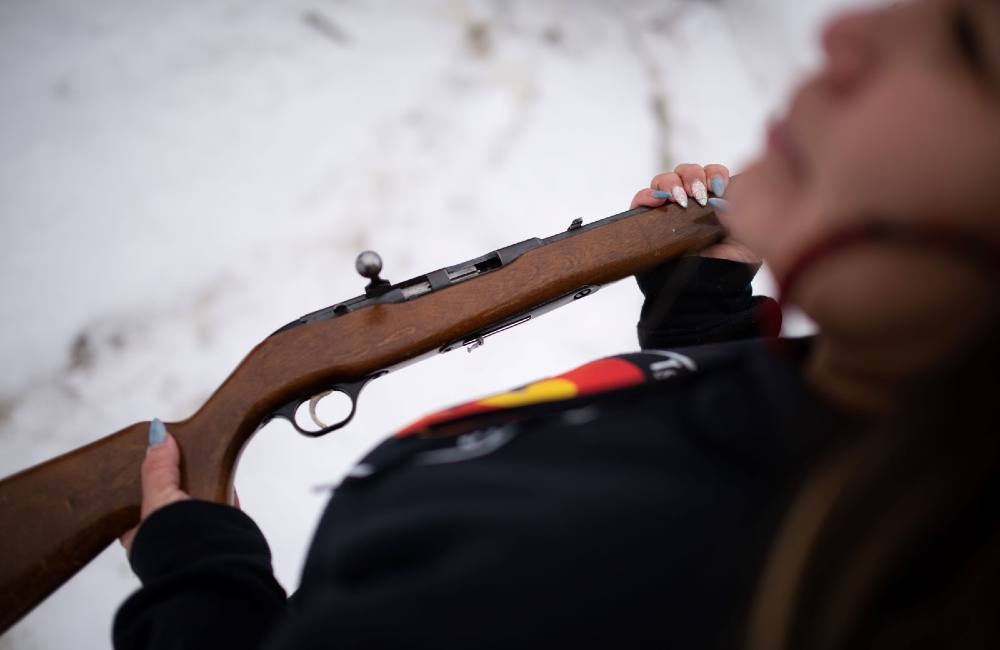 Jeff, a member of the Tŝilhqot'in Nation, from the community of Tl'etinqox, grew up near the Redstone Bridge. As a kid, she spent summers with her grandparents camping, fishing, hunting and berry picking. Moose and deer were a common sight. But since the fires everything has changed, she said. Now, wildlife is harder to find and once flourishing forests are home to blackened stands of burnt trees.
On the day her family fled the wildfire, Jeff also gathered up photos of her grandmother. And she made sure to save beadwork made for her by her aunt, including keepsakes for Valentine's Day, Red Dress Day and Orange Shirt Day.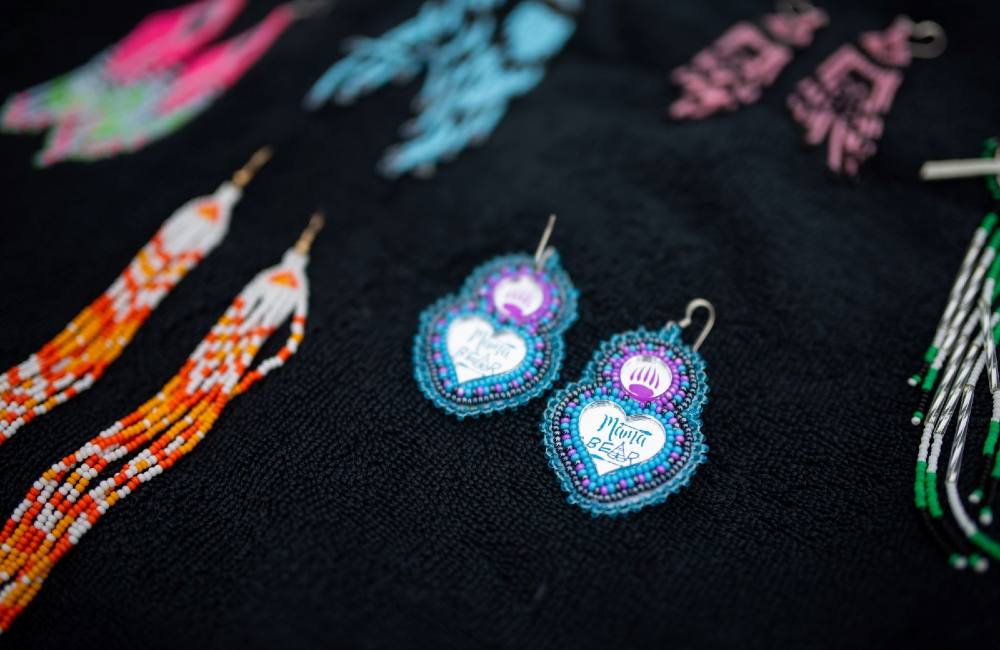 The flames, luckily, spared Jeff's home. She's since moved to a different part of the city.
We rode in a truck to the forests surrounding Williams Lake and stopped at a spot that's special to Jeff. She unpacked each unique beadwork and placed them on a towel. As she laid them out, she said that since the fire five years ago she still hadn't put the pictures of her grandmother back up in her home. She worries disaster might strike again. And then she'd just have to pack everything up once more.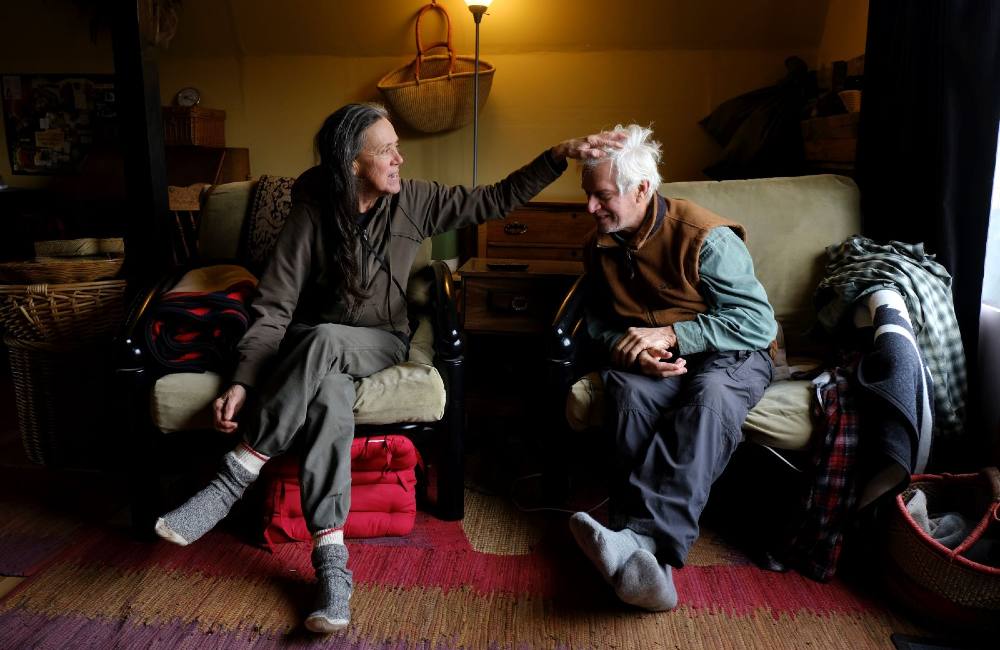 'It makes everyone feel joyous.'
PATSY GESSEY AND OWEN COLLINGS lost their home in the Lytton fire of 2021 that destroyed most of the buildings in the village. They relocated to a friend's tiny cabin just across the Fraser River, but that proved a brief refuge. The next summer another wildfire raced towards their field garden and tiny cabin. Again, they faced evacuation.
In preparation, they'd laid down running hoses and sprinklers along the garden's edge, hoping it might offer some protection. As the flames approached they fled not knowing what they would return to find.
When the danger had passed they were relieved to see their efforts rewarded, the garden and the tool shed spared. The burnt earth stopped at their plot and weaved around it, an etched record of the fire's search for fuel.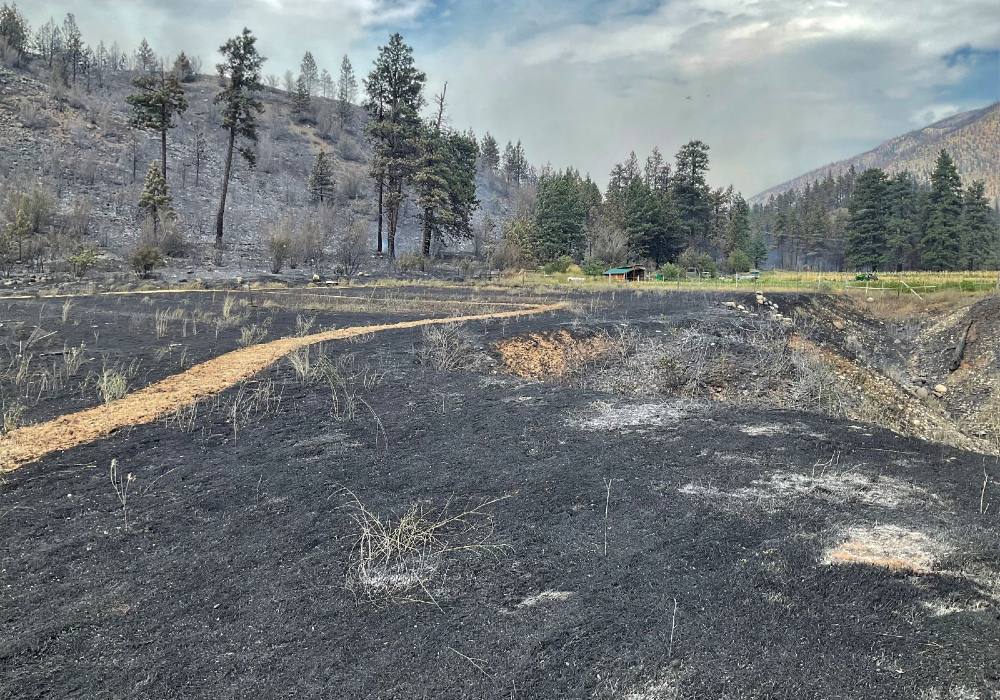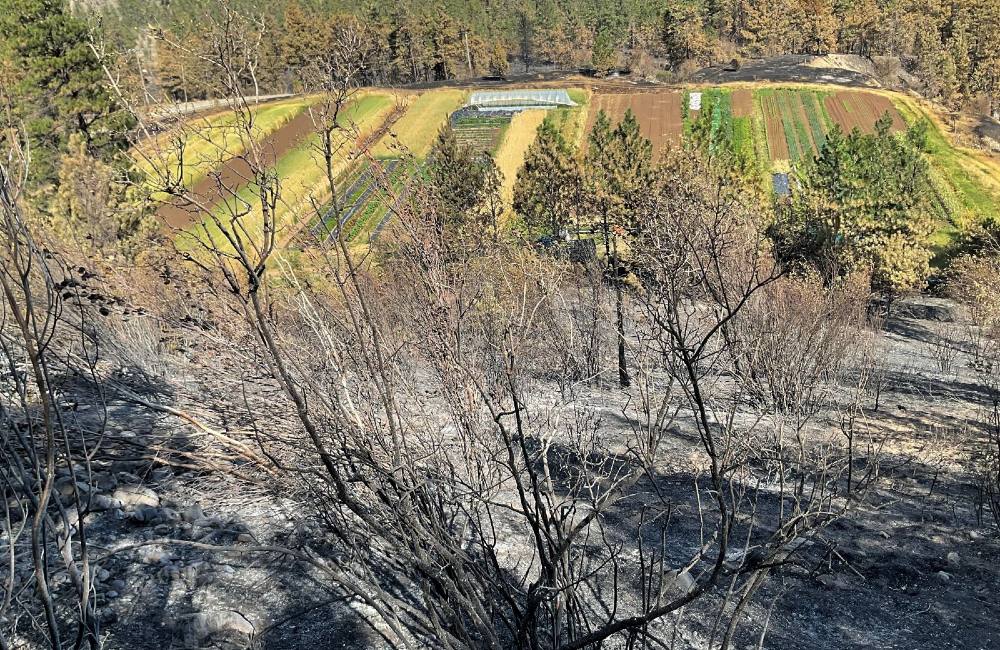 The preserved garden held special meaning not just for Gessey and Collings, but for their Lytton co-survivors as well. Soon after the 2021 fires, Gessey started selling veggies and flowers out of the back of a truck at the local gas station. "There were a lot of people who came just to visit, and it was just some sense of normalcy to just have us hang out and visit," Gessey said. Last summer they were able to foster a bit more normalcy by restarting the regular Friday farmers market.
Being able to grow and provide food and flowers for the community is a "dream job" for Gessey. "It makes everyone feel joyous."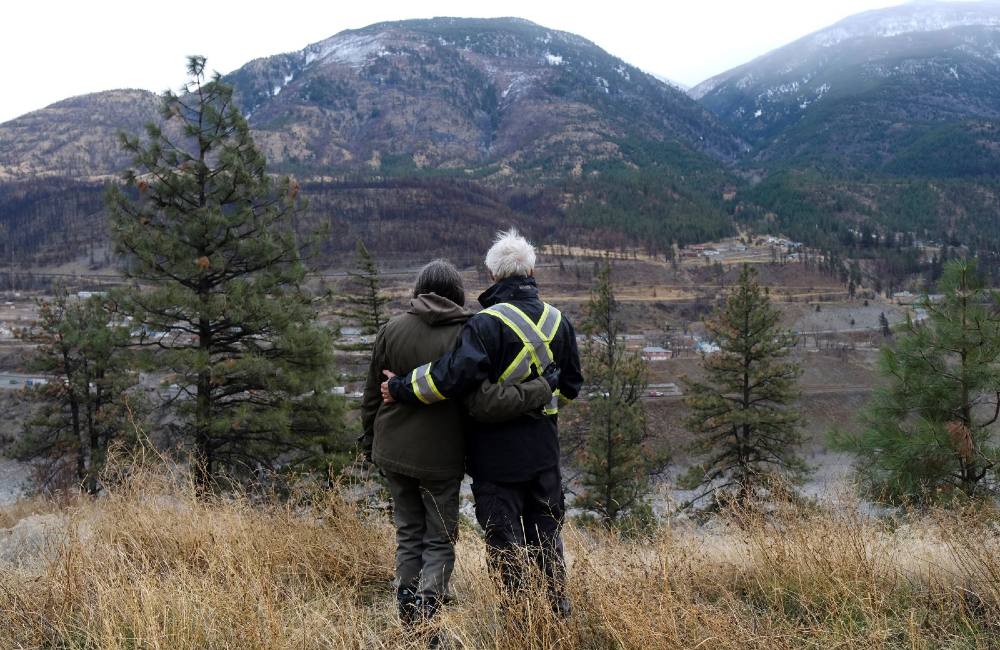 In November, we accompanied Gessey and Collings as they walked through the streets of Lytton to where their home once stood. Gusts of cold wind made eyes water. Most of the area has been cleared, leaving rows of empty lots interspersed with what was spared: the post office, a children's backyard treehouse, a few trees, a flag pole, the war memorial, some homes at the edge of town and the graveyard. On this quiet Saturday, no one else was around. We paused in front of a lonely looking, old fashioned decorative lamp post. Before the disaster, Main Street was lined with them, said Collings.
After surviving two fires, Gessey said she feels humbled but resolved to keep finding solutions to the climate crisis, food insecurity and building community. "I don't feel that they're insurmountable to us. I think we can make a life for ourselves here where we won't have to succumb to fire all the time and still have our beautiful place where we live right down by the river."
'I helped myself through photography.'
BILLIE SHERIDAN, on a brisk and clear January day, navigated the icy paths around the Scout Island bird sanctuary in Williams Lake. She cradled a big zoom lens, stopping every few steps to snap pictures for a photography class assignment. She's long taken pleasure in capturing peaceful scenes of nature. But on a hot July day in 2017 she trained her lens on the angry monster coming over a ridge not far from her home.
As we wandered down one of the trails, she stopped to point out the mountainsides and forests where the 2017 wildfires sparked and spread. We arrived at a vantage point offering a 360-degree view of what back then had been a combusting battleground. She remembers the smoke grew so thick that she couldn't see across the street from her house. And then it started seeping into her home, filling hallways with haze.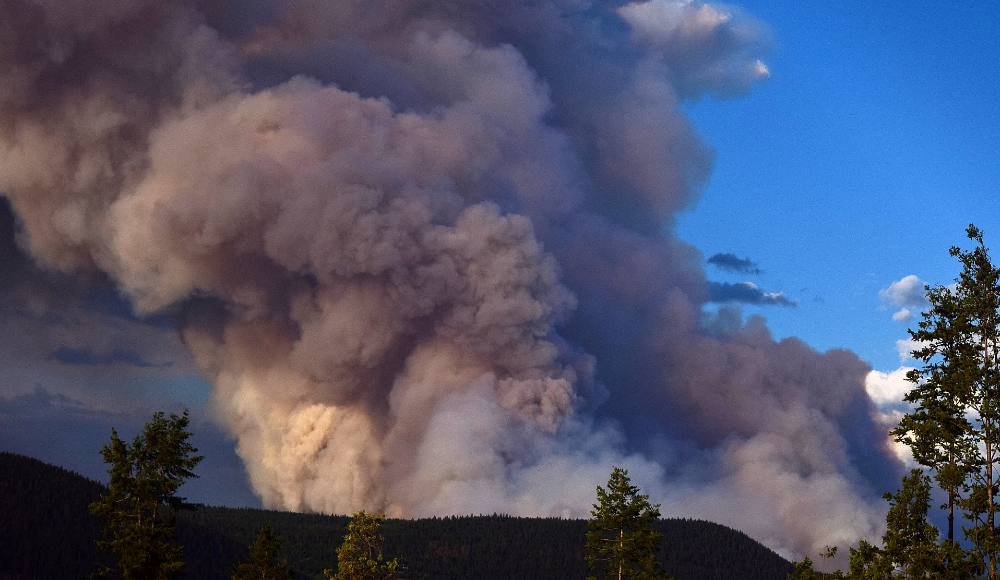 Sheridan already had sent her three sons out of the city the day before. Now she and her daughter-in-law started packing the minivan. "We loaded it up with pretty much everything that we thought that we needed," she said. "Trinkets, photo albums, government certificates, my marriage certificate, birth certificates."
High on that packing list was her camera. It would prove to be a critical aid through the fires and evacuation. "I helped myself through photography. I immersed myself on quite a few occasions to do some self-care."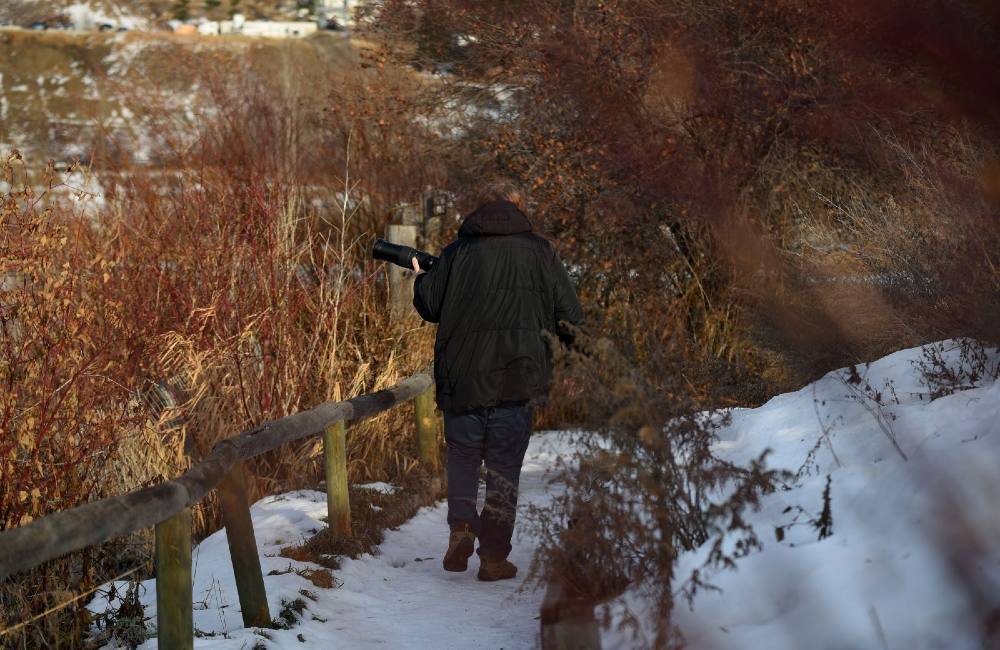 Sheridan particularly likes to visit Scout Island in early spring or summer mornings, she said, where she might capture an osprey circling above, river otters and beavers in the waterway or deer hiding in the marsh.
And she's noticed changes over the 15 years she's lived in Williams Lake and trained her lens on the world around her. "Winters aren't as cold, summers are hotter," she said. "Yes, there is climate change. It is happening."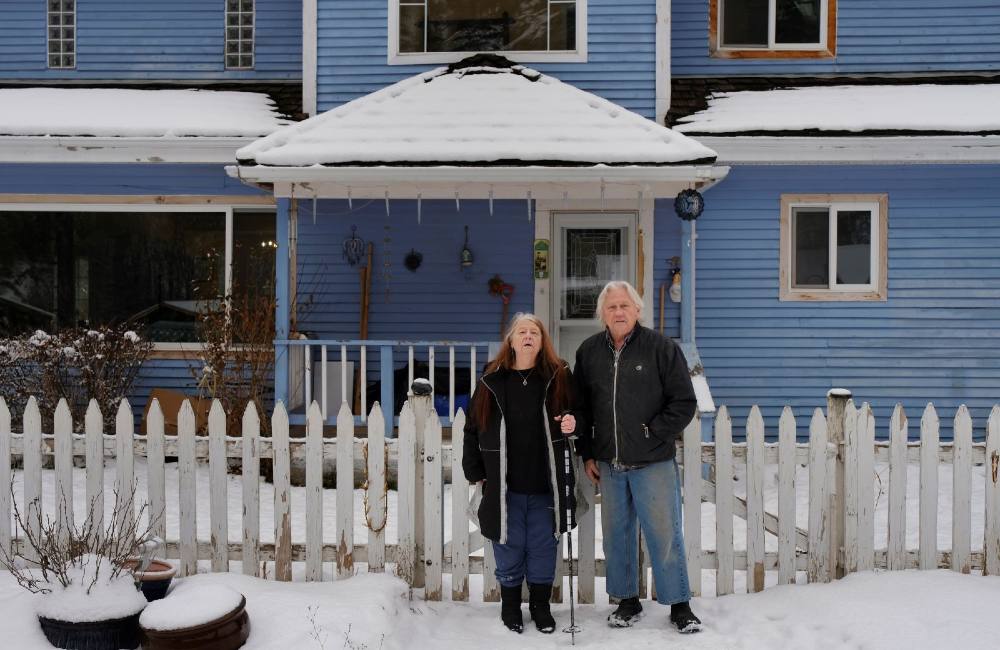 'It's history and it's sentiment.'
DANIE AND DIAN BROOKS have a collection of hundreds of photos in albums that line shelves in the home the brother and sister share. The pictures are covered in dust and mud, a restoration project for Danie that will not be done any time soon.
The Brooks live on a 10-acre property just outside of Princeton in the Similkameen Valley. Water invaded their first floor in November 2021 as a deluge of rain swelled the nearby Similkameen River. The Brooks and their pets were trapped inside for days. The damage was extensive.
Danie pulls an album off a shelf. He flips through pictures decades old, memories of Victoria, Hawaii and Golden Ears hiding behind mud speckled plastic sheets.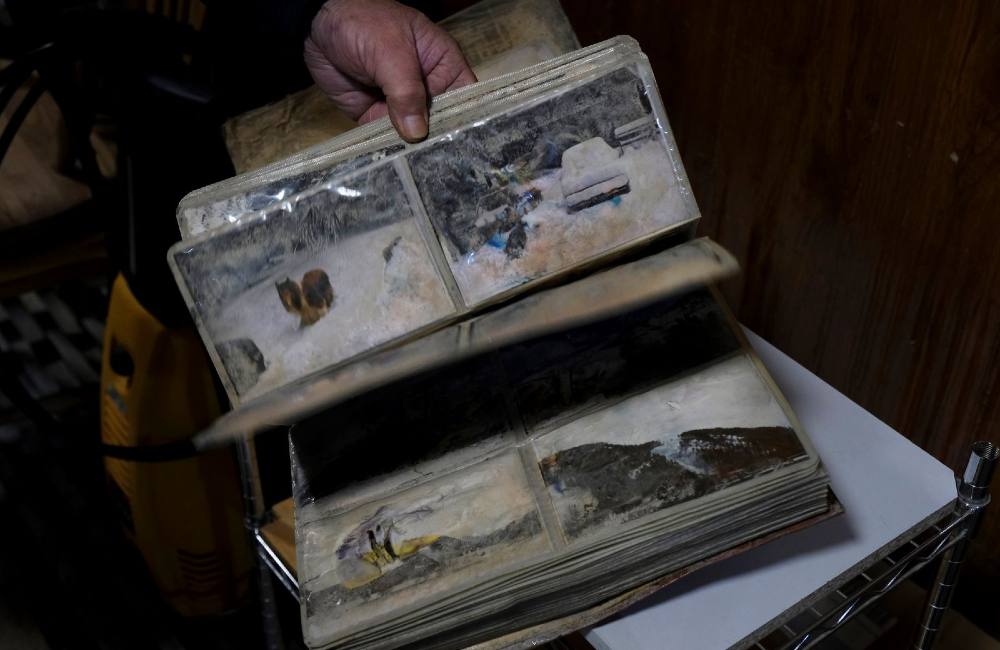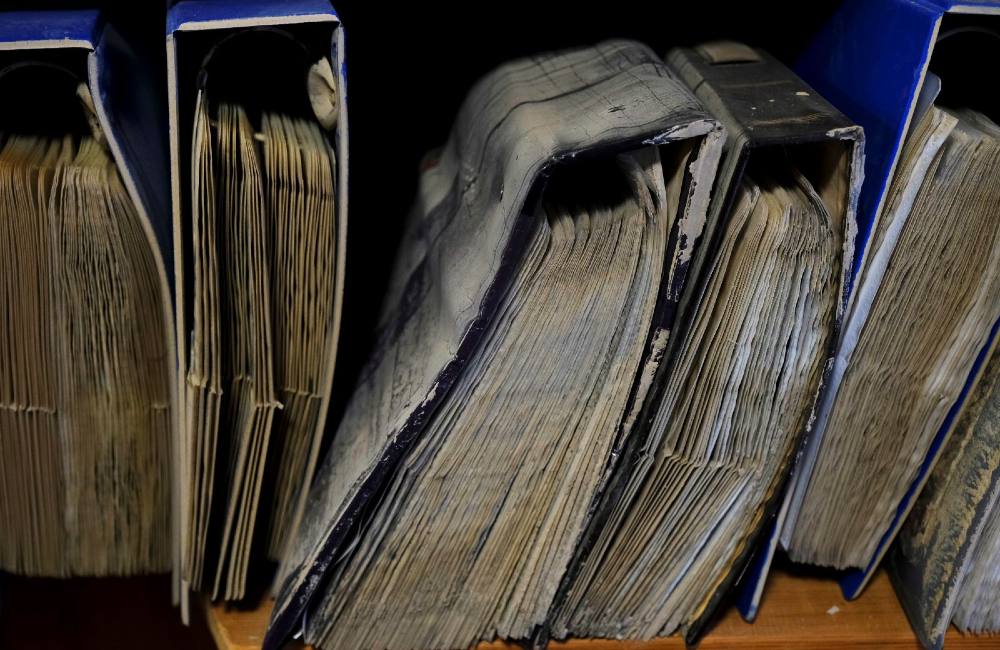 It took months before Danie and Dian could make their house even livable. Danie is still rebuilding the library and sunroom where the photos are stored along with containers and piles of items and furniture he and Dian saved from the floods.
After the waters receded, Danie was first to move back into the home. Dian preferred to live in a trailer on the property for months more — until her bed was restored. It had been warped after soaking for days in the floodwater and Danie, who had originally built the wooden-framed bed in the 1970s for their mother, managed to get it back in shape.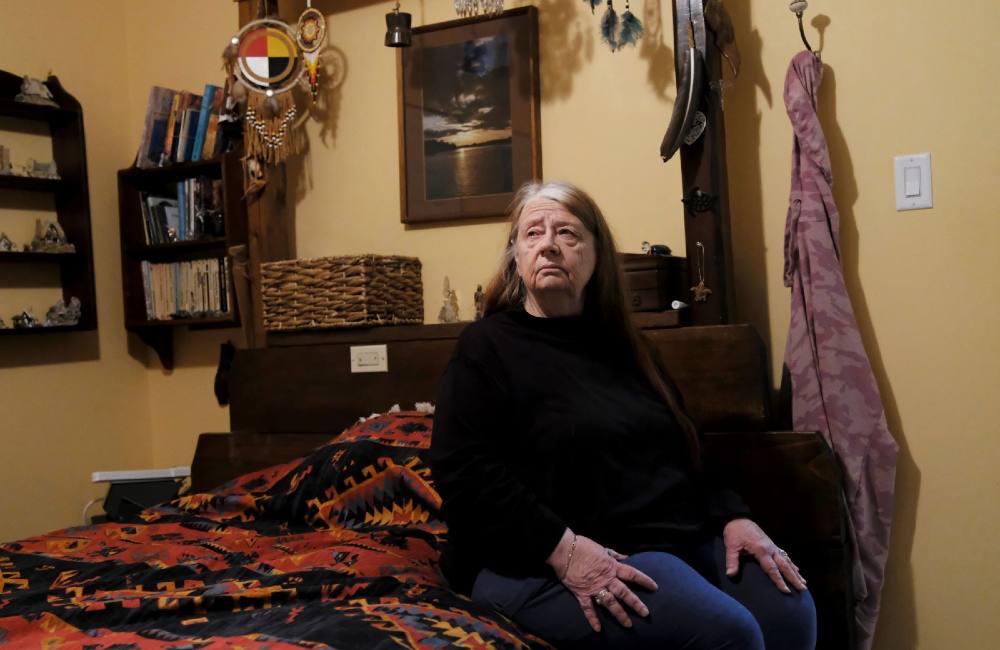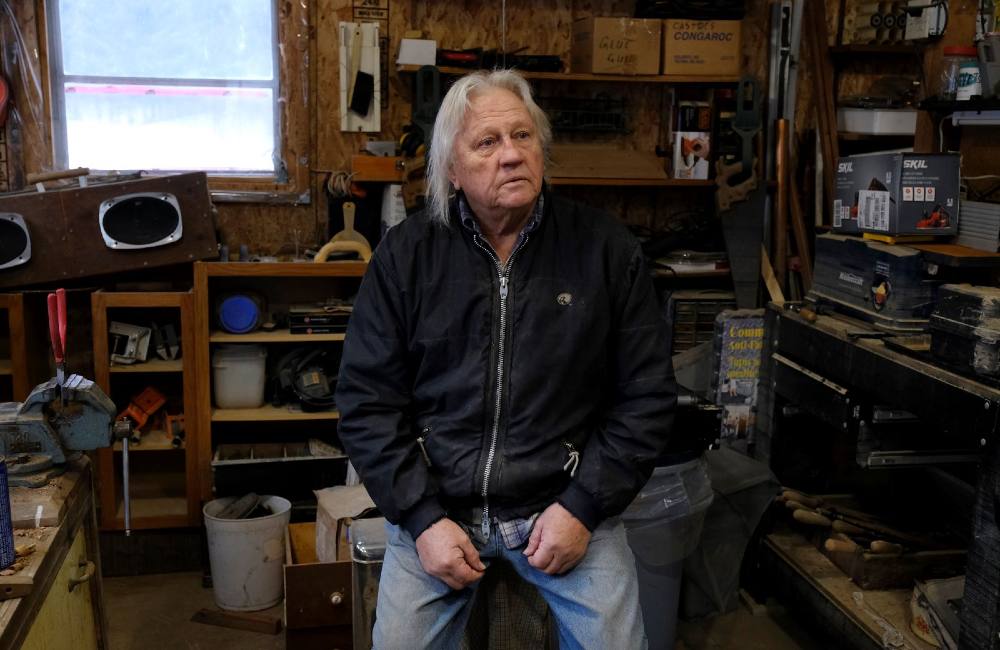 Danie spends much of his time on a seemingly endless list of other needed repairs. But it will be months, maybe years, before the house is like it was before the flood. "Most of the furniture in our house, Danie made or my other brother made," said Dian. "All my kitchen cupboards were a birthday present. It's history and it's sentiment. I'm looking at our house now. And it's not there."
Still, "The animals are alive and we are alive and we can start again."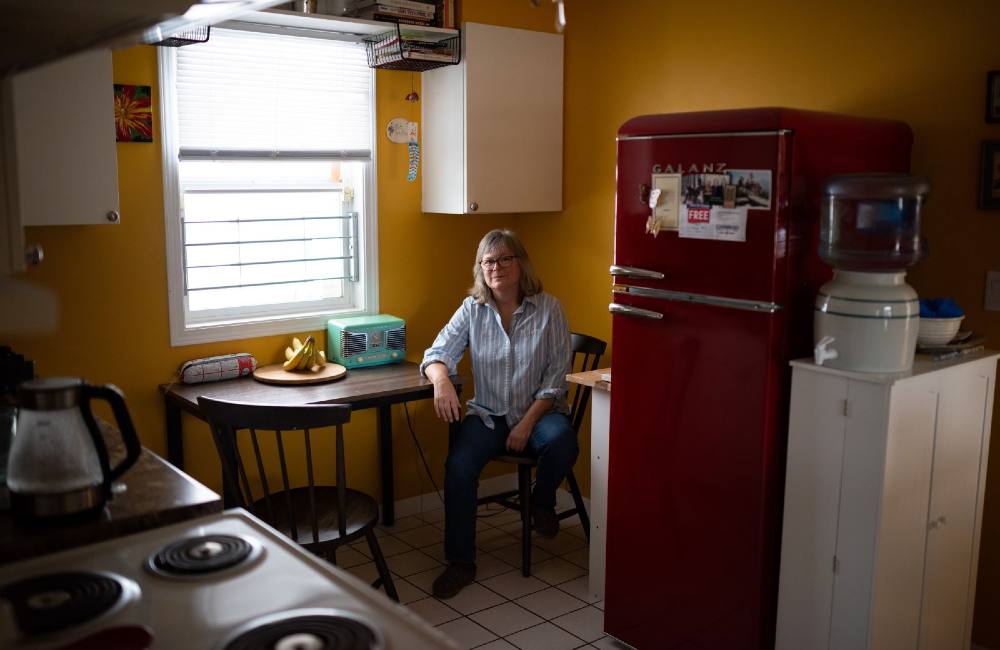 'Compassion is an active process.'
MICHELE FEIST remembers watching recovery workers go through what was left of Lytton. "It was scorched. It looked like a bomb blast went off." And yet, "if there's anything that speaks to resilience," she said, it's the small porcelain statue of the Buddhist personification of compassion that survived the fire.
"She's sitting in what's called 'royal ease,' which means she's relaxed and compassion should be relaxed," said Feist. But she also has one foot on the ground so she's ready to move into the world. "Compassion is an active process, it's not passive."
The figurine had been sitting high up in her kitchen and was uncovered in the "mess of ashes" by volunteers who sifted through the remains of her home. A wildfire can exceed 800 C, vapourizing or melting most of what it encounters. But porcelain can withstand temperatures of over 1,600 degrees and so the statue merely cracked and broke into several pieces. The fact that the statue's delicate fingers remained intact confounds Feist.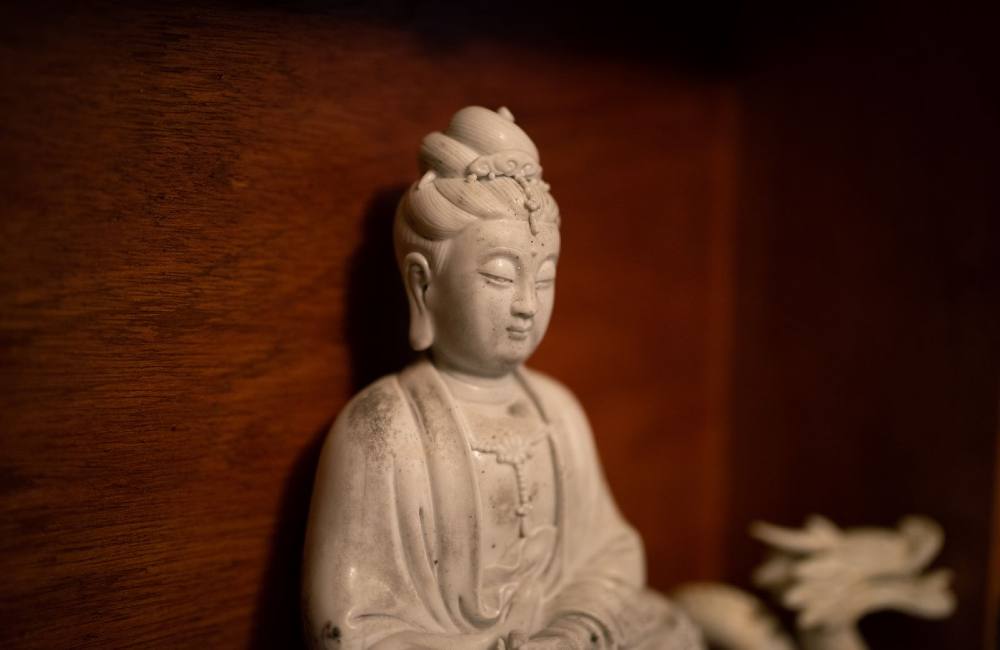 Feist's Buddhist teacher, who she's known for over 30 years, helped put the statue back together, an afternoon's labour using Krazy Glue and cleaner applied with a toothbrush. The two porcelain dragon companions still have some brown, scorched markings along the sides.
Feist is also grateful that the fire spared an elm tree growing on her property.
"I think, ultimately, that we incline towards life. That we're really not as a species trying to kill ourselves off. That maybe it's going to get more uncomfortable before it gets more comfortable, but that we have the capacity to look up."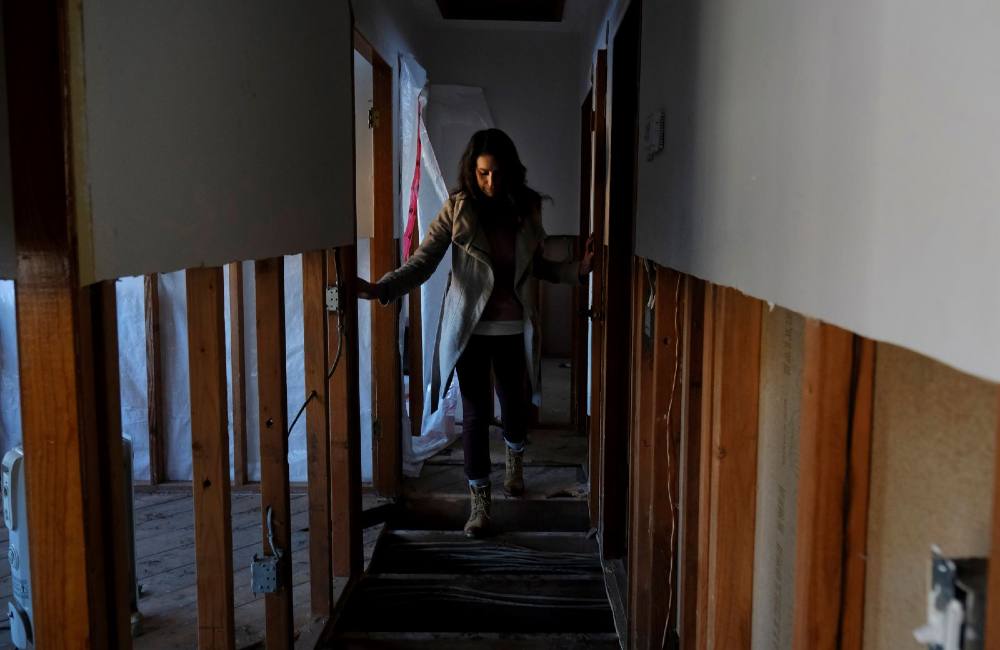 'We were muddy zombies for weeks.'
ROCHELLE RUPERT was happy the Coldwater River flowed behind her property in Merritt. It's one of the reasons she decided to buy her home. She was excited to use the running trails along the banks that nudged the end of her street. But in November 2021, the river breached those banks and damaged homes throughout the city, hers included. Today, Rupert is still working on repairs.
The foundation of her garage has shifted and the roof sags. There's a thin brown line where the water rose along the outside of her home. Rupert showed us the mud-filled coop where she raised her chickens from eggs. The chickens didn't survive.
Inside the house, some of the flooring had been removed, so we balanced on the wooden joists to get from room to room. A humidifier hummed in the background. The missing floor revealed the basement where an oil tank was found buried beneath her living room.
"You wouldn't believe the muddy zombies we were for weeks," she said, describing the cleanup and removal of mud and debris that had filled her home. When we asked Rupert about any items she was able to save or recover, she pointed out a few piles of things stored around the house. She pulled out a big, framed photo of a lion that her dad took while on a family trip at the African Lion Safari in Ontario. It still had some mud spattered on the frame.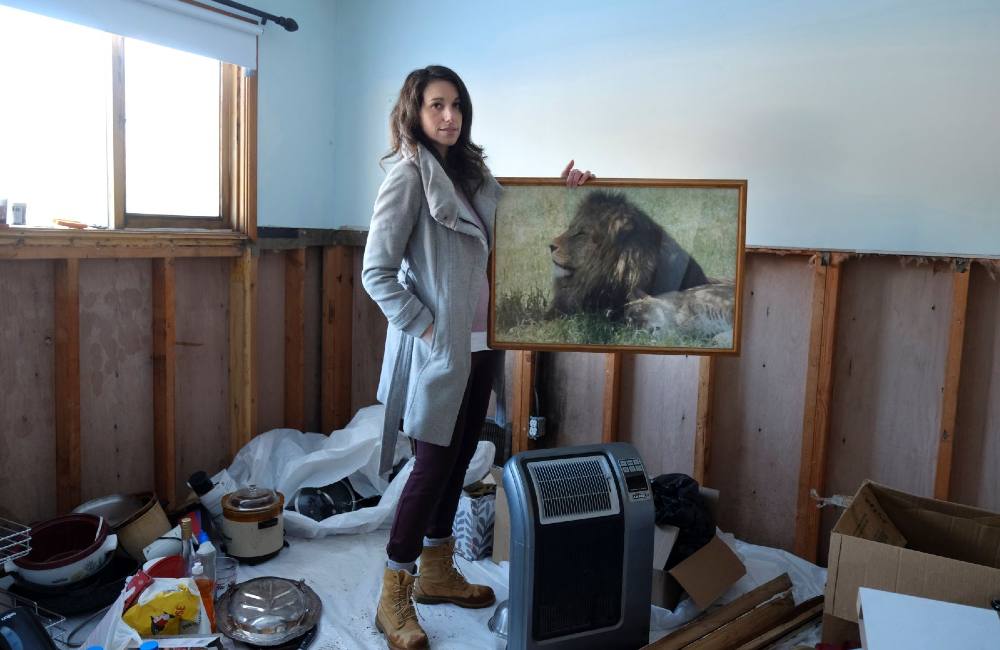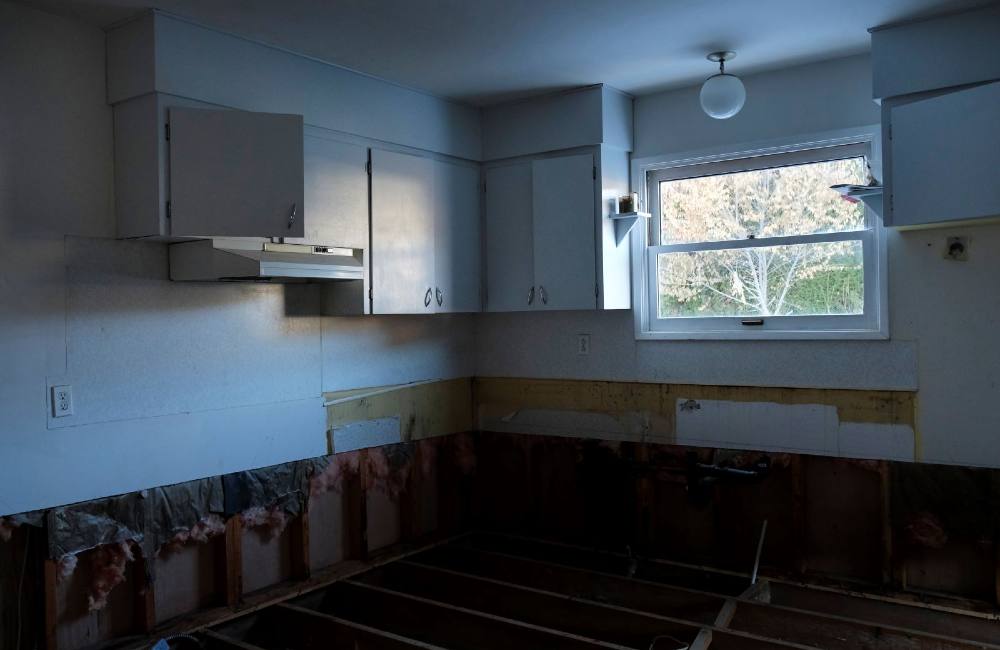 "They told us to pack for 72 hours," remembers Rupert. Then she was told three months. But now it's been over a year and she still hasn't been able to move in or move on. She's renting a few minutes away from her former home. When we visited her in November she was waiting to see if someone would buy her house or if she could afford to keep fixing it. Since then, she's taken the home off the market.
After the flood receded, the river behind her property had rerouted and changed shape, Rupert told us as we walked along its edge.
"I really don't care about material possessions. The thing that depressed me the most about the flood is not the loss of the things I own, but the loss of the feeling of having a home," Rupert said.
"It was that place where you're comfortable, that place that's yours, that place you can go and relax, that place you can shield yourself from others, that place you can recoup, that place you re-energize. That place for me was gone and didn't exist anymore."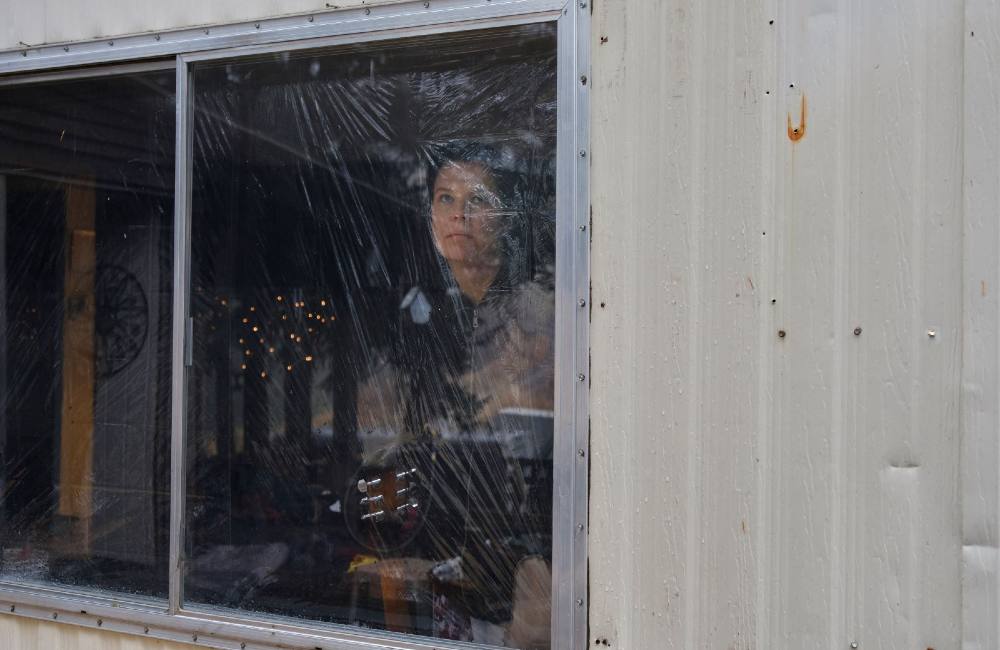 'Energy moves in a certain way.'
MICHA KINGSTON not only lost her apartment in the 2021 Lytton wildfire, but her family's cabin burned to the ground as well. Among the rubble where the cabin once stood, Kingston and family members found some peculiar formations of melted aluminum. There had been dozens of beater cars parked on the property. The heat from the fire melted the car parts and in one instance the aluminum melted down into the ground and wound its way through an ant hill, creating a cast of the insects' former home. Kingston hangs onto that strange memento of calamity endured.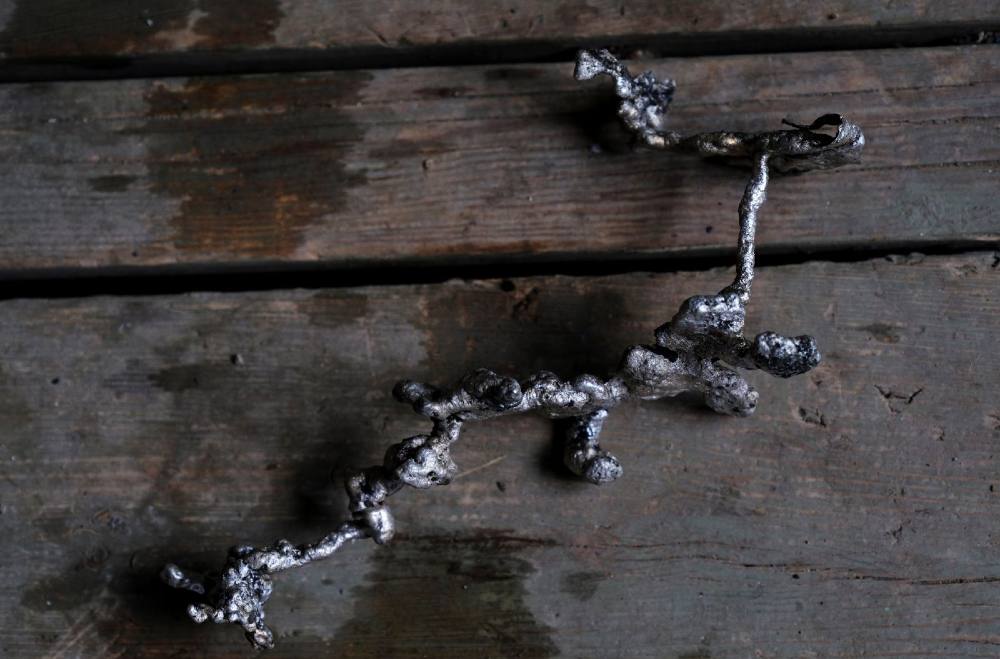 Now she lives in Lillooet with family in a double-wide trailer. The day we visited, she led us along a trail that winds through garden rows of tomatoes and into a fir forest with a dramatic view of the Fraser River and valley below.
She pondered the landscape before us, and reflected on the small village where she grew up. "In a place like Lytton," she said, "where there's those two rivers that have been flowing for thousands of years, energy moves in a certain way through those valleys."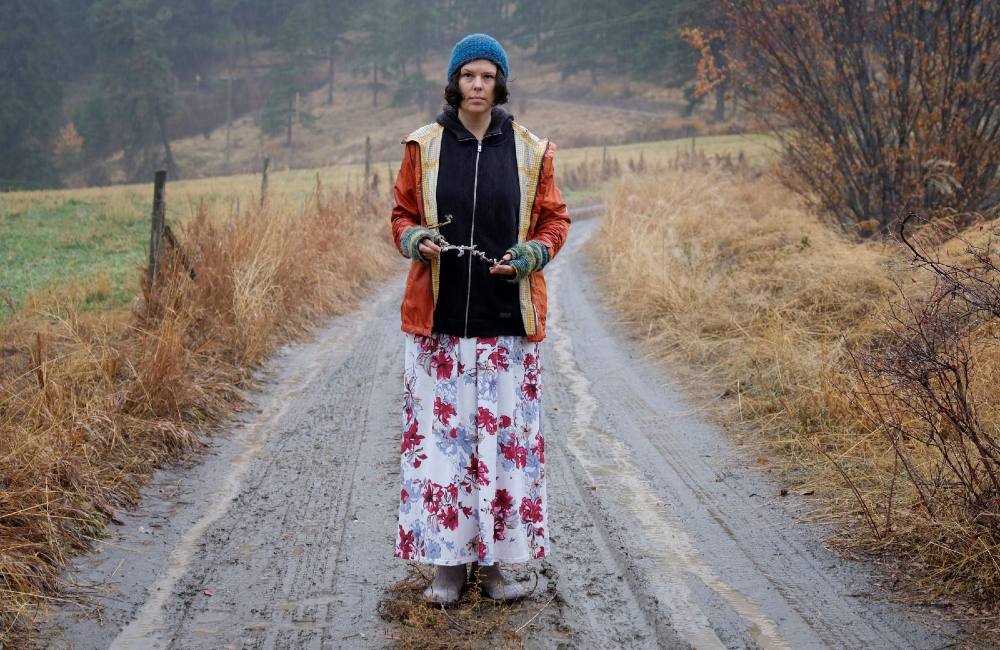 Right after the fire, Kingston found herself hoping her cast iron pan had survived. She couldn't stop thinking about it. She wanted to find something useful that had defeated the inferno. Volunteers ultimately did recover the pan, but it was rusted beyond repair and by the time we visited it had been thrown away and Kingston's obsession had waned.
But not her belief that something useful should rise from the ashes. "I never expected to be someone that was impacted by climate change to this degree," said Kingston. She believes the crisis requires urgent action because wildfires and other climate disasters will keep happening and keep destroying homes.
"We're going to have to change the way we build and everything's going to be different going forward."
This is a part of 'Bracing for Disasters,' an occasional series investigating how to support evacuees and save lives as extreme weather worsens in B.C. Next, an investigation of problems survivors face navigating B.C.'s disaster support system. Find all the series' pieces to date here.
These interviews were done in collaboration with the Climate Disaster Project. With files from Aldyn Chwelos, Christina Gervais, Amber Bear, Emilie Wren, Gage Smith, Geena Mortfield and Michael John Lo.