In separate events Tuesday the B.C. government announced it is setting a cap on greenhouse gas emissions from the oil and gas sector and has approved another LNG export facility.
"Some people think we should respond to the climate crisis by always saying 'no' to development, regardless of the cost to jobs and opportunity," said Premier David Eby. "Others think all developments should just go ahead regardless of the cost to our kids and grandkids. The choice between protecting the environment and creating good jobs is a false one. We see a better way."
The government is choosing a path that continues building a green economy, works better for people and the climate, respects Indigenous people and provides predictability for industry and allows for responsible development of the province's natural resources, said Eby, who in the past has spoken about the need to move away from reliance on fossil fuels. "This is the way forward."
The province gave an environmental assessment certificate approving the Haisla majority-owned Cedar LNG Partners LP for the proposed Cedar LNG project in northwestern B.C. in Kitimat on the Douglas Channel.
"It will create good new jobs," said Eby, adding it will provide long-term prosperity for the Haisla nation. "Up to 500 people will be employed at Cedar LNG during construction and approximately 100 people will be employed full time once it's operational."
The project, which includes an electric-powered floating LNG facility and marine export terminal, is proposed on Haisla Nation land in a partnership with Pembina Pipeline Corporation. Gas for it will be supplied through the Coastal GasLink pipeline that is already being built despite opposition of Wet'suwet'en Hereditary Chiefs. The electricity will come from BC Hydro.
The facility is expected to cost $3.3 billion and will be able to export up to three million tonnes of LNG a year.
Approval of Cedar LNG was a joint decision by George Heyman, the minister of environment and climate change strategy, and Josie Osborne, the minister of energy, mines and low carbon innovation, after they considered the B.C. Environmental Assessment Office's review.
The certificate comes with 16 conditions, including a requirement to implement a greenhouse gas emissions reduction plan that Heyman said would bring the facility close to net-zero by 2030.
"We have concluded that this project can fit within B.C.'s climate targets and goals," said Heyman, who added that the proponents had taken all possible measures to reduce emissions and that the facility would be among the lowest emitting facilities in the world.
"Today is a historic day for me and my people," said Haisla Chief Coun. Crystal Smith. "Today is not just about the approval of an LNG facility, today is about changing the course of history for my nation and Indigenous peoples everywhere."
Historically, she said, "Indigenous people were left on the sidelines of economic development in their territories, a history where Indigenous people's values were ignored in favour of economic gain, impacting our environment and our way of life."
Approval of the Cedar LNG facility paves the way for the Haisla Nation to take control of its own future, Smith said. "We are demonstrating how we can responsibly advance LNG development in our province while protecting the environment."
The LNG project is the first in the world to be majority Indigenous owned and an example of how a nation can lead development on its own territory and build Indigenous rights in the process, she said.
"Today's announcement meaningfully demonstrates government's commitment to working alongside our nation to advance reconciliation and achieve equality for Indigenous peoples everywhere, but it also represents an acknowledgement of the work we are doing to take action on climate change while also looking for further opportunities to reduce global greenhouse emissions."
"I'm here because I want to do what's right for my community and for the generations to come, but I also recognize how much more we can achieve when industry, government and society work together," Smith said.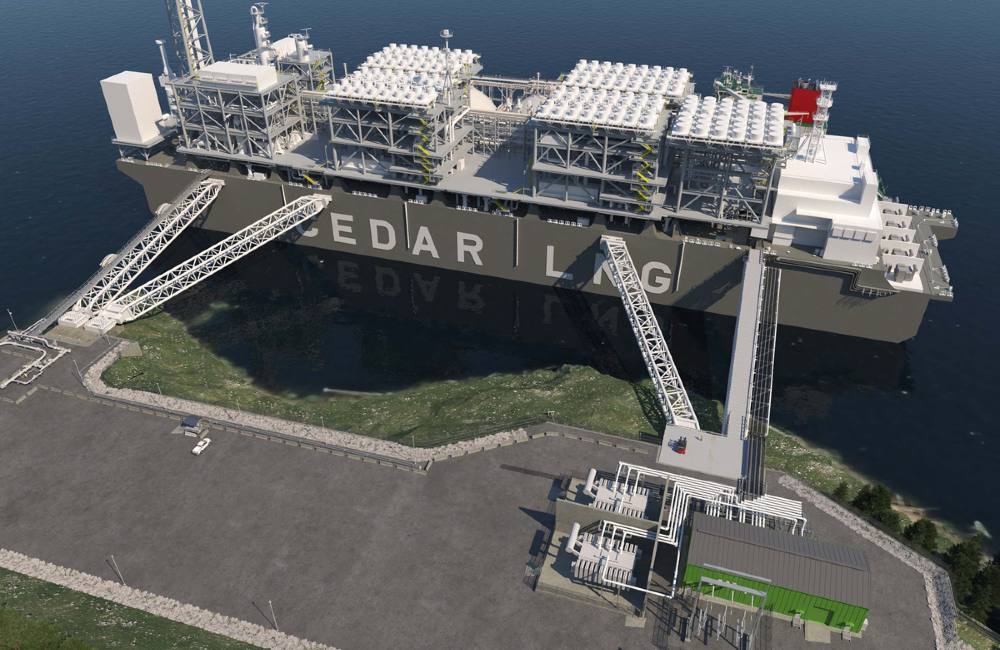 Skeena MLA Ellis Ross, the BC Liberal critic for energy and LNG, said the approval of Cedar LNG was long overdue.
"I am extremely gratified that an initiative we worked on behalf of the Haisla people finally got the respect it deserves from the provincial government," Ross said in an emailed statement. "Countries around the world are looking for a safe transitional fuel source and B.C. can be a leader in this transition by providing a secure source of clean and ethical LNG."
The project is a great example of economic reconciliation and it should receive tax breaks similar to the ones the government gave to LNG Canada, he said.
Since becoming premier in November, Eby has repeatedly said the government would continue its approach of refusing to approve new oil and gas developments unless they could be shown to fit the province's CleanBC climate plan.
The plan includes a legislated goal of a 40 per cent drop below 2007 levels by 2030, with deeper cuts by 2040 and 2050.
The government missed a previous goal of a 33 per cent reduction by 2020, with emissions instead remaining more or less unchanged from 2007 levels. Even before the approval of Cedar LNG critics were warning B.C. is unlikely to meet its 2025 or 2030 goals without doing more than what's set out in CleanBC.
Approval of Cedar LNG sends provincial emissions in the wrong direction, said Peter McCartney, climate campaigner for the Wilderness Committee advocacy group, in a statement. "Time and time again we see them approve fossil fuel projects that will only create more pollution when they're already not on track to meet their goals," he said.
"You cannot claim new fossil fuel projects fit into your plan when you don't actually have a plan that gets you to your target," said McCartney. "All the greenwash around B.C. LNG doesn't change the fact that every new facility takes us further away from meeting our commitments."
In its second LNG-related announcement of the day, Eby announced an "energy action framework" aimed at capping emissions from the oil and gas sector and electrifying the economy.
Provisions included a requirement that any proposed LNG facility that isn't yet approved will need a "credible plan to be net zero by 2030," the establishment of an office dedicated to fast tracking investment in clean energy and technology and the creation of a BC Hydro task force to accelerate the electrification of the province's economy.
The framework also puts a cap on the oil and gas sector to make sure it meets the emissions reduction target the government has set for it for 2030.
According to the government, the oil and gas sector is responsible for about 20 per cent of B.C.'s total emissions and starting in April it will launch engagement with the industry and other stakeholders "on the final design of the regulatory cap on oil and gas sector emissions, including on issues like how the cap will be allocated, credit trading, and verifiable offsets."
The executive director of the Pembina Institute, Chris Severson-Baker, participated remotely in the Vancouver event. "With this announcement the B.C. government is taking a very important step towards growing a clean economy and meeting its climate obligations," he said.
The government is giving a clear signal it is prioritizing growth in the clean economy and rapidly moving away from fossil fuels, Severson-Baker said. "Before this announcement LNG production was simply incompatible with the B.C. climate plan and now we have policies that will ensure the target will be met."
Merran Smith from Clean Energy Canada said the government is signalling a new direction that will grow jobs, pivot the economy and build on the province's clean energy advantage.
"Today's announcement completes our climate plan CleanBC which to date has been missing clarity on a crucial component, the oil and gas emissions," she said. "This newly announced oil and gas emissions cap, which includes LNG facilities, is one of the last pieces of the climate plan puzzle."