B.C.'s Environmental Assessment Office has issued a new $213,600 fine to Coastal GasLink for the ongoing erosion and sediment-control issues that have plagued pipeline construction almost since the start of the project.
The administrative penalty, which comes as a result of inspections along the pipeline route last February, is the third for the company, which received two additional fines last year totalling $242,600.
"While the compliance history is not considered as a factor in determining the base amount itself, I would note that these are issues that EAO has repeatedly found noncompliance with requirements relating to erosion and sediment control since 2019," the EAO said in its decision.
The decision also noted that concerns over impacts to fish, water quality and wetlands were identified by the public, Indigenous groups and technical experts during the project's environmental assessment process.
In a statement posted to its website Wednesday afternoon, Coastal GasLink said it took "immediate and decisive action" to address the issues last February.
"Today's determination by the EAO is a reminder of how far we've come in a year, and we are encouraged by their recent recognition of that progress. We continue to work closely with our regulators to look for ways where we can do better across our project, especially with erosion and sediment control," the company said.
The EAO is considering six more penalties that were recommended by its compliance and enforcement branch over the past year. The most recent recommendation, which is included in a report posted by the province last week, is a result of inspections that took place north of Prince George in early November.
The EAO said earlier this month that its compliance and enforcement inspectors have done more than 50 inspections on the pipeline route, issuing 37 warnings and 17 orders to the company. It added that mitigation measures for erosion and sediment control continue to improve.
However, reports posted to the EAO's website last week indicate that the problems persisted into early November.
The pipeline, which is expected to be completed this year, is slated to carry gas from northeast B.C. to the LNG Canada export facility under construction in Kitimat. It has faced delays and cost overruns, with parent company TC Energy's most recent estimate putting the project at almost twice its original cost.
RCMP have spent more than $25 million policing opposition to the project.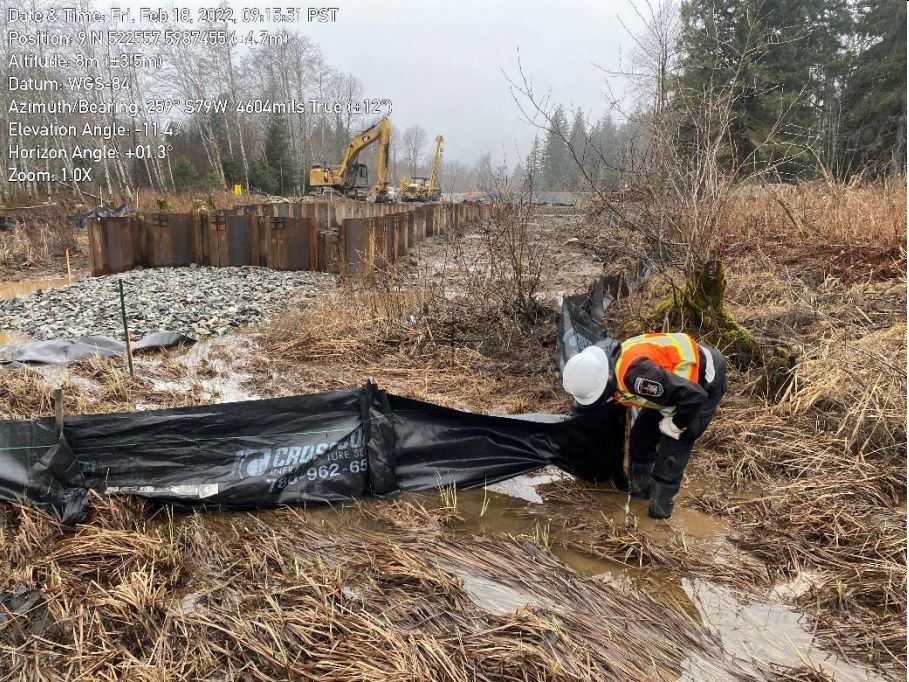 B.C.'s Ministry of Environment and Climate Change Strategy said in a statement issued Wednesday afternoon that the latest financial penalty was a result of violations at the western end of the pipeline route, near Kitimat.
The issues were identified before the province and Coastal GasLink signed a compliance agreement last summer, it added. The agreement requires the pipeline builder to "follow more proactive measures to control erosion and sedimentation" along the pipeline route in order to protect sensitive wetlands and watercourses.
It also requires that work execution plans, which are developed by a qualified professional and approved by the EAO, must be in place before clearing activities can begin in 32 sections of the pipeline route that have been deemed more environmentally sensitive.
In issuing its decision, the EAO noted that Coastal GasLink had argued against the most recent fine because the company had entered into the compliance agreement. However, it added that the agreement only applies to certain sections of the pipeline route, which don't include the area covered by last February's infractions.
The environmental regulator did reduce the fine slightly because of the agreement but increased it for the company's history of noncompliance. Payment is due within 30 days.
Recent inspections have focused on several sections of the pipeline route north of Prince George. On Oct. 14, the EAO issued an order to Coastal GasLink requiring it "cease all variations" from approved work plans in a 14-kilometre span of pipeline route. The order came as a result of inspections on Oct. 4 and 5.
According to an inspection report, EAO compliance and enforcement inspectors found that a travel lane used to transport construction equipment and vehicles was "subject to erosion and sediment transport" and did not align with approved work plans. It also cited several examples of erosion and sediment-control measures that were missing or had been improperly installed.
At the time, Coastal GasLink said that it remained in compliance with regulations and that the EAO had confirmed "that it does not expect Coastal GasLink to stop any work provided the appropriate environmental mitigation is in place in the field."
The Ministry of Environment told The Tyee in late October that EAO inspectors had found "instances of noncompliance" but added that the environment was not impacted by the infractions.
On Oct. 31, the ministry confirmed that construction had stopped in an 11-kilometre stretch of the pipeline route. Coastal GasLink said that it had briefly paused construction to review its work "against the work execution plans" but had since resumed.
Coastal GasLink did not respond to questions about who determines when the project has been brought back into compliance.
The Ministry of Environment later confirmed in an email to The Tyee that it's up to the company to determine whether compliance thresholds have been met. It added that EAO compliance and enforcement officers continue to do inspections "to verify that operations meet expectations," and said that independent environmental monitors also continue to inspect pipeline construction.
On Oct. 28 and 29, the EAO sought to "verify the status of noncompliance identified" during earlier inspections, according to an inspection report. It found that "deviations from work plans were observed that had also been noted in the inspections earlier that month" and "observed additional measures not installed despite being required by the work plans."
In the upper Anzac Valley, the EAO reported that some issues had been addressed while other areas were brought into compliance by amending work execution plans.
The most recent penalty recommendation was a result of inspections directly north and west of Prince George from Nov. 2 to 4, which noted variances from approved work plans, including missing erosion and sediment controls.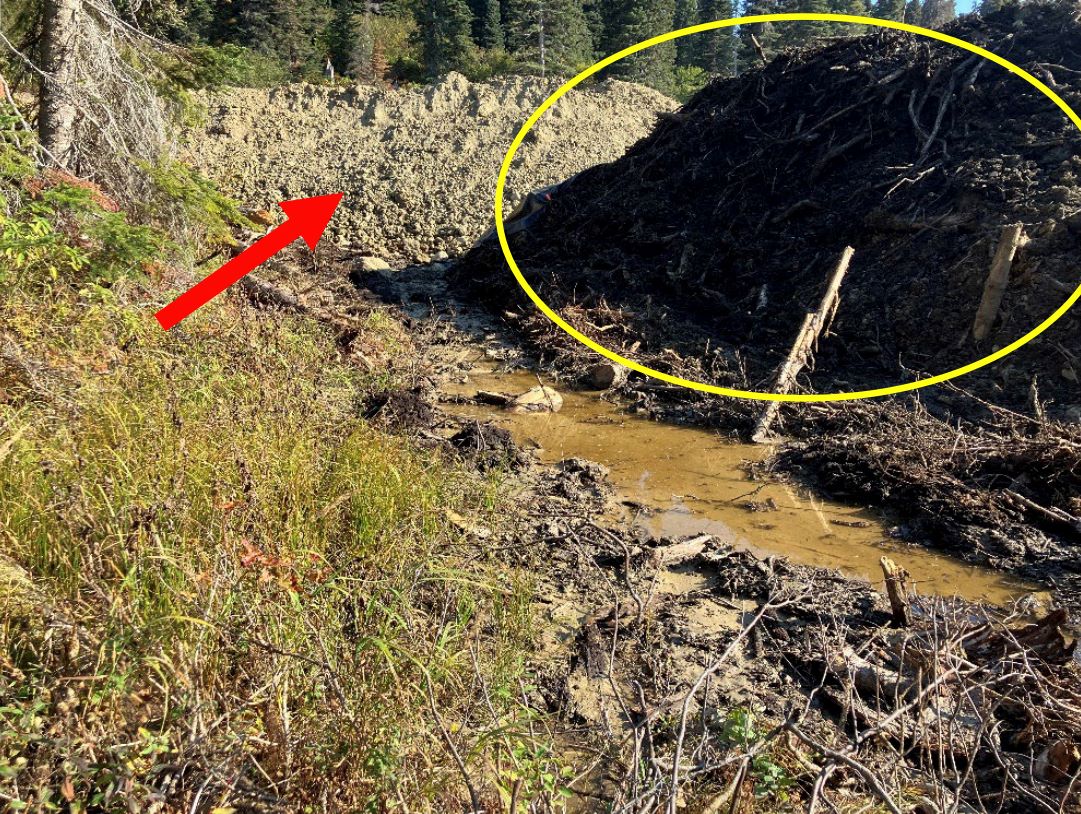 Erosion and sediment-control issues have been identified in all sections of the pipeline route, according to previous EAO inspection reports.
In recent weeks, both the David Suzuki Foundation and Union of BC Indian Chiefs have issued statements calling on the province to issue a stop-work order against the project. The calls were based on reports from members of the Wet'suwet'en Nation that erosion and sediment-control measures were not being used during in-stream work at a Clore River crossing at the western end of the pipeline route.
The EAO said it forwarded the complaints to the BC Oil and Gas Commission and Fisheries and Oceans Canada, which oversee in-stream pipeline construction.
The BCOGC initially cleared the pipeline builder of any wrongdoing but added that it had not inspected the site in person. The oil and gas regulator later confirmed in an email to The Tyee that it had visited the site and did not find any noncompliances.
"To date, the work at this crossing is in accordance with regulations and conditions specified in Coastal GasLink's permit," it said. "CGL is following its crossing plan and erosion and sediment controls are in place."
Fisheries and Oceans Canada said Monday that its conservation and protection branch is looking into the complaint.
"Fishery officers, along with habitat biologists and representatives from other agencies, have visited the site to determine possible next steps, so it would be premature to comment further at this time," Leri Davies, strategic media relations advisor with the department, said in an email.