A dozen Wet'suwet'en members and their supporters who currently face criminal contempt charges in connection with the Coastal GasLink pipeline dispute have applied to the B.C. Supreme Court to have the charges stayed, according to a statement issued Tuesday.
The charges stem from a police action on Nov. 18 and 19, 2021, when RCMP spent two days making arrests on the remote Morice Forest Service Road, which was closed to traffic days earlier by Wet'suwet'en Hereditary Chiefs who oppose the project. The second day of arrests occurred at a camp that was blocking access to a worksite where Coastal GasLink was preparing to drill under the Morice River, known to the Wet'suwet'en as Wedzin Kwa. About 30 people were taken into custody over two days, including several journalists.
RCMP did not immediately respond to The Tyee's request for comment about the application to have charges stayed.
The CGL pipeline, which is set to carry fracked gas from the northeast to Kitimat, has faced years of opposition from Wet'suwet'en traditional leadership and is significantly over budget.
According to the news release issued by members of the Gidimt'en Clan, the 12 people requesting their charges be dismissed experienced "widespread Charter violations stemming from police misconduct" during the arrests. The application alleges that officers abused their authority and highlights RCMP's "disproportionate and excessive use of force" during the arrests.
"In violation of the Canadian Charter of Rights and Freedoms, the applications allege that arrestees were variously denied their right to security of person, subjected to unreasonable search and seizure, arbitrarily detained and imprisoned, and denied reasonable bail without just cause," the statement says.
It adds that the tactics used by the RCMP's Community-Industry Response Group, a special task force formed in 2017 to police resource extraction conflicts, displayed "a systemic disregard for Indigenous rights and sovereignty and the Charter more generally."
The November 2021 police action was the third in a series of standoffs that have occurred since the B.C. Supreme Court issued an injunction to Coastal GasLink in December 2018. The injunction prohibits anyone from blocking access to roads or worksites associated with pipeline construction.
The dispute first made national headlines when RCMP arrested 14 people and removed barriers on the Morice Forest Service Road near an occupation on Gidimt'en Clan territory in January 2019. Dozens more have been arrested since, including 28 people taken into custody over five days and after a month-long standoff in February 2020.
Later that month, Wet'suwet'en Hereditary Chiefs formed an agreement with the federal and provincial governments that recognizes "Wet'suwet'en rights and title are held by Wet'suwet'en Houses under their system of governance." The parties agreed to move forward with Indigenous title negotiations, building on the 1997 Delgamuukw-Gisday'wa court case that affirmed Wet'suwet'en title had never been extinguished. Those talks have since stalled.
Despite those efforts, "the RCMP have repeatedly undertaken large-scale, violent invasions of Wet'suwet'en traditional territories and have established a sustained campaign of surveillance, intimidation and harassment, which is currently the subject of a separate lawsuit by Wet'suwet'en members," Tuesday's announcement said.
Gidimt'en Camp occupants say that RCMP patrols of the area, including sweeps through the camp, began following a late-night attack at the Coastal GasLink drill site last February. While RCMP have alleged links between the camp and the incident, the force has never provided evidence of a connection and no arrests have been made in relation to the alleged attack.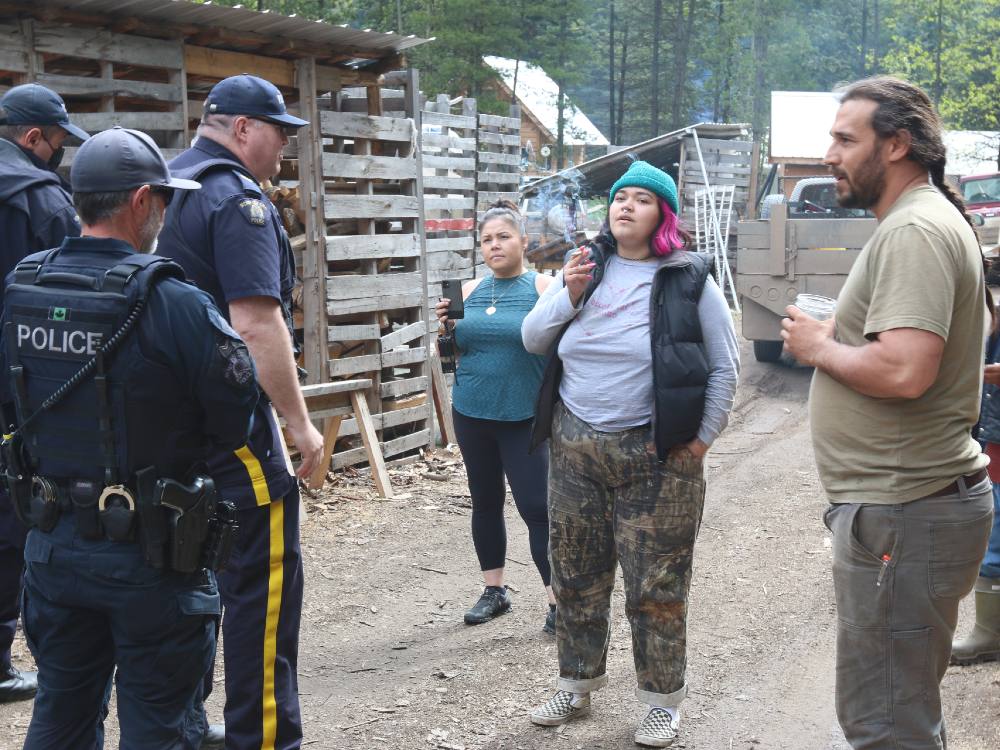 While Coastal GasLink chose not to pursue a civil lawsuit against those arrested during the 2019 and 2020 police actions, the BC Prosecution Service agreed last summer to move ahead with criminal charges against 19 people arrested in November 2021.
Others arrested at the same time, including a journalist who was taken into custody and released the same day and two others that spent several days in custody, have not faced ongoing action from the pipeline company.
Online news outlet the Narwhal announced last month that it is taking the RCMP to court over the arrest and three-day detention of journalist Amber Bracken, who was taken into custody while covering the November 2021 police action.
Among those who still face criminal charges is Sleydo' Molly Wickham, a member of the Gidimt'en Clan and spokesperson for Gidimt'en Checkpoint. In Tuesday's statement, she said the RCMP has acted "with impunity, using racist language and violence against unarmed Indigenous women."
The statement notes that the arrests took place on Wet'suwet'en territory.
"Defendants acted under the lawful authority of the Wet'suwet'en Hereditary Chiefs to uphold decisions made collectively by the nation in its governance hall (bahlats) to protect unceded Wet'suwet'en lands and waters," it said.
"The Wet'suwet'en have asserted a right to live on and protect their territories for thousands of years…. The impacts of the manner of enforcement are not limited to the individuals arrested but extend to the efforts at reconciliation between the Wet'suwet'en and the federal and provincial governments."