[Editor's note: This article contains descriptions of sexual assault and stories related to missing and deceased Indigenous women and youth. It may be triggering to some readers.]
On Sept. 6, 2020, 24-year-old Chelsea Poorman went out for dinner with her sister. They ended up at a friend's apartment on Granville Street, then Chelsea left. A phone call later that night would be the last time Paige would ever hear from her.
On May 12, 2021, Noelle O'Soup left a foster care group home in Port Coquitlam. It wasn't the first time the 13-year-old had left foster care, a warning sign her family says should have been taken more seriously.
Twenty-year-old Tatyanna Harrison was last seen at the Grand Union Pub in Vancouver on April 22. Her mother desperately searched the Downtown Eastside for her for months, but couldn't find her daughter.
The remains of Poorman, O'Soup and Harrison were discovered in different locations over the span of six months in 2022, sending shockwaves through the Downtown Eastside, Indigenous communities and the wider public.
Poorman's body was discovered behind a vacant home in the city's exclusive Shaughnessy neighbourhood. Harrison's half-clothed body was found in an abandoned yacht in Richmond. And O'Soup's remains were found inside an SRO room rented by a man who repeatedly lured young women to his room to give them drugs.
The three cases have again raised questions about the quality of police and other investigations into missing Indigenous women and youth. Over the past 13 years, a provincial and then a national inquiry on murdered and missing Indigenous women have led to dozens of recommendations, including changes to how police respond to reports of missing Indigenous people.
But the families of Poorman, O'Soup and Harrison say they experienced delays, indifference and baffling decisions as they dealt with the disappearance of their loved ones.
"I hope we can reach a point in our justice system where cases like these get solved instead of brushed under the rug," said Natasha Harrison, Tatyanna's mother, during a press conference organized by Sisters in Spirit and Amnesty International Canada on Oct. 4.
"We need to end the careless disregard of human life based on race, stigma and class."
Experts in policing and death investigations say the cases raise questions about how police investigate missing persons cases, and the quality of death investigations when the deceased person is Indigenous.
Steff King is a PhD student in criminology at Simon Fraser University who has studied and identified common patterns in incomplete death investigations involving young Indigenous people in Canada.
King pointed out that Vancouver has a history of mishandling cases of missing Indigenous women in the 1980s and '90s when serial killer Robert Pickton was killing dozens of women who lived in the Downtown Eastside while police and local politicians downplayed the disappearances.
"This is definitely something that we've seen before and we did not treat it correctly before," King said.
"This is definitely a point in which investigators need to be more critical and more action-focused," she said. Either we're paying more attention to police investigation practices, "or we're seeing another pattern of an increase of Indigenous women going missing."
These are the questions the families of Chelsea Poorman, Tatyanna Harrison and Noelle O'Soup still have about the investigations.
Chelsea Poorman
Chelsea Poorman had moved to Vancouver from Saskatchewan in the summer of 2020, following her mom Sheila Poorman and sister Paige Kiernan. The family is from the Kawacatoose First Nation.
Chelsea had persevered through many obstacles, including overcoming serious injuries from a car accident and mental health issues. Despite those challenges, Chelsea was "happy and positive and strong and kept going," her sister Diamond Poorman remembers.
"You could never really see how much pain or what she went through physically on the outside — other than her limp," Diamond said.
Sheila remembers Chelsea's kindness towards others who were less fortunate, her love of animals and her dreams for the future.
"Chelsea wanted to be a veterinarian or paramedic, musician, artist, fashion designer and makeup artist. She had so much to live for when her life was taken," Sheila said.
Chelsea had been living in Vancouver for just over a month when she and Paige went out for dinner, then to a friend's apartment at Granville and Drake, on Sept. 6, a warm fall Sunday.

Chelsea left the friend's apartment around midnight and later called Paige, saying she'd met "a new bae."
Sheila Poorman reported Chelsea missing on Sept. 8.
In a pattern that's common to all three cases, police did not issue a press release about Chelsea being missing until several days after the missing person report. In Chelsea's case, the press release was sent out on Sept. 18 — a gap of 11 days between the day Sheila reported her daughter missing and the day the press release was posted.
"I would watch the news and notice that others go missing, but they were on the news and the Vancouver Police Department also made a press release for them the same day," Sheila Poorman said.
"It was so frustrating to see how they were treated compared to Chelsea."
When missing person press releases hit news inboxes, Metro Vancouver's news media usually post a quick write-up on their websites and social media accounts. To preserve the privacy of vulnerable people, it's common practice to edit the story later to remove the person's name if they are found safe.
Vancouver police usually post a press release immediately if a missing person is a vulnerable senior with dementia. But police say there's a concern that in other cases posting a news release could cause harm.
"If detectives are concerned about someone's mental health and feel that the extra news attention would be detrimental to their personal safety (i.e. self harm), they will continue to pursue the case through investigative means," VPD spokesperson Simi Heer previously explained to The Tyee when asked why police waited to release information about Chelsea Poorman.
Lorimer Shenher, a former detective with the Vancouver Police Department, said that explanation doesn't make sense.
Chelsea had both a physical disability and a brain injury, and she was an Indigenous woman. All of those factors should have led to her being flagged as a high-risk missing person by police, Shenher said — and requiring an immediate public appeal to locate her.
"It's the police's job to find people, and if they're at risk of self harm, to get them somewhere where they're going to get help," Shenher said.
"Are we going to launch a full-scale task force to find her? Maybe not, but we're going to make a public appeal. Why is it any different for someone with Alzheimer's? And why is it any different for a child?"
It was the second time Chelsea had gone missing after moving to Vancouver. Sheila had reported Chelsea missing earlier that summer, but Chelsea made contact five days later, saying she had lost her phone.
Shenher said Chelsea's previous disappearance is a warning sign that she was at increased risk if she went missing again. That's because people who have previously been reported missing are statistically more likely to experience "misadventure" or violence in a subsequent disappearance.
"All of those things are supposed to, by policy, necessitate an investigation — an immediate investigation," Shenher said.
Vancouver police say they did diligently investigate Chelsea's disappearance, although her mom and sisters say they often felt dismissed by officers and had to contact police for updates.
The case was transferred to the VPD's major crimes section in November 2020 and police say they took "numerous investigative steps," including conducting interviews, checking bank and cellphone records and "conducting an extensive video canvas."
However, Chelsea's family remains skeptical that video footage from businesses on Granville Street was ever sought by police.
The Poorman family and many supporters from Vancouver's urban Indigenous community tried to keep Chelsea's disappearance in the public eye in hope she would be found.
But on May 6, 2022, police announced the tragic news that Chelsea's remains had been found in the backyard of an empty house in Vancouver's high-priced Shaughnessy neighbourhood.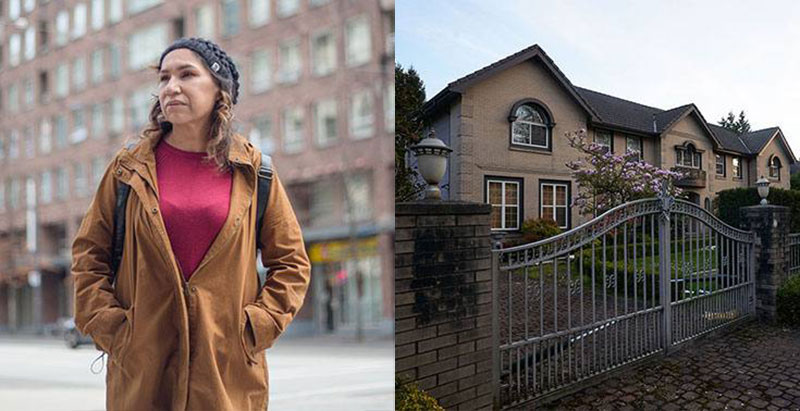 Police said Chelsea had likely died soon after she went missing, and her remains had somehow gone undetected for 18 months until a contractor doing work on the house had discovered them on April 22.
Chelsea's family was shocked and outraged to hear that police still did not consider Chelsea's death to be suspicious.
"Based on the totality of everything that we know from the start of this investigation up until we received the coroner's findings, we don't believe that this death is suspicious," Sgt. Steve Addison told reporters at a May 6, 2022 press conference.
"When I say that, what I mean is we do not believe Chelsea was murdered, [and] we don't believe her death was caused by another person."
As more details started to trickle out, that determination became more baffling to the public and journalists who had covered the case.
What police didn't say at the May 6 press conference was that several body parts were missing from the skeletal remains. It fell to Sheila Poorman to tell supporters and media that the cranium and several finger bones were missing from the remains found behind the Shaughnessy house.
Nor did police offer any explanation of how Chelsea came to be at the house, or how she had died. Chelsea's family says she wasn't familiar with the Shaughnessy neighbourhood, an area filled with multimillion dollar homes six kilometres away from downtown Vancouver.
But police said the vacant $7.1-million mansion where Chelsea's remains were found was known to be frequently entered by people who didn't own the house or live there.
Diamond Poorman has told The Tyee that a VPD detective explained to her that investigators determined Chelsea was in a sitting position when she died. "They said she was sitting with her leg brace off."
During the VPD's press conference on May 6, media liaison officer Sgt. Steve Addison said the force had received the results of the coroner's investigation and did not consider the death suspicious.
However, the BC Coroners Service told The Tyee its investigation remains open.
Shenher, the former VPD detective, said determining whether or not a death is suspicious is subjective, and factors like race and class can affect how zealously police investigate certain cases.
"If you look at those kinds of circumstances, the demographic or the circumstances of the victim will definitely play a factor in how long the police are going to refrain from making that determination, until they have all the evidence," Shenher said.
"You've got to walk back the whole decision-making process for police to the very initial impressions that they have of this person. Because they do make very subjective judgments and decisions very early in the process."
Shenher said it's surprising that police quickly determined Poorman's death to be not suspicious.
"Going missing from [downtown Vancouver] and found on a vacant property in Shaughnessy — and with her accessibility issues — there are just so many questions," Shenher said. "How could that not be suspicious?"
Steff King, the criminologist, said what jumps out to her about the Chelsea Poorman case is that police did not treat her death as suspicious.
"It's not common for a young person to die at all, in any circumstance, so that should be treated as suspicious just as a baseline," King said.
"The standard practice that all investigators should follow, whether they're police or coroner, is to assume homicide first. And then their investigation is supposed to either prove or disprove that, and then they continue forward."
After the vigil where Sheila Poorman publicly stated her daughter's remains were missing several body parts and called on police to do more, the VPD searched VanDusen Botanical Gardens, a garden near the home where Chelsea's body was found. They didn't find the missing body parts.
The RCMP is now reviewing the VPD investigation. In September, Sheila and her daughter Paige worked with Vancouver police to record a video message pleading for information on how Chelsea ended up in Shaughnessy.
Months after the discovery of her daughter's remains, Sheila Poorman is left with so many questions. Why did police wait to send out a press release when she first went missing? Why wasn't she flagged as vulnerable, and why wasn't her case transferred to major crimes sooner? Why didn't anyone notice Chelsea's body in the backyard of a home in a quiet residential neighbourhood?
"I think that after my girl being found in an abandoned, unoccupied mansion, there should be a bylaw that those places should be searched with within 24 hours or 48 hours after a person goes missing," Sheila Poorman said. "Especially a vulnerable one."
Noelle O'Soup
Noelle O'Soup, who also went by Ellie, went missing from their Port Coquitlam foster care group home at 6:30 p.m. on May 12, 2021.
O'Soup had run away from foster care before, and her cousin, Olivia Louie, said the 13-year-old was being bullied at the group home.
"She was happy, quirky, shy until you got to know her. Then she opened up her personality," Josie August, a relative of O'Soup, said at a press conference in October.
Ellie had family ties to the Key First Nation in Saskatchewan and the Saulteau First Nation in northern B.C.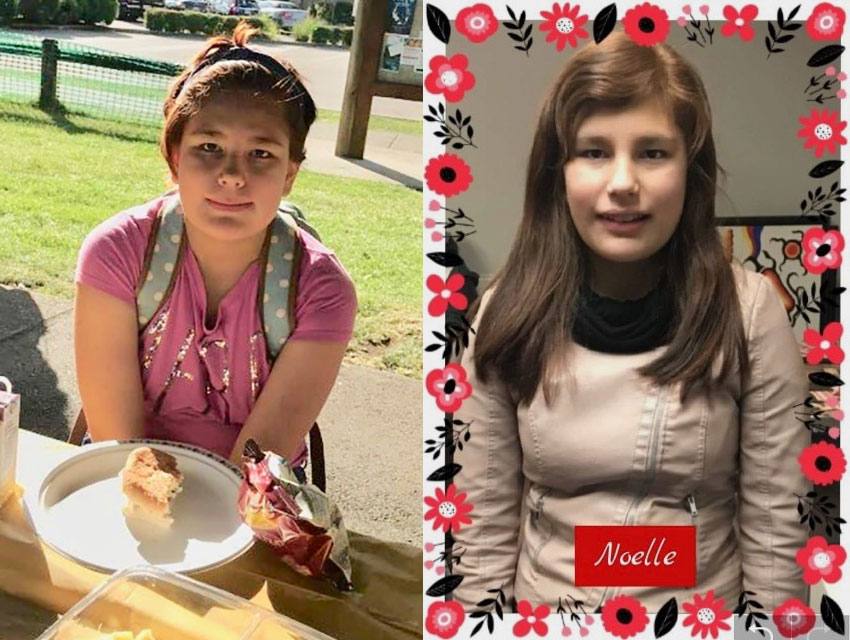 Ellie was also known to B.C.'s foster care advocate, Jennifer Charlesworth. While Charlesworth could not divulge details for privacy reasons, she said that children and youth can either reach out to the Representative for Children and Youth directly for help, or staff will flag patterns such as multiple injuries, repeated attempts to run away, overdoses or other troubling incidents for review.
Charlesworth said Ellie used they/them pronouns. In this story, The Tyee is using they/them pronouns to refer to Ellie, except in some direct quotes from family members.
Police didn't send out a press release about Ellie being missing until eight days after their disappearance was reported, a gap their family says shouldn't have happened.
On June 18, 2021, RCMP told the Tri-City News that Ellie might be avoiding police and a wellness check and "getting help from others" who may not have known they were missing.
On Jan. 25, 2022, Coquitlam RCMP released the photo of a woman who could have a connection to Ellie.
Ellie's family says there were other sightings of the 13-year-old in the Downtown Eastside. One time, a friend of her parents spotted her on Heatley Avenue in Vancouver's Strathcona neighbourhood, according to August.
Ellie's family says those tips were largely ignored by police, and they're unhappy with the way the 13-year-old was portrayed in police press releases and the media.
"We were told she was a runaway," August said.
"That doesn't sit right with me," said Rebecca Brass, an aunt of Ellie's, at a vigil for the teen. "[Ellie] wanted to be found."
But Coquitlam RCMP say Ellie was considered to be a high-risk missing person and police "led an exhaustive investigation" into their disappearance. Looking for Ellie was a top priority for police, according to the RCMP.

On May 1 last year, the remains of Noelle O'Soup were found in a room in a single-room occupancy building at 405 Heatley Ave.
Single-room occupancy hotels, clustered in Vancouver's downtown neighbourhoods, provide housing for some of the city's poorest and most vulnerable people. Often the buildings are dirty and chaotic, with frequent violence spurred by the illicit drug trade.
But 405 Heatley is a relatively quiet and well-maintained SRO, with art in the hallways and the shared bathrooms kept clean by residents. On the ground floor, a restaurant called the Heatley serves up burgers and craft beer to residents of Strathcona, a partially gentrified neighbourhood filled with heritage houses and 1970s-era social housing apartments.
At the end of February 2022, the man who rented the room where Ellie's body had previously been found was also discovered dead.
But O'Soup's body and the body of a woman in her 30s were not found until months later on May 1. According to reporting by Global News reporter Sarah MacDonald, the bodies of O'Soup and Elma Enan had been in the room for months before being discovered.
It's taken the efforts of three news agencies — Global, The Tyee and CBC — to piece together the identity of the man who rented the room, and to reveal the predatory behaviour he perpetuated for years.
Van Chung Pham, who was 46 when he died, brought dozens of young girls and women to his SRO room to use drugs when he lived at the Hotel Canada in 2019. One woman was discovered dead in his room in 2019, according to comments made by an Immigration and Refugee Board of Canada tribunal member. A coroner's report found that woman — between 35 and 40 — had died of an overdose, and her death was ruled accidental.
Pham had a long list of convictions for drug offences and had been ordered deported in 2012 and again in 2016. He was detained by the Canada Border Services Agency in 2021 after he breached court conditions.
But with Pham's home country, Vietnam, not co-operating with Canadian officials, the IRB released him after his Oct. 14, 2021, hearing. He ended up back in the Downtown Eastside, renting a room at 405 Heatley.
The IRB tribunal member told Pham that inviting young women to his room to use drugs was "extremely dangerous." But Pham ignored that warning. A young woman The Tyee is calling Zoe said she started going to Pham's room at 405 Heatley to use drugs in the fall of 2021 — right after he was released from immigration detention — and there were often other young women in his room.
"He was always with other girls, giving them free drugs," Zoe told The Tyee.
She also told The Tyee that Pham warned her that women new to the Downtown Eastside are often preyed on by men.
During a visit to Pham's room on Nov. 19, 2020, the drugs Pham gave Zoe made her unable to move. He sexually assaulted her while she was incapacitated. Zoe reported the assault to police the day it happened. On May 13, 2021, one day after Noelle O'Soup went missing from foster care, Vancouver police recommended charging Pham with sexual assault, overcoming resistance by administering a drug and trafficking cocaine and heroin.
But it wasn't until Feb. 18, 2022, that the BC Prosecution Service approved the charges. When police arrived at 405 Heatley on Feb. 23 to arrest Pham, they discovered him dead in his room.
Vancouver police say Pham's death is not suspicious. The department's major crimes section continues to investigate O'Soup and Enan's deaths.
Josie August, a relative of O'Soup, said the family still has so many questions and concerns about the investigations into Ellie's disappearance and death.
"The RCMP and Vancouver Police departments had little to no contact with family for updates," August said.
"We were misled with Jimmy Pham's identity — we were told he was a middle-aged white male."
Zoe, too, has been frustrated with the lack of information from police, who initially refused to provide Pham's name to the media or confirm to her that the man found dead at 405 Heatley was the same man who assaulted her.
"There has been little to no communication with family on updates on her case," August said. "And it makes us feel as if they did not care about Noelle. To them she was just another missing Indigenous teen.
August listed the outstanding questions the family has about the case.
"If he had a warrant that was served two days prior to his overdose for drugging and raping another woman, why wasn't he charged and in jail?" she said.
"Why wasn't he deported or in jail?"
"Why weren't there posters about keeping safe from him?"
"Why was [Noelle's] identity revealed to media? She was a minor. She was in care. Why was Elma Enan's identity kept quiet?"
The BC Prosecution Service says the amount of time it took to assess the charges against Pham is not unusual. B.C. and Quebec are the only provinces in Canada where police do not lay charges, but recommend them to prosecutors, who then assess whether the charge would stand up in court.
"It is often the case that further investigation is required or that material needs to be disclosed by the police. Large or complex cases also often take a longer period for assessment," Gordon Comer, a deputy director at the service, told The Tyee.
In rare cases, police departments do release images of suspects before they have been charged with a crime. In 2021, the Vancouver Police Department released photos of six men they said could be the next targets in a violent gang conflict. After the Stanley Cup riot in downtown Vancouver in 2011 and the Lil Baby riot at the PNE in 2022, police also released photos and names of suspects.
Police regularly release warnings about sex offenders who are moving to a new neighbourhood and are assessed at a high risk to reoffend, but those warnings are issued after consultation with corrections staff and B.C.'s privacy commissioner.
Pham did not meet the criteria for such a public warning, Sgt. Steve Addison told media at an Oct. 12 press conference. His past criminal convictions were for non-violent offences.
Addison said that O'Soup was named because their name had already been in the media as a high-profile missing person case, while Enan's family has asked for privacy.
Tatyanna Harrison
Natasha Harrison remembers her daughter as a brave, kind young woman with "a gift of the gab and a deep love of learning."
"She had a courageous spirit and she wasn't afraid to speak up, even if she was afraid," said Natasha. Tatyanna was Cree and Métis on her father's side.
"She was the first one to help anyone in need. Even as a young child she had a desire to help others and was openly vocal for anything unjust. It affected her deeply to witness anything that was unfair or cruel."
Through her struggles with addiction, Tatyanna "never lost the core essence of her spirit," Natasha said. "If she was only given more time."

On Feb. 3, 2022, Tatyanna had told Natasha she was going to live in Vancouver with her boyfriend. The 20-year-old had previously rented an apartment in Richmond.
Between Feb. 9 and Feb. 22, Tatyanna lived at a shelter near the Downtown Eastside at 875 Terminal Ave.
On March 23, Tatyanna was seen at a bank at Main and Hastings getting a new bank card. She was last seen on April 22 at the Grand Union Hotel, a single-room occupancy hotel and bar at Hastings and Abbott streets. At the end of April, she did not pick up her disability cheque.
After receiving no replies to her texts to Tatyanna, Natasha reported her daughter missing to Vancouver police on May 3.
Natasha is still not clear on why the the missing persons file was transferred to Surrey RCMP, because Tatyanna's previous address was in Richmond.
Surrey RCMP did not post a press release about the missing woman until May 11 — a nine day gap between the missing person report and the public appeal. Natasha says this delay prevented her from posting about Tatyanna's disappearance on some social media platforms.
Natasha spent weeks desperately searching for Tatyanna in the Downtown Eastside. She received a tip on May 9 that Tatyanna had been living in the shelter at 875 Terminal Ave. in February — information she passed along to Vancouver police, and which she believes should have led to VPD immediately taking over Tatyanna's missing person file.
According to the province's policing guidelines for missing people, the police force in the jurisdiction where the person was last seen is the agency that handles the investigation. If the location where the missing person was last seen is not known, then the police force for the jurisdiction where the missing person was last living takes the file.
On May 30, the VPD released a press release with a renewed appeal to help find Tatyanna, asking anyone with information to contact the force's missing person unit.
On June 5, Natasha submitted DNA to Vancouver police to help identify Tatyanna's body. Throughout the summer, Natasha spent hours travelling to Vancouver and walking through the Downtown Eastside to put up missing person posters and track down leads, with no success.
Then in mid-July, Natasha noticed a news article about a woman who had been found dead on a yacht in Richmond. The woman's body had been discovered on May 2, but the coroner and police had not been able to identify her.
Richmond RCMP released a sketch of the woman on July 14, leading to the news article that Natasha saw. Police said they did not consider the death to be suspicious.
The sketch looked nothing like Tatyanna, and the description didn't match either — the age, height and physical descriptions were all wrong. But Natasha sent the news article to Vancouver police anyway.

On Aug. 5, Natasha received the heartbreaking news that the woman found on the yacht had been identified as Tatyanna through DNA testing.
"On Aug. 8, I was informed of the circumstances her body was found in. This has brought more questions than police have answers," Natasha said.
Coroner Cynthia Hogan told Natasha that Tatyanna's body had been found mostly unclothed, clad in only a purple and gold sweater. She had been found in a yacht at Shelter Island Marina & Boatyard in Richmond. The boat was in drydock and was known to be a place frequented by homeless people and people who use drugs, according to a conversation between Hogan and Natasha that The Tyee has reviewed.
On Aug. 8, Hogan told Natasha that Tatyanna had almost certainly died from fentanyl toxicity. But on Nov. 4, Natasha learned that test results showed that her daughter had actually died of sepsis, a blood infection.
Hogan had immediately ordered an autopsy when Tatyanna's body was first discovered. No trauma, injuries or visible signs of sexual assault had been observed.
But Natasha says that wasn't good enough: her daughter's body was found without any underwear, pants, socks or shoes, and she doesn't accept explanations from the police and coroner that Tatyanna might have removed the lower parts of her clothing because she was hot, or because she had fallen asleep half-naked.
For months, Natasha pushed for forensic sexual assault tests to be performed on her daughter's body. Those swabs weren't collected until November 2022.
The Vancouver Police Department continues to investigate Tatyanna Harrison's death. But Natasha is still deeply disturbed that the death of her 20-year-old daughter — found half-naked on a deserted boat in a city she didn't live in — was initially considered to be not suspicious.
As with Chelsea Poorman's case, there is no explanation of how Tatyanna got to a Richmond marina on the Fraser River, an agricultural and light industrial area with no access to public transit.
According to Cpl. Dennis Hwang, Richmond RCMP transferred Tatyanna Harrison's file to Vancouver police as soon as she was identified. Hwang did not respond to questions from The Tyee about why her death was initially considered to be not suspicious, but he said Richmond RCMP officers remain open to meeting with Tatyanna's family.
Natasha says she has had little communication with the police officers who are investigating Tatyanna's death, leaving her with little choice but to investigate her daughter's disappearance herself.
Speaking directly to law enforcement during the press conference on Oct. 4, Natasha pledged to keep looking for answers.
"I strongly suggest you solve this case, because I will be there pushing for answers until my last breath for her," she said.
What the families want
The families of Chelsea Poorman, Noelle O'Soup and Tatyanna Harrison are now connected with each other to advocate for answers and for change.
Sheila Poorman, Josie August and Natasha Harrison say they'd like to meet with Vancouver police for a full discussion of how the investigations unfolded, including the shortcomings.
They'd also like various law enforcement agencies to do a better job of working together. This problem was identified during the inquiry in the wake of the Robert Pickton investigation, but the families of Poorman, O'Soup and Harrison say there are still problems with different police forces and other agencies not communicating or working with each other.
"There needs to be an open network where law enforcement, [Ministry of Children and Family Development], hospitals, psych wards… have open communication the second a missing person report is filed, especially when it's a missing person that is vulnerable and at risk," Harrison said.
"And it seems that the opposite occurs."
In all three cases, there was a gap of several days between the missing person report being made and a press release issued. Sheila Poorman said the reason given to her — that the delay was for her daughter's safety — simply doesn't make sense.
In her daughter's case, Harrison said police said the right things, but there was little action behind those words.
"There was no explanation whatsoever on why it was taking them so long," Harrison said. "I was just told repeatedly that they're doing everything in their power to get awareness out for Tatyanna, but that just simply wasn't the case."
The families also say there needs to be a more thorough investigation when youth and women are found dead of a suspected overdose.
"There needs to be a lot more investigation when women are being found in SROs or tents with an overdose," August said. "Had they done a proper investigation, they may have found Noelle sooner."
* Story updated on Feb. 16 at 7:24 p.m. to remove information about Chelsea's Poorman's phone being traced to Victory Square the night she went missing. According to Poorman's family, police said her phone was traced to a cellphone tower on West Hastings, but that tower covers a five-kilometre radius that could have included Shaughnessy.