A few years back, around the time he turned 30, Kristjan Johannson began his 13-hour workdays at 5:30 a.m. For 10 hours he'd bend his tall frame towards the earth, tending by hand to tomatoes, beets and salad greens at The Sharing Farm in Richmond, where he's been farm manager since 2015. In the late afternoon, as the sun crept towards the horizon, he'd return home to sleep a few hours, only to rise again in the evening to farm the half-acre plot of land he leased through the Richmond Farm School, where he had graduated two years earlier.
It was while attending the farm-school program that one of his instructors, a seasoned farmer himself, asked his students if they were prepared to work 10-to-12 hour days, six days a week. Long hours with little time off, Johannson quickly learned, is the reality of farming.
"This is a very physical style of agriculture," he said when I visited him this spring at The Sharing Farm, which operates as a charity. Last year, the four-acre farm donated 7,700 kilograms of produce to the Richmond Food Bank. "Not everybody has to do this style of agriculture. This is like human-intensive, organic agriculture, so you have to be an intense human to do this."
Unlike other jobs, agriculture does not hold nine-to-five hours. It is an occupation that skimps on weekends and holidays, and one that offers little in the way of financial security. In 2013, the average total income for B.C. farm families was just over $110,000, from which about $8,000 came from the farm. And in 2016, just over half of British Columbia's 26,430 farmers held off-farm employment. And of those, most of them — nearly 35 per cent — were working more than 40 hours per week to earn outside income. It's their way of subsidizing farming and growing food for the rest of us.
Some of the farmers I spoke with had supplemented their income with housecleaning, landscaping and ski-patrolling gigs. Others held regular, off-farm employment as dieticians, carpenters and chemists.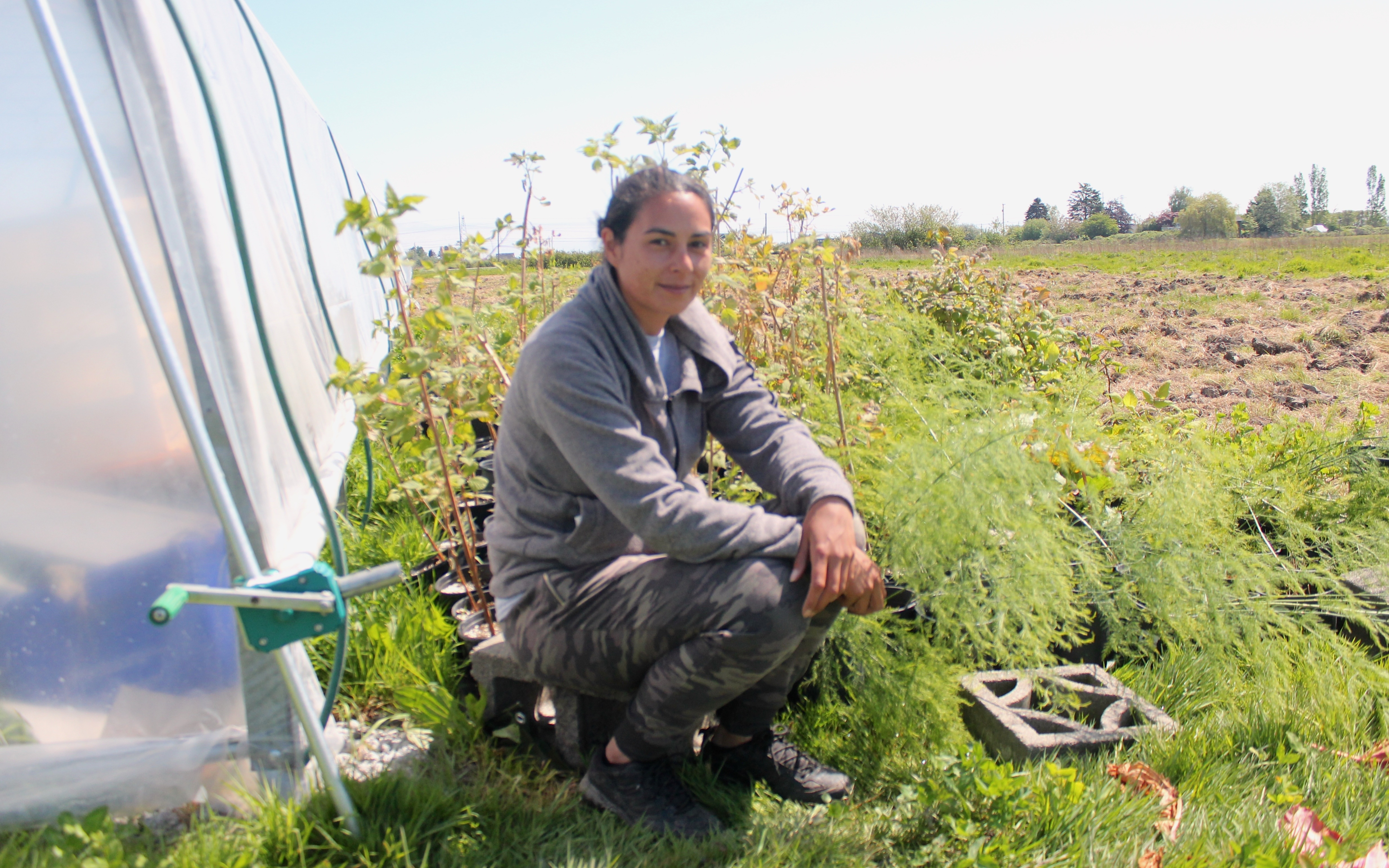 By my count, Sarah Lang has four jobs: she works 25 hours per week as a farm hand at the Tsawwassen Farm School, the sister program of the Richmond Farm School; assists her spouse, a Coast Salish carver, with painting and sanding; cares for her four children; and runs her own business, Salish Nursery.
"The more time I spend here the less time I'm spending on house chores and kids' needs," she said as we sat on lawn chairs outside of her plant nursery. "[When] I do get a day off on the weekend, it's just a mad dash to do all the laundry and dishes and cleaning that I can do. And then trying to spend time with them, take them out and do things with them is hard, because we're also putting all our money into doing this."
Lang didn't learn much about growing food in pots when she took the Tsawwassen Farm School program in 2015. She said she was driven towards the nursery model because that's where the money is. "It's a struggle for these people — small farms, they are not going to make a lot of money," she said. "For me, I needed it to be a career. I have to justify taking all this time away from my family to go do it and I can't do that if I think I'm going to make $5,000 for the year."
But Lang has yet to make any money from her nursery since starting it two years ago. This past winter, strong winds tore off the poly film that insulates her greenhouse. A week before my visit in early May, the field where her nursery sits was still flooded with months of accumulated rain. Her plants, like her business, were in their infancy. "That's why I work at the farm school, so I have a little bit of an income," she said. "It's challenging. My husband works full-time and also has an art business as well that I help out with. We're actually trying to do two businesses."
She sighed, "Yeah, it makes it challenging."
By this time next year, Lang hopes to be working at her nursery full-time.
To make ends meet, Johannson waited tables in fine-dining restaurants on top of being a farm manager and business co-owner. Going from one job to another found him pouring wine for guests with calloused and dirt-stained hands.
"It was definitely difficult when you're making $40 an hour chatting to rich people about where their food comes from and then you go bust your ass for like $14 or $15 an hour when you're working for your farm," Johannson admitted with a laugh.
Last year marked the first time that Johannson held down only one job. He no longer ran his own farm or worked in the service industry. His relief is obvious. As a farm manager at The Sharing Farm, his concerns are limited: he doesn't have to worry about paying off debt, accessing affordable land, or employing staff. Instead, he works long, physical hours growing as much food as he possibly can for those who need it most. And importantly for him, he's found a way to live in the city on farming wages, something many other farmers can't afford to do.
"I think that being able to make a living solely from farming — it is a bit elusive now for a lot of people who are doing it. There are a lot of people with off-farm incomes," Johannson said. "Maybe that's not a bad thing."
When we finished talking it was nearing 5:30 p.m. and Johannson needed to finish transplanting tomatoes. He didn't seem to mind. Though we had talked about the challenges of farming — its physicality and the sacrifices made in its name — they paled in comparison to the joy of making it his livelihood.
"I'm living the dream," he said. "I'm doing it. It's great. It's a lot of work still, but I'm very happy."
Part three: How women are the new face of farming in B.C.