The wildfire was burning 40 kilometres to the north of us, heading away from the ranch. We were an hour outside Cache Creek, in a part of the arid Thompson-Nicola region known to locals as Deadman Valley. As scrubland gave way to forest, I met Suzanna Fradette, a former horse trainer, who pointed to the smoke in the distant sky.
"We didn't get through May," she said. Two days before, the area's first fire of the season ignited the landscape.
Though Fradette, her family and her cattle wouldn't need to evacuate this time, the year has not spared them from hardships. Back in February, they had a $3,000 surplus from high beef sales when their truck slipped on ice and jackknifed. It cost them $3,004 to fix the damages. In the late spring, the central Interior witnessed rapid snowmelt, inundating whole towns, including Cache Creek. A week before my visit, Fradette assured me over the phone that they were not under water. I would, however, need to take a side road to Back Valley Ranch. The primary road had been washed out.
Fradette and her rancher spouse, Jerry Steves, make their livelihood from agriculture. For them, and all the others who call themselves farmers, there is no average workday. In their profession, minor catastrophes are routine. Every day they are at the whim of market forces and Mother Nature, and sometimes they get hit hard.
In the Lower Mainland, as in much of British Columbia, farmers face numerous challenges. Land that the provincial government protects for agriculture is priced too high for most farmers to access. Global markets flood grocery stores with cheap food — produce from California, beef from Australia — that undercut local producers.
"I don't think the general population in the Vancouver area really realizes how much it takes to run a farm, how much financial and how much labour goes into it," Steves said.
The mansions of agriculture
One of the biggest obstacles for farmers in B.C. is accessing prime growing land — being both able to afford it and cultivate it. It's an issue that the provincial government addressed decades ago, but by many accounts, needs amending.
In the early 1970s, concerned by the amount of farmland being lost to urbanization, the Dave Barrett NDP government established the Agricultural Land Reserve, or ALR. (One of the lead framers of the ALR was actually Jerry's father Harold Steves, an NDP MLA at the time and now a long-term Richmond city councillor.) On five per cent of B.C.'s most suitable land, farming became the primary use. And although roughly the same amount of land has been retained under the ALR since then, just over half of that land is currently farmed.
South of Vancouver, where the Fraser River drains into the Salish Sea, the city of Richmond sits on some of the richest soil in B.C. Thirty-nine per cent of the city is classified within the ALR, but only about 60 per cent of that area is cultivated, mostly for cranberries and easy-to-grow blueberries.
"This is such fertile land," said Kimi Hendess of Sweet Digz Farm. "There could be farms of every scale here supplying the entire Richmond demand for locally grown food. But actually, very little food available in Richmond is locally grown."
Kareno Hawbolt echoed her farming partner's sentiment. "The obstacles are so many to actually be on land here in Richmond."
Part of that is due to the growing demand for — and acceptance of — mansions on agricultural land in Richmond. In May, the city council reaffirmed this policy by voting to maintain the maximum house size on ALR land to 10,764 sq. ft. In their ruling, council members allowed for an additional property of up to 3,229 sq. ft. on lots 20 acres or larger. This decision bodes well for homeowners and investors who, by selling just $2,500 worth of produce per year, can reap the tax breaks associated with farming while enjoying a house that would cost them far more on residential property.
Speculation has led Richmond farm properties to sell for millions of dollars, leaving genuine farmers unable to access what had once been affordable land.
"It's economically impossible for me to buy land and farm it here — anybody, not just me," said Kristjan Johannson, farm manager of the Sharing Farm in Richmond. "You can't go buy something that's a million dollars an acre and expect it to return."
"The land is designated for agricultural purposes and it should be used for that. And there are sets of guidelines and stuff like that, but it doesn't mean nothing," added Johannson.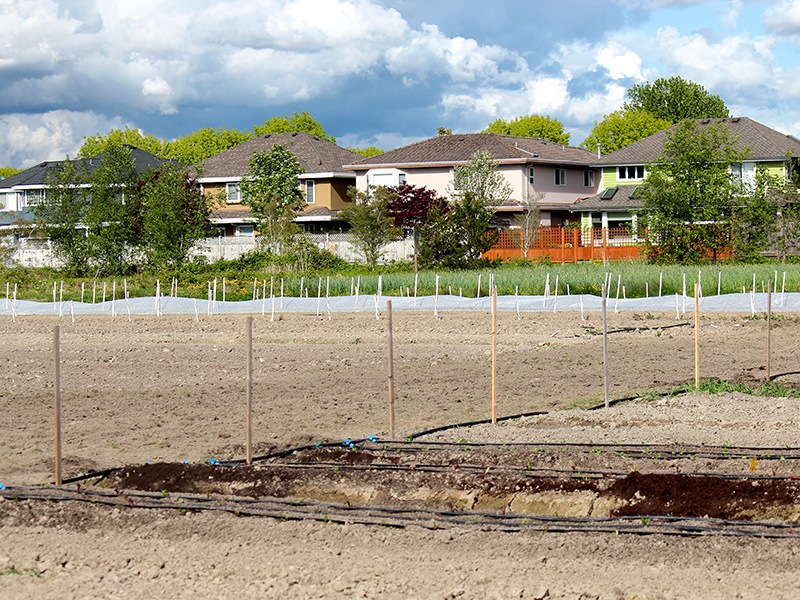 The Institute for Sustainable Food Systems at Kwantlen Polytechnic University, which runs two farm school programs, published a white paper in March urging a strengthened ALR. It recommended a number of policy changes, such as imposing ownership regulations on foreign buyers or on those with no farming experience and improving the security of tenant farmers.
This last recommendation has implications for people like Hendess and Hawbolt, who lease their farmland. Unlike in other parts of the world, where tenant farmers have protected minimum-lease terms, farmers in B.C. do not have such guarantees. Instead, leasing land is an arrangement that can leave farmers vulnerable to the whims of their landowners. Currently, the Sweet Digz co-owners are on a year-to-year lease in Richmond. Though they count themselves lucky for finding a landlord who is willing to lease to them, they acknowledge their situation is not ideal.
"If we had a longer lease even that would be good," Hawbolt said.
'We're not making a whole lot of money'
Accessing affordable land is not the only hoop farmers have to go through. Many of the farmers I met spoke of the yawning margin between what it takes to grow food and the price people are willing to pay for the fruit of their labour.
"Part of why farming is so stressful is, first of all, the pricing of food in the global food system is ridiculously not representative of the cost of production or what it takes to grow food," Hendess said.
So, when tomatoes from Mexico cost half as much as those grown locally, small-scale farmers have the burden of justifying their higher price to consumers.
"I think the price point is hard for people to swallow, because we don't live in a place that's very affordable in many ways and food unfortunately is the one that costs," said Katie Robinson, who runs Rise Over Run Farm with her husband, Josh Baker.
Their farm, which is located in Maple Ridge, specializes in pasture-raised sheep and chickens. During my visit, they explained the investments that go into each meat bird — the cost of buying a chick, the cost of feed and the cost of butchering under organic certification. On their website, they detail those expenses under a tab aptly titled "Why Do Your Chickens Cost So Darn Much?" By their estimates, they make a $10 profit off each chicken they raise and sell.
"That's really not paying for our labour," said Baker. "The line between homestead-hobby farm and commercial farm is difficult."
"It is something we love but it's also a job and we have to get paid for it," Robinson added. In the future, she said, they will need to keep better expense records to ensure that they are paying themselves a fair hourly wage.
For Suzanna Fradette and Jerry Steves, the amount they charge for their grass-fed beef includes costs customers might not even be aware of. One year, their area experienced such a severe drought that the price of hay, the fodder they feed their cows in the winter, doubled.
"People are starting to become a lot more mindful, but there is still kind of that disconnect about how much things cost and what really goes into a day-to-day," said Fradette.
"It's hard for people to visualize that I think," added Steves. "We're charging $8.50 a pound for beef and, you know, that's a lot of money. But when you break it down and you look at what it costs to do everything, from growing it to feeding the cattle; your butchering costs are about a third of that cost, just to have it butchered and cut and wrapped up. And then you've got to get it to Vancouver. Your costs are huge all over."
Currently, they are looking to buy a new, one-ton truck. To cover the $70,000 expense, they'll raise their prices piecemeal, explaining to their devoted customers explicitly why they'll be paying more.
"We need this much just to keep afloat ourselves is basically what we're saying," said Steves. "We're not making a whole lot of money."
After all, many families in B.C. have tight budgets.
"We could orient our business where we can only feed the wealthy," said Steves, acknowledging that the market in Vancouver is there. "But we don't like that. We'd rather be able to feed most people."
On Thursday in part two: Want to farm in British Columbia? Be prepared for long hours, and probably a second job.