As Tavish Campbell dropped his remote camera into the water close to a salmon farm in the Broughton Archipelago, his heart sank.
Earlier in the day, during a dive, he was awestruck by the sight of an ancient, rare and previously undiscovered glass sponge reef in the water off Port Hardy, but now he was staring into the barren ruin of a second glass sponge reef.
"The one was totally alive and vibrant and healthy and the other one was a wasteland, covered in brown sediment," Campbell told DeSmog Canada.
The live reef was at a depth of about 30 metres, which is unusually shallow for a glass sponge reef and Campbell did not drop a line into the water for fear of damaging the glass sponges.
"It was a little bit eerie doing the first dive, free-falling through the darkness and then my light illuminated this incredible sight — there were vibrant golden sponges, some standing two metres tall like giant vases. Schools of rockfish hovered over the top, there were king crab on top of the sponges and lingcod rested on the big egg masses with the males guarding the eggs. I was pretty gobsmacked," Campbell said.
"I could hardly believe my eyes. It was like being on another planet. These sponges are ancient. These reefs have thrived there since the Jurassic [era] and were thought to have died off. It was like finding a herd of living dinosaurs."
The euphoria of seeing the first reef, teeming with life, contrasted violently with the second site where the sponges were clearly dead and appeared to be smothered by waste and salmon feces from the farm, said Campbell, spokesman for Wild First, a coalition of organizations working to have salmon farms move from ocean pens to land-based operations by 2025.
"It was incredibly disheartening... one of my first thoughts was, with more than 130 salmon farms on the B.C. coast, what else is being smothered that we have yet to discover," Campbell said.
"These sponges rely on clean water, free from excessive sedimentation, but unfortunately this is the exact opposite of the conditions under a salmon farm. With close to a million farmed salmon swimming overhead, the steady rain of feces and feed waste is a death sentence for life underneath."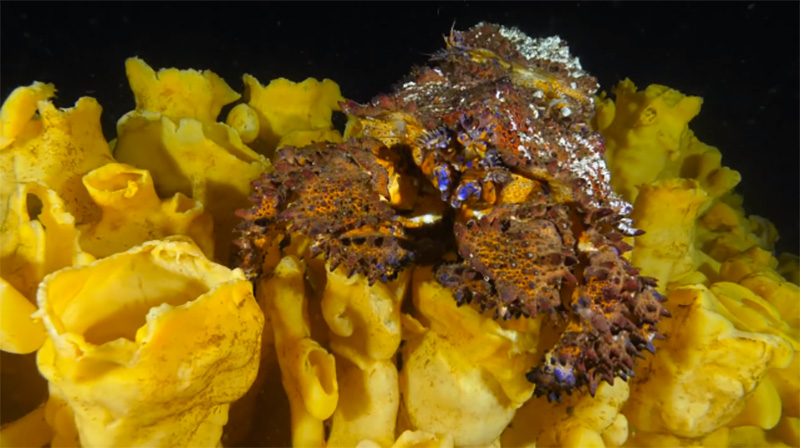 The fragile sponges, made of silica, were thought to have gone extinct 40 million years ago until living glass sponge reefs, estimated to be 9,000 years old, were discovered in Hecate Strait and Queen Charlotte Sound in 1987. Reefs were then found in Chatham Sound, Howe Sound and the Strait of Georgia.
Both of the Broughton Archipelago reefs, about 1.6 kilometres apart, were discovered previously by Jody Eriksson and Campbell's twin sister Farlyn Campbell, who were doing underwater surveys around open-net salmon farms. Farlyn then asked her brother to film the area.
Last year, Campbell filmed the startling "blood water" video showing a stream of blood pouring into the water off Campbell River from farmed salmon processed by the Brown's Bay Packing Co. The video sparked an investigation by the province that found the effluent tested positive for the highly contagious piscine reovirus, which can infect wild salmon.
The dead glass sponge reef was found under Cermaq Canada's Cecil Island farm. Cermaq managing director David Kiemele said the company is looking into the claims.
"All of our leases abide by strict environmental regulations about where we can locate farms to ensure we avoid known risks to sensitive marine habitats," Kiemele said in an emailed statement.
The Cecil Island site has been empty since last June and will remain empty for several more months, Kiemele said.
"The farm is what we refer to as a nursery site where only small fish are grown for short periods of time before being transferred to other farms, so it is not unusual for it to remain fallow for long periods of time," he said.
Although Kiemele has seen the video, he said there is no way to "clearly understand where this video was shot, at a depth of more than 264 feet," but that is now being investigated.
Campbell said it was not possible for the remote camera to go directly under the farm, so the video was shot from about six metres outside the perimeter.
The Canadian Parks and Wilderness Society has been working to protect glass sponge reefs in B.C. for decades and Ross Jameson, the society's B.C. ocean conservation co-ordinator, said the discovery is a wake-up call and demonstrates the need for federal and provincial governments to work on protecting the glass sponge reefs.
"The discovery of these glass sponge reefs is both incredibly exciting and saddening," Jameson said.
"To find a new living reef is significant on a global scale. However, seeing the complete destruction of one of those reefs is devastating."
Last year, the federal government established a 2,410 square kilometre marine conservation area in three sites between Vancouver Island and Haida Gwaii, restricting fishing in about 900 square kilometres.
The plan includes a 150-metre buffer zone around the reefs to prevent them being damaged by sediment, Jameson said.
The reefs can be damaged by any bottom activity from shrimp fishing and dumping to trawling and more needs to be done by both the federal government and the provincial government, which has responsibility for the seafloor and salmon farm tenures, Jameson said.
Studies are being done on some of the reefs, but CPAWS wants governments to take an immediate precautionary approach around the sites so human activities do not destroy them while they are being studied, he said.
"There are about 130 fish farms on the B.C. coastline and we don't know how many other glass sponge reefs are out there. There's a good chance that there's another one under an open-net pen farm. We need to put some immediate protection in place," Jameson said.
"With such limited restrictions on harmful activities along the coast, the discovery could just as easily have been two destroyed reefs," he said.
Campbell also wants both levels of governments to offer better protection for the reefs, especially as the province is looking at 22 fish farm tenures coming up for renewal in June.
Glass sponge reefs, which act as a giant ocean filter and essential habitat for marine life, are found only in B.C. and Alaska. In December the federal government added the Hecate Strait and Queen Charlotte Sound reefs to Canada's tentative list for World Heritage Sites.
This article was amended April 30, 2018 at 4 p.m. to correct the date Jody Eriksson and Farlyn Campbell discovered the glass sponge reef.