The day after announcing the controversial decision to continue building the Site C dam on the Peace River, Premier John Horgan reflected on the strong reaction it received.
"Many people I know are profoundly disappointed with that decision," Horgan said during a year-end interview in his office. "I regret that, but my obligation is to make sure we can deliver on the range of issues that are important to people, not just this one important file."
The 15-minute interview looked back on the government's first five months, its relationship with the Green Party whose support it needs to stay in power, and what Horgan hopes to accomplish in office, all of which are tied to the Site C decision.
In the nearly 35 years he'd been involved in the NDP, the party had largely opposed the long-planned dam, Horgan said. As recently as the party's 2015 convention, when the NDP was in opposition, Horgan pledged to block the dam and instead support renewable energy and building retrofits across the province.
"It didn't get started in the 1990s. It got started under Gordon Campbell and Christy Clark, and to unravel that would have been an enormous cost," Horgan said. "Now there many people who say it's a cost worth taking, but say that to the single mother who is trying to struggle through two or three jobs and can't get an increase in her skill level because it costs too much to get adult basic education.
"Well we've eliminated the tuition fees for adult basic education. That's a fundamental value of mine, to make sure that everybody can realize their full potential and those investments are critically important to the success of people and critically important to the success of our province."
Horgan said he recognizes the Site C dam is a core issue for many people and has been for a long time. "I don't diminish for a minute the passion and commitment people have to that issue, but there are a thousand other issues I need to focus on to make life better for people and that's where I'm going from here."
And where is he going? That's what we wanted to know:
Tyee: It seems the NDP brings in a wide set of values, some of which are contradictory. Which values is the Site C decision in line with?
Horgan: The values I wanted to protect in the decision were those that we ran on in the election campaign: making sure life was more affordable for people, making sure the services people count on are there for them when they need them. Health care, education. We wanted to develop a new childcare program. That's going to be a major investment by taxpayers and we need to have the space to do that... Raising income assistance rates, developing a poverty reduction plan, making sure that everyone in British Columbia benefits from the wealth and bounty of this great province. Those were the values that we want to focus on and we were debilitated as a government grappling with this decision. We had to make a decision, we did it in what I believe was the best interests of British Columbia.
How much does it matter that ultimately this will be infrastructure that's owned by the public, not power bought from a private producer?
I'm a public power guy. I've made speech after speech... I think on balance a publicly owned piece of infrastructure, the third dam on the river, that will provide not just electricity but capacity so we can bring on more renewables, at the end of the day was a decision, a tough one to come to, but one that's in the best interests of British Columbians.
I know there are going to be many people who disagree with that. I had to make a call and I made a call that will allow us to develop the program we ran on, and that's making sure life is better for everyone, not just people in one area, not just people who feel passionately about one particular issue.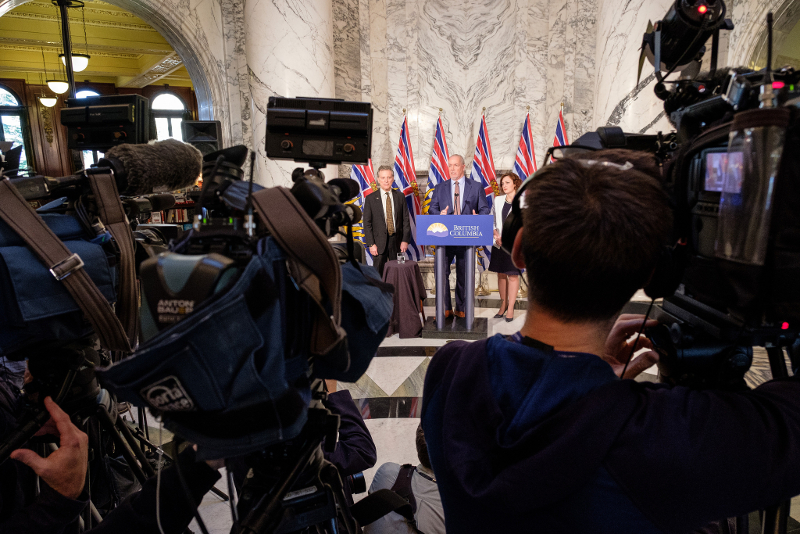 There's a threat from the West Moberly and Prophet River First Nations of a $1 billion treaty infringement lawsuit because of Site C. They're seeking an injunction to stop work on the dam. How worried are you or aren't you about that?
The lawyers will deal with that. I want to work with Indigenous leaders, not just on this issue but on a whole bunch of issues. There's a lot of opportunity for us to make progress. This is a divisive issue for West Moberly particularly, and nations throughout B.C., but we also need to work on things like Kinder Morgan. We need to work on things like open net pen fish farms along our coast that's having a devastating impact on the food fishery for Indigenous people as well as our commercial and sport fishery. We need to work on housing, we need to work on education, we need to work on jobs and economic opportunity in nations right across B.C. Those are the areas where true reconciliation can happen. This is an issue the West Moberly have been in court on for a number of years against the previous government and they have every right to carry on with those cases or any other case.
Green Party leader Andrew Weaver has suggested that the Site C decision was based on politics. How fair is that in your view?
It's completely unfair. If it was about politics we would have stopped it. If it was about making us feel good for a day we would have stopped it. If it was about satisfying people who are very close to me, my friends, we would have stopped it. This was a tough, tough issue and I'm disappointed that Mr. Weaver wants to make this about politics. Anyone who understands me or understands these issues knows it was very, very difficult to get to this point. But we have to make decisions in government and you don't have to make decisions as a third party, so I respect his right to make whatever statements he wants, but I don't believe he should diminish the amount of effort we put into this.
You've observed in the past that Greens are as political as any other party...
Mr. Weaver was on the tarmac with Gordon Campbell when he announced he was going to build the Site C dam, so you know... I make no apologies for being conflicted on this issue. I've been in favour and opposed to the dam at various points in my life based on information I had at the time. The information I have right now is that 25 per cent of the work has been done, the damage to the valley is significant already, and to kill it would have cost us $4 billion in debt for nothing that would have made it difficult if not impossible to deliver on our commitments. That was the equation.
How long do you think your agreement with the Greens will last?
The Green caucus and the government meet regularly to talk about issues as they emerge... These are difficult issues. Mr. Weaver's a strong-willed individual, he speaks his mind, and I'm confident that we'll be able to keep this together in the interest of good policy for the four years that we've agreed to.
Will the renters' rebate, which the Greens oppose, happen?
I'm working on that. Absolutely. If we can get that done it will be part of our budget in February... Home owners get a home owners' grant, why can't renters get a bit of a break as well... I agree that someone renting a penthouse apartment with a $2 million annual salary doesn't need a rebate, but there are a whole bunch of people who do. For those who criticize it and say it's only $400, well $400 goes a long way when you don't have anything. I just reject that notion that we shouldn't do it because it's not perfect. Perfection is the enemy of progress. We're going to do our level best to have a plan that makes life better for people.
And what about the $10-a-day childcare promise?
We're proceeding regardless of federal participation... We're doing something and it will be better if we have federal participation. We can't ignore the challenges of childcare. They are too great and they are too obvious. The expectations are high and we're going to do our level best to meet them.
And the BC Hydro rate freeze? If the BCUC says no to it, what do you foresee doing?
We'll see what they have to say. We campaigned on this. We have a serious review required at BC Hydro — that's beginning now that the Site C decision has been made — and we have a lot of work on that front whether it be on addressing the deferral accounts, addressing the inability of the utility to deliver a dividend. Borrowing money to give a dividend to the Liberals is what they used to do. Creating more debt to pretend that you were solvent is not the way you balance your books. Hydro is a big problem. We've got a team in place and we're going to add to that team and hopefully get better outcomes for people and return Hydro to the Crown jewel it used to be.
The rate freeze doesn't involve an amount of money that's so large it couldn't be absorbed either by BC Hydro or the government...
That's right. We'll look at that when we hear back from the commission.
With eliminating MSP premiums, the question has been how are you going to pay for it and you've seemed reluctant to say you'd roll it into a more progressive tax like the one on incomes. What are the options?
We're going to cut MSP premiums in half starting Jan. 1 and eliminating them by the end of our first term in government. We've appointed a blue ribbon committee to go look at the options on ensuring we can continue to provide quality health care to British Columbians where they need it when they need it, protecting vulnerable populations and making sure we have the resources to deliver on the programs we've committed to.
What's a New Year's resolution you might make?
Try and get more exercise. I used to ride my bike a lot. I haven't ridden my bike in months. I need to stop eating brownies and start doing more exercise. Those are traditional. There's nothing unusual about that resolution.
And what would be a good gift for you this season?
My oldest son lives in London, England, and he's coming home for Christmas and he's going to be bringing me a pair of Dr. Who socks, so I'm very happy about that... I don't want for anything. I'm pretty fortunate... I'm really pleased with where I am at this point. It's a humbling and honourable job I'm doing and I'm having fun every day.